NHL Handicapping: Chicago Blackhawks
by Trevor Whenham - 12/4/2013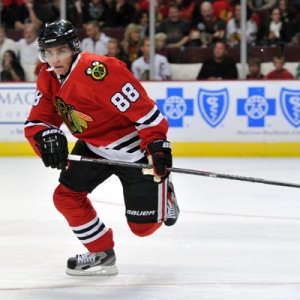 The Chicago Blackhawks were very impressive Stanley Cup Champions last year. This year they haven't missed a beat, leading the league in points among several key statistical categories. Handicappers need to be cautious about this team. They are a very public team, so the value is limited on them in even the best circumstances. So, do they have what it takes to defend their title and add a third Cup in five years? Or are they going to come crashing down to earth at some point? The right answer to those questions could lead to some nice profits. When considering that, here are five factors to consider:
Offense: The Blackhawks are winning by beating up on opponents. Their 105 goals scored is nine better than the second-best Sharks (albeit in two more games) and 14 better than the second-best team in their division — St. Louis. They can score. Often. Their average of 3.62 goals per game is tough to believe in this defensive era we are in with the NHL. Last year the Penguins had the most productive offense in the league by a wide margin, and they averaged just 3.44 goals per game.
Scoring depth: This team has scored more goals than any other team in the league by a fair margin, yet they are doing it by sharing the load admirably well. Patrick Kane sits third in the league in goal scoring with 32 points in 29 games, but he does not have to do the heavy lifting alone. Hossa, Sharp, Toews and Keith are all in the neighborhood of a point per game as well, and any of those guys can carry the load on a given night. The Blackhawks are a very talented offensive team that isn't superstar-reliant, and that makes them resistant to injury or slumps — and makes their success more sustainable. By contrast, look at the Penguins. Though they are the top team offensively in the East, they have scored 16 fewer goals than Chicago (105 to 89). Sidney Crosby sits first in the league with 38 points, and Malkin is right behind him with 37. Eighty-nine goals means a maximum of 267 points (a goal and two assists awarded for each goal scored), so Crosby and Malkin have accounted for at least 28.1 percent of the offensive output of the team (more than that, in fact, because of unassisted goals and goals with just one assist). Chicago's top two scorers, by contrast, have only accounted for 21.3 percent. The less top-heavy a team is, the easier it is to see them maintain their consistency.
Defense and goaltending: It's has been a love-in so far, but things are less inspiring here. Last year, the team had the second-best offense in the league coupled with the stingiest defense -- a tough combination for opponents to overcome. The offense is improved this year, but the defense has fallen off a cliff. This year 18 different teams have allowed fewer than the 80 goals that Chicago has let in. Last year they allowed 2.13 goals per game. This year it's 2.76. That's ugly, and it's the biggest reason to have doubts about this otherwise-potent team. Last year the goaltending duo of Corey Crawford and Ray Emery were potent, sporting identical 1.94 goals against averages. Now Emery is gone, Crawford isn't nearly as sharp as he was, and the backup situation is ugly. Crawford can still play extremely well — like he did recently when he allowed just a single goal in each of three consecutive road games. Upon returning home, though, Crawford was just awful against Dallas with a save percentage of just .778. The defense deserves a share of the blame, but Crawford isn't what he was, and the team doesn't have the safety net they had last year if something goes wrong with him. There is no doubt that this team needs to work on more than this if they want to be a serious contender for a repeat. Time and again we have seen that you need a goaltender playing at a very high level to win the Cup. Crawford was that guy last year, so there is plenty of hope, but the status quo won't do.
Experience: The single most impressive thing about this team this year is how they are playing as defending champions. The last time they won the Cup they weren't themselves for two years after the win. They seemed to rest on their laurels, and they didn't have the intensity that led them to the pinnacle. They were still very solid, but they weren't a force by any means. Last year they got back on track, and this year it is clear that they learned from that last hangover. This year they are playing like they are, if anything, even hungrier now than they were last year. The experience of the letdown is driving them on, and it's a major asset in their defense this year.
Conference: The biggest thing working against the Blackhawks in their pursuit of a repeat is the conference they play in. The West is just brutally tough — much more so than the weak East. There are five teams in the West that have enough points to be in first place in the East and four more within four points of the East-leading Penguins. Thirty-five points would have you tied for third in the East, yet with 35 points the Canucks wouldn't even make the playoffs if they started today in the West. The Blues, Sharks, Ducks and Kings are very legitimate Cup contenders, and the Avs, Canucks, Wild and Coyotes are dangerous. There are few easy games in the conference. That means that the intensity is already at a high level because every point is so significant, and it will remain that way as long as the standings stay so tight. With no time to relax during the regular season, the risk of burnout — both physical and mental — is much higher than it would normally be as the season progresses — especially for a team that played until June 24 last year.
Read more articles by Trevor Whenham