NHL Handicapping: Colorado Avalanche Fast Start
by Trevor Whenham - 10/15/2013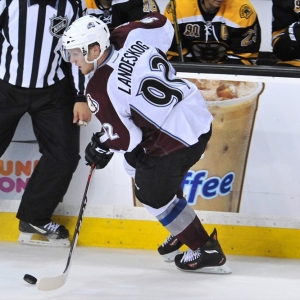 It's early in the NHL season, but so far the biggest surprise of all has to be the Colorado Avalanche. Last year they wound up with just 39 points, which was the second fewest in the entire league behind only Florida. The team even won the draft lottery. The disaster of a season led to an offseason overhaul, with Patrick Roy brought in to coach the team and to have a significant say in personnel decisions along with Joe Sakic. The aggressive moves were sure to lead to significant changes over the long term. What was less expected, though, was that they would look like a whole new team right out of the gate. They have won all five games that they have played and have outscored opponents 18-4. Only San Jose and Toronto have as many points, and the Leafs have played one more game.
For bettors, the questions are simple — how are the Avs doing it, and can they keep doing it? Let's take a look at six key factors:
Lift of a new coach
It's not any new coach, either. Patrick Roy is one of the all-time Avalanche legends, and now he is back as head coach. He has had a fair bit of success coaching junior hockey, and he certainly knows how to win. He's also a fiery personality — as he showed by almost starting a coaching brawl in his debut. Teams often get a big lift from a new coach, and that seems to be especially be the case for a young team playing for a living legend they all watched on TV as they were growing up. That could last for a couple more games or for a few years — only time will tell.
Goaltending
The duo of Jean-Sebastien Giguere and Semyon Varlamov has been exceptional. Varlamov has four wins in four starts while allowing just four goals and maintaining an exceptional .970 save percentage. Giguere has started only once, but it was a shutout. They are obviously overachieving right now, but they are a good duo, and they will keep this team on track.
Schedule
Early in the year a record can be deceptively strong because a team has played a weak schedule. That's not the case here, though. Four of the five teams Colorado has beaten so far were playoff teams last year, and Toronto and Anaheim have both lost to only Colorado this year. This start is due to a number of things, but the schedule is not one of them.
Good depth of offense
Last year, if Matt Duchene and P.A. Parenteau didn't score for this team then they probably didn't score enough. It's very early, but so far this year the depth of offense has been far more impressive. So far there have been five players that have tallied at least five points in five games. The defense couldn't score worth a damn last year, either, but defensemen have added six points so far. The pace will likely slow on both fronts, but for now the improved offensive output is a great sign. There is a lot of room for them to fall back to earth and still be much more balanced than last year.
Hot rookie
Nathan MacKinnon, the first overall pick in the most recent NHL Draft, just turned 18 on Sept. 1. I don't know about you, but that makes me feel old. What is most amazing, though, is that the boy plays like a man. He leads the team with six points and looks like he has been playing in the league for a decade already. A young player can be an anchor on a team if he isn't ready, or he can give a team a huge boost if he is immediately ready for game action. The latter is clearly true here.
Too many shots
The goaltenders have been exceptional, but they have really had to earn their paychecks. The team is giving up 34.2 shots per game, which is 25th in the league. That's too much rubber for goaltenders to see in the long run, and the team will have to tighten up defensively if they want to maintain their current success. Defensive sloppiness overall has been a real concern at times with this team, though it has been disguised by the goaltending and the offensive output. Teams can't rely purely on offense if they want to go a long way, so this team needs to really focus on the finer points of controlling the puck in their own end and dictating the pace of play.
Read more articles by Trevor Whenham