NHL Handicapping: First-Week Disappointments
by Trevor Whenham - 10/8/2013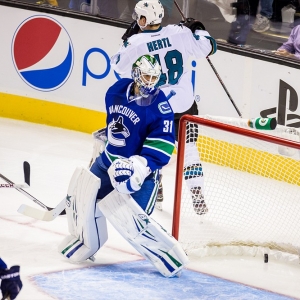 We are just a week into the NHL season, so we still really have no idea of what is going to happen and who good, or bad, teams are. Through the first week, though, a few things have stood out from a betting perspective as real disappointments — places where I was hoping to find value but now fear I won't:
Philadelphia Flyers: The Flyers have scored just one goal per game for three straight games, and they have lost all three. For a team that should be as good as the Flyers should be, they need to be beating teams like the ones that they have faced — Carolina, Toronto and Montreal. While those teams are varying degrees of decent, Philadelphia should be better than them — especially offensively. The Flyers excel at being disappointing, though, and this year is no exception. What's most disappointing, though, is not that they have struggled out of the gate — three games really proves nothing. It's that the front office has again proven that they are incompetent and spastic. They fired head coach Peter Laviolette after the third loss. You always have to feel a sense of panic when a team makes a change this early. Why hadn't they made a change before the season if they were so concerned that they were ready to make a change now? What other problems are simmering just under the surface? This is the team that started to build around Mike Richards and Jeff Carter and then traded them both away, so they don't always stick to the long-term plans they make — and this move is no exception. Wanting the Flyers to be as good as they should be every year is like cheering for the Cubs to win a World Series — there is no good reason it can't happen, but it just seemed destined not to.
Edmonton Oilers: Edmonton is going to make the most of their young talent and break through at some point. Maybe. They are far from written off this year, but they certainly haven't made the statement early on that they had hoped for. They lost a very winnable game to the Jets to open the season, and then they lost again to Vancouver. Next up they embarrassed themselves for two periods at home against a New Jersey team that just isn't very good before playing their first decent period of the year to fight back for a shootout win. Taylor Hall has been horrible when he should be breaking out and leading the youngsters to the promised land. New coach Dallas Eakins said all the right things before the season, but in three short games those things haven't translated to the ice. I was hoping for a fast start to the new era, not more of the same — real promise.
Vancouver Canucks: The results here haven't been bad — they have won two of three. I was just really skeptical of the offseason they had and was hoping that I would be proven wrong to worry early on. So far, though, I haven't on both fronts of concern. I hated how the team played around with their goaltending situation for the last year — trying very publicly to trade Roberto Luongo before locking him down as the clear No. 1 choice by trading Schneider away. It was unfair to him. More significantly, I don't think it gave the team the best chance going forward. That has proven to be true so far because the new backup, Eddie Lack, looked just plain lousy in Calgary. He held on for a comeback overtime win, but three of the four goals he let in were just plain sloppy. Much more of a concern, though was the hiring of John Tortorella as the head coach. He is, frankly, a moron, and he seemed like just as bad a fit here as he was in New York. It's early, but I don't like how things have started. He has tried some ridiculous things to motivate his team and fix things that aren't broken — most notably by playing the Sedin brothers on different lines for significant amounts of time. Tortorella is as subtle as a chainsaw, and early on he has made it clear that the change in scenery won't change him in a real way. I just don't see how that fits with what this Vancouver team needs, so they seem destined to disappoint.
Calgary Flames: While anyone with half a brain knew the Flames were going to be just terrible this year, it was my hope that they would get some quietly consistent goaltending that would allow them, when combined with a roster much higher in determination than skill, to steal a few games at big prices. You can't write that off yet, but the first three games aren't encouraging. Karri Ramo was paid handsomely to return to the NHL from the KHL, so it is a concern that not he but backup Joey MacDonald has started two of three games. Neither have been very good, with the save percentage of both below .900. They have both made big saves, but they have both also let easy ones in and have weakened late in games. Both of those issues are very concerning for goaltenders, so it is even harder right now to have any optimism surrounding this team than it was before the season began.
Read more articles by Trevor Whenham