NHL Handicapping: January Games to Key On
by Trevor Whenham - 1/15/2013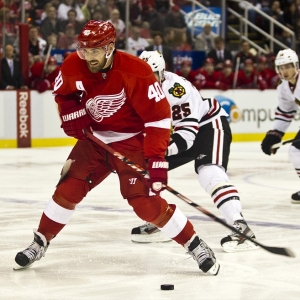 With no preseason and a bizarre offseason, it is going to be very tough for bettors to have an accurate sense of where teams are at heading into this short NHL season, which starts on Saturday night. That means that those bettors are going to have to watch key early games early in the season closely to learn as much as they can about where teams are at and what can be expected.
Here are seven games in January that bettors will need to pay close attention to:
Tampa Bay vs. Washington, Saturday, Jan.19 - Last year Tampa Bay had plenty of excuses-- struggles with injuries and problems in net chief among them. This year there are no excuses for the Lightning. They have the best pure scorer in the league, their goaltending and defense are improved, and they are healthy. This is a team that can contend. But will they? This game against another team that needs to make up for a very disappointing year will give us good insight. The game is a key one for Washington as well. New coach Adam Oates is a legend, but he has never coached an NHL game. The lockout has forced him to jump into the deep end. Will he be able to have his team ready in time?
Pittsburgh at New York Rangers, Sunday, Jan. 20 - The Rangers, with shiny new addition Rick Nash, are favored to win the Stanley Cup. The Penguins are the second choice. Every other team is well behind. This is a clash of the titans and the first chance to see how the two teams stack up. More significantly, it's a chance to see how Sidney Crosby looks. He spent more time negotiating than playing this offseason, but he is completely healthy for the first time in two years. If he starts off with a bang this year, then the league should live in fear.
Edmonton at Vancouver, Sunday, Jan. 20 - Vancouver is the undisputed king of the Northwest Division. Edmonton is the upstart squad with visions of ending that reign. It's probably not the Oilers time yet, but they could make a huge statement by scoring an early blow in this rivalry with a road win. Momentum would most certainly be theirs.
Toronto vs. Buffalo, Monday, Jan.21 - The Maple Leafs are like a joke with an infinite supply of punch lines. They added to their reputation for ridiculousness by changing GMs after the lockout. I find it hard to believe that they can contend regardless of who is in charge given their roster, but this game will give us the first sense of whether they are going to be improved. At home against a solid rival — they need to win this one.
Calgary vs. Anaheim, Monday, Jan. 21 — The Flames appear to be a very poorly-built team. They are made up of two types of players — aging and declining guys, and young and unproven prospects. This is their second game in two nights. That means it is our first chance to see how this team might hold up under the strain of this schedule. I'm not optimistic, but they have a first chance to prove me wrong here. For Anaheim this will be an instructive game as well. Head coach Bruce Boudreau took over midseason last year. He had initial success before the team ran out of gas. Now it's his team from the start. Will they play more like they should as opposed to how they did for too much of last year? This is the kind of game — a reasonably rested road game against a marginal team — that they absolutely need to be able to win, and win convincingly.
Columbus vs. Detroit, Monday Jan. 21 - The Blue Jackets were a terrible team last year. Then they lost the best player they have ever had in free agency. Without Nash this could be a really bad team. Or they could rally around their situation and surprise us. New coach Todd Richards is excellent, so he may be able to make wine out of mud — or at least slightly less muddy mud. This home game could be a good opportunity for them to make a statement — and for us to see if they have any spark. It will also be interesting to see Detroit on the road early in the season. They have only had two captains since 1986 — Steve Yzerman and Nicklas Lidstrom. Lidstrom has retired, though, and now Henrik Zetterberg has to step up and lead a talented but evolving squad. How that turns out is far from certain.
Los Angeles vs. Vancouver, Monday Jan. 28 - This is a massive home game test for the defending-champion Kings. By this point they will have played four games, so the kinks will be worked out. If they have any interest in defending their title in this condensed season, then this is precisely the kind of game that they absolutely have to win. The Canucks, or a team of their caliber, will stand between them and another trip to the finals. That means they need to be able to beat these teams at home.
Read more articles by Trevor Whenham