NHL Handicapping: Vancouver Canucks Hottest Team in West
by Trevor Whenham - 12/19/2013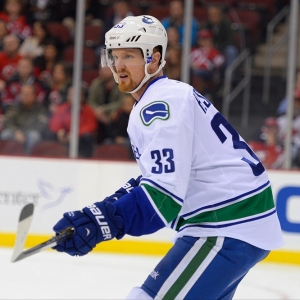 After a rocky start to the season, the Vancouver Canucks are the hottest team in the Western Conference. They are 7-0-1 in their last eight games. It is a remarkable turnaround for a team that was 4-6-4. They are certainly more talented than they looked before this month. The question for bettors, though, is whether this recent uptick is a sign of a real turnaround or whether it is just a streak before an inevitable return to disappointment. To decode what is likely, here are six factors to consider:
Schedule during streak: The first thing I like to do every time I am analyzing the significance of a hot streak is to look at who the team has beaten. There are definitely some weak spots. Five of the eight games — all played in a row — were at home. Two of the road games were in Nashville and Carolina — hardly tough places to play right now. Beyond that, though, there are a lot of bright spots. They beat a likely playoff team in Colorado, they took Minnesota to a shootout before losing, and Minnesota is very tough to beat at home. Most impressively, they absolutely crushed the Bruins. It wasn't a murderer's row of games, but it was solid. We'll really get a sense of where this team is at early in the new year, though, because their schedule for the first couple of weeks is pretty much as brutal as it can be. Over 15 days they play at Anaheim and the Kings twice each, and host Tampa Bay, Pittsburgh and St. Louis. That stretch could mark the Canucks as elite contenders or leave them back at Square 1.
Coaching: You can't talk about this team without looking at new head coach John Tortorella. He was an eye-opening choice, and I was far from the only one who struggled to see the wisdom of the choice. He signified a major shift in both personality and approach from former coach Alain Vigneault, so it is not a surprise that it has taken a while for the team to mesh under him. He focuses intensely on defensive responsibility, and he has a short temper and is volatile. It is too early to say that the team has completely bought into what he is selling, though there are signs of acceptance and progress in several areas. As much as any team in the league right now, though, you can't handicap this team over any long term without looking at the coach and his relationship with his team.
Penalty kill: One area where the impact of Tortella is obvious and positive is on the penalty kill. Last year the team was decent when they were shorthanded — they finished eighth in the league. This year, though, their percentage has increased by 5.5 — a very impressive leap — and they sit atop the league standings. Penalty kill success is not something that happens by accident, and teams that shine there have a discipline and attention to detail that tends to help in other areas as well. This is a reason to be positive.
Goaltending: This was a major area of focus last year because Roberto Luongo was dangled as trade bait all year. In the summer the drama took a bizarre turn when the team traded Cory Schneider to the Devils and thereby committed to Luongo as their goalie of the present and future. It was a shocking-and-not-universally-popular move, but so far it has turned out well. Luongo is playing at a solid level, and he looks very much like the No. 1 goalie that it wasn't certain he could be anymore at times over the last couple of years. One of the bigger gambles of getting rid of Schneider was that the team would be relying on the very inexperienced Eddie Lack to relieve Luongo. That gamble, too, has paid off handsomely to date. he has been strong in eight appearances, and he posted his first career shutout in just his sixth career start earlier this month. Goaltending was a major area of concern heading into the season. That is less the case now, though Luongo still doesn't inspire absolute confidence like he once did.
Sedins are Sedins: The creepiest twins in professional sports and the heart and soul of this team. There was a possibility that they could have some issues this year. They signed what could be their last contracts earlier this year, and their quiet personalities could have been a clash with the fiery Tortorella. Thankfully for the team, though, the two have continued to do what they always do — find ways to be productive. They are tied for the lead in team scoring with 32 points in 36 games. They eat up a ton of ice time, avoid mistakes, and are strong leaders for the franchise. If the two had shown any signs of diminished productivity then there would be greater reasons for concern around the team. They are right on pace with the last two years, though, so things on this front are good.
Secondary scoring has emerged: A potential concern for this team heading into the season was where the secondary scoring was going to come from. The roster has been shuffled over the last couple of years, and beyond the Sedins and Ryan Kesler there aren't as many clear offensive threats as their once were. Some guys have really embraced that secondary production role this year, though. Mike Santorelli, who is new to the Canucks this year after bouncing around three teams in the previous five years, is having the best season of his career and is fourth in team scoring. Defenseman Jason Garrison is thriving under Tortorella, and he has already set a career high in assists. Chris Higgins has recaptured the form that made him so promising early in his career in Montreal before he flattened out. The team doesn't have to rely on their top three players as heavily as it seemed they might, and that makes them more sustainable.
Read more articles by Trevor Whenham