2013 NL West Picks and MLB Betting Predictions
by Robert Ferringo - 3/9/2013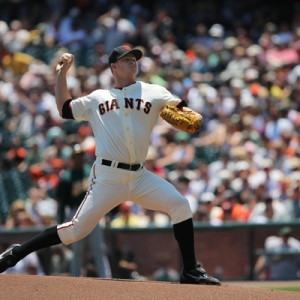 Style or substance? Flash or finish? Hype or heart?
Those are truly the themes of the 2013 National League West. The Los Angeles Dodgers have dominated the headlines on the West Coast this offseason, and they enter the season with a team that is basically a fantasy baseball team roster. The Dodgers, as well as the Colorado Rockies with their highly-touted talents, have the name recognition and star power to lure in bettors.
However, those two teams are opposed by San Francisco and Arizona, two teams built on grit, determination and the idea that a clean uniform is loser's garb. The Giants are the defending World Series Champions, and Arizona has the second-best mark in the West over the past two seasons. Their names might not "wow" prospective baseball bettors, but these teams just get the job done when the pressure is the thickest.
And then there is San Diego. Which still stinks.
Here is Doc's Sports 2013 National League West picks and MLB betting predictions with MLB futures odds provided by Bovada:
Los Angeles Dodgers
2013 Record: 86-76
2013 Wins Over/Under: 91.5
Odds To Win 2013 NL West: 1/1.2
Odds To Win 2013 NL Pennant: 4/1
2013 Los Angeles Dodgers Odds To Win World Series: 8.5/1
Outlook: The Dodgers felt they shifted the balance of power out west last August when they made one of the biggest trades in recent baseball history, bringing Adrian Gonzalez, Carl Crawford and Josh Beckett to Chavez Ravine. That maneuver wasn't enough to help the Dodgers catch the Giants (or make the postseason) last year. But with a full offseason to heal, gel and adjust, the idea is that the deal will lay a foundation for Dodger domination in 2013 and beyond.
Beckett was awful in Boston over the past two years. But a switch back to the pitcher-friendly National League could revitalize his career. And the fact that he is the third best arm in L.A.'s starting staff, behind Cy Young-caliber studs Clayton Kershaw and Zach Greinke, means the Dodgers are in good shape. A healthy Chad Billingsley is crucial to the Dodgers' plan as well.
The Dodgers had a Top 10 bullpen yet again last year. But they will need Brandon League to bounce back after a wacky year in Seattle and to emerge as a reliable closer.
Crawford is injured and he may not be back before July. But the Dodgers expect Gonzalez to return to his MVP form. He will also have the benefit of hitting in a lineup with enigmatic Hanley Ramirez and underrated Andre Ethier. That lineup, anchored by that trio, would be excellent. But with the best player in baseball, Matt Kemp, thrown in the mix, this lineup could be devastating.
There is obviously a lot to like – and a lot of hype – around this Dodgers team. But my main concern is this: with so many superstars, who is going to do the little things that a team needs to be successful over the six-month grind of a baseball season? Who will sacrifice a runner? Who will leg out an extra base or dive for a ball in the gap? Who will get dirty and will a team through a languid patch? Is this team too pretty to be successful out West? And will there be any betting value on a team that the public and square bettors will be pounding from Opening Day on.
The amount of talent on this team is matched only by the amount of questions I have about it.
Arizona Diamondbacks
2013 Record: 81-81
2013 Wins Over/Under: 81.5
Odds To Win 2013 NL West: 6.5/1
Odds To Win 2013 NL Pennant: 25/1
2013 Arizona Diamondbacks Odds To Win World Series: 60/1
Outlook: The most overblown story of the Diamondbacks this spring has been just how "gritty" and "gutty" this roster is, and how it is made up of tough, "grinders". Yeah, all that is just code for, "We dumped our best players and replaced them with lower-priced overachievers."
That philosophy can work. But I don't know that it will work with this particular group. Schizo "stars" Justin Upton and Chris Young have moved on. But Arizona is also missing other crucial pieces from the 2011 team that won 94 games. What is left is a roster made up of guys like Cody Ross, Aaron Hill and Jason Kubel. Tough? Sure. Max effort guys? Absolutely. But you're going to have a hard time selling me that this year's D-Backs are going to be better offensively than last year's No. 7-ranked offense.
Arizona's starting pitching regressed last year. But they brought in Brandon McCarthy and are hoping the erstwhile Oakland ace can bolster the back end of their rotation. Ian Kennedy and Trevor Cahill are B or B+ arms at the top of the rotation. But when Arizona is hitting the ball well, their lack of an ace actually helps this team maintain its betting value.
I'm not entirely sure what to make of Arizona this year. I didn't mind them dumping Young and Upton, who were amazingly inconsistent in their time in the desert. But I am also not subscribing to the theory that this team's "heart" and "grit" can make up the talent deficit that they have with San Fran and Los Angeles. I think this plan could backfire on Arizona, and I think the Diamondbacks have a lot deeper downside than they do a high upside.
San Francisco Giants
2013 Record: 94-68
2013 Wins Over/Under: 87.5
Odds To Win 2013 NL West: 1.8/1
Odds To Win 2013 NL Pennant: 7/1
2013 San Francisco Odds To Win World Series: 12/1
Outlook: I will doubt the Giants nevermore. I was down on the Giants heading into last season. They had severely overachieved against their Pythagorean win totals in both 2010 (when they won a title) and 2011 (when they missed the playoffs but won 88 games). I predicted several injuries for last year's club and figured they would continue to trend downward.
I was wrong.
San Francisco dominated the West last year and almost seemed energized by Los Angeles' big money moves. The Giants win with a dominating pitching staff, from top to bottom and a lineup that is filled with seasoned, professional hitters. This team is a better version of Tampa Bay and can be bet accordingly: be wary of them as a heavy favorite, but look to get down on them in most underdog roles.
The Giants did lose some key contributors. Melky Cabrera really helped keep this team afloat in the first half of last year. Aubrey Huff, Freddy Sanchez and Brian Wilson were also integral parts of setting the locker room tone as well. But the heart of this team is still intact. Angel Pagan and Hunter Pence remain underrated. Buster Posey may be the best catcher in baseball, and the "Kung Fu Panda" and Brandon Belt give the Giants the pop that they need.
The fact is, when you are leading a series with Matt Cain, Madison Bumgarner, Tim Lincecum and Ryan Vogelsong, you are going to win more than you lose. All four of those starters are potential 18-game winners and a brilliant, veteran bullpen backs them up. There is no weak link on the staff. And when you add in the confidence that this team has after winning two championships in three years, you have a club that should remain among the best in the N.L.
San Diego Padres
2013 Record: 76-86
2013 Wins Over/Under: 74.5
Odds To Win 2013 NL West: 15/1
Odds To Win 2013 NL Pennant: 40/1
2013 San Diego Padres Odds To Win World Series: 100/1
Outlook: Remember when the Padres were sneaky good? From 2004 to 2007 San Diego won an average of 86 games and were routinely one of the most profitable teams in baseball betting. But those days are long gone. And outside of one bizarre season in 2010 in which they won 90 games, the Dads have won an average of just 71 games since 2008 and have been a punching bag for, well, pretty much everyone.
San Diego usually has solid pitching metrics mainly because of their pitching-friendly park. However, the Padres staff was mediocre at best – feeble at worst – and things could be even tougher this year since San Diego moved in the fences. I am a big Edison Volquez fan. But beyond him the Padres are leaning on a lot of soft-tossers and retreads to carry the cross. Also, this was one of the worst defensive teams in baseball last year. That's a killer when you have a lot of pitch-to-contact starters.
There really is nothing positive to say about San Diego's lineup. Well, it steals a lot of bases. I guess that's good. But they hit below .250 again as a team and barely scored four runs per game. They are relying on Carlos Quentin to stay healthy (won't happen) and for someone like Cameron Maybin to break out (also won't happen). There will be a lot of ugly turns through the lineup once again for this weak group.
The Padres have made some changes heading into this season. They have a new ownership group and they are flush with money from a new television deal. The fences have been brought in significantly. But as I look at the roster, it appears the Padres are going to stick to their small ball, small-market mentality. For now. But until I see the team on the field change to keep up with everything around them, this is still a solid go-to team to bet against when you need to snap out of a slump.
Colorado Rockies
2013 Record: 64-98
2013 Wins Over/Under: 71.5
Odds To Win 2013 NL West: 22/1
Odds To Win 2013 NL Pennant: 60/1
2013 Colorado Rockies Odds To Win World Series: 150/1
Outlook: I know a lot of people are in love with Carlos Gonzalez and Troy Tulowitski. And, sure, if you look at their numbers at the end of the season you think these guys are studs. But the one thing that these guys have proven to me is that they can't carry a team, or a clubhouse, and they are better fantasy league options than they are true difference-makers.
Colorado had a decent roster heading into last year. But Colorado's two stars got off to slow starts, and this team was buried early. They actually finished No. 2 in the Majors in batting and No. 3 in OPS. But they have to pray that Todd Helton has one more healthy summer in him and that Michael Cuddyer can continue to be one of the most underrated hitters in the league. Because beyond these name guys there are a whole lot of young, unproven, and not altogether talented newcomers that will be regulars.
Even if Colorado can match last year's inflated offensive numbers, I can't take this team seriously until it gets some pitching. It will always be tough to lure or develop good young arms in Coors Field. But the Rockies were last in the Majors in ERA, WHIP and Quality starts last season. And looking at the seven pitchers that are competing for rotation spots this spring, I don't see a whole lot of improvement. A shabby bullpen backs up the weak starting staff. And the result is a team that went 74-88 against the runline and was routinely blown out.

This is still a really bad team. This team doesn't win on the road and it isn't good enough to take advantage of its home field advantage. Colorado is streaky; they had three winning streaks of four games or more in the last six weeks of last season. But they are inconsistent, and the only way to play them this point is to bet against them early and often.

2013 National League West Picks and Predictions: Predicted Order of Finish
1. San Francisco Giants
2. Los Angeles Dodgers
3. Arizona Diamondbacks
4. San Diego Padres
5. Colorado Rockies
Doc's Sports is offering $60 worth of member's baseball picks absolutely free – no obligation, no sales people – you don't even have to enter credit card information. You can use this $60 credit any way you please on any of our top MLB handicappers. Click here for more details and take advantage of this free $60 picks credit today.
Robert Ferringo is a professional sports handicapper for Doc's Sports. He is considered one of the top MLB cappers in the country and has turned a profit in four of the last six years on the diamond with his baseball picks. He closed 2012 with an amazing $11,700 in earnings over the last four months and is looking forward to a great upcoming season against the MLB odds. Click here for more information on his MLB picks.
Read more articles by Robert Ferringo