2013 Preakness Stakes Betting Advice: Itsmyluckyday
by Trevor Whenham - 5/13/2013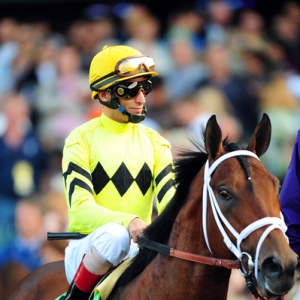 Last race: It was a very bad day for Itsmyluckyday in the Kentucky Derby. He galloped along mid-pack for the first six furlongs and was running the race he needed to. When it came time to flip the switch and start moving forward, though, there was nothing left. He looked far more tired down the stretch than he really should have and faded back to an irrelevant 15th by the finish line.
Despite being a well-regarded contender coming in, he never was part of the action in a real way. It was a head-scratching performance, though some can be blamed on the ridiculous early speed of Palace Malice and the damage that inflicted on the horses around him, and the sloppy surface was likely a factor as well.
Career highlights: At the start of the year it looked like this horse was going to be one of the top three year olds in the country. He won the Gulfstream Park Derby and the Holy Bull and posted impressive Beyer ratings of 102 and 104 in the two outings, respectively. That last race was Jan. 26, though, and he has only moved in the wrong direction since.
His only race before the Derby was the Florida Derby. He finished second to Orb in that race but was well beaten, and his 93 Beyer was a big step backwards. In his poor Derby showing he earned only a 71 Beyer — far from good enough for this level.
Jockey: John Velazquez. Elvis Trujillo was aboard for the Derby, but the combination of that lousy outing and the availability of Velazquez after Verrazano flopped in the Derby made the change both easy and logical.
Velazquez is among the top riders in the country. He missed most of April to an injury after a serious spill at Aqueduct, yet he still sits fourth in the country in money won. He hasn't ridden the horse in a race, but he is such a veteran that that hardly matters. He has a Derby and two Belmont wins but will be looking to complete his career Triple Crown in this race.
Trainer: Edward Plesa, Jr. Eddie Plesa is not a major national-level trainer, but he is certainly well established in his Southern Florida base. He also has plenty of connections to racing — his father was a jockey, and brother-in-law John Servis trained Smarty Jones to wins in the Derby and Preakness.
He's having a solid-though-not-sensational year this year, and that pretty much sums up his career. One quirk of his could be interesting here, though. He uses a one mile work to tune up his horses much more often than most trainers — most only use five furlongs or less. The benefit of those works often show up for Plesa on the second outing after the work, and that would be the Preakness in this case.
Pedigree: Sire Lawyer Ron has not been proven as a sire of stamina, though he died after just two crops, so he hardly had the chance. He could handle distance reasonably well, though, and there is a good chance that he could pass that along. Damsire Doneraile Court similarly hasn't produced as much stamina as it looks like he should be capable of — he is a son of Triple Crown winner Seattle Slew, so we know ample stamina flows through his veins.
His pedigree isn't a massive asset here, but it isn't a knock, either.
Running style: Given his preference, Itsmyluckyday would run a classic stalking race. He'd settle in the group behind likely pacesetters Goldencents and Govenor Charlie and bide his time until making a move around the final turn — hopefully before the closers get going and really move forward. The race he wants to run is certainly possible in this field, and it has proven to be successful in the Preakness over the years.
Preakness prognosis: The Derby was a major disappointment. If you can over look it, though, this horse provides some very interesting potential value.
His bandwagon has become a less popular place to be. That's a good thing for bettors. He has a serious upgrade in jockeys, that last race shouldn't have taken too much out of him since he was almost walking by the end, and he is working well and in an interesting way.
I'm not convinced he can beat the best, but he is a serious contender for the exotics.
Doc's Sports wants you to try out our expert horse racing handicappers free of charge and is offering new clients $60 in free picks that can be used for any Triple Crown race. Click here for more details on this free $60 offer.
Read more articles by Trevor Whenham