2013 Preakness Stakes Betting Profile: Orb
by Trevor Whenham - 5/13/2013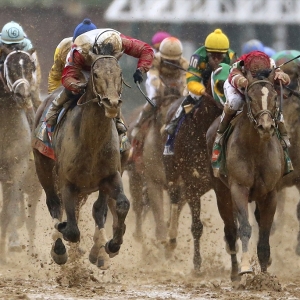 Last race: As you probably know if you are reading this preview, Orb was last seen wearing roses after winning this year's Kentucky Derby. He was the post time favorite and seemingly the class of the field. He proved that to be true.
He also enjoyed a very favorable race scenario. Led by near-runaway Palace Malice, the early pace in the race was nearly suicidal. Orb, a closer, settled way off that pace near the back of the field. When he made his move, all he had to do was avoid the tiring and fading horses. He aggressively moved to the front, drew clear, and never gave the impression that he was in any trouble at all.
It was a very strong win. He also handled the off track very well given that it was his first time on the surface, though his breeding indicated that he had a decent chance of faring okay.
Career highlights: Orb made his racing debut on Aug.18 of last year. Remarkably, though, it took him four tries to win his first race. Once he got a taste for success, though, he was unstoppable.
He has won his last five races. His prep path included wins in Florida's two biggest prep races — the Fountain of Youth and Florida Derby. The great Thunder Gulch also won those two races before winning the Preakness and Belmont in 1995, though he had previously fallen short in the Derby. In those two stakes victories, Orb had not been as far back in the pack as he was in Kentucky, but the results both featured similar early patience, one sustained move, and evident confidence down the stretch.
Jockey: John Velazquez had ridden the horse for the two stakes wins but chose to ride Verrazano in the Derby. That left Joel Rosario to return to the saddle where he had been for the horse's non-stakes career.
Rosario was hardly a default choice for the horse. He is the hottest rider on the planet right now. At the end of March he rode Animal Kingdom to a win in the richest race in the world, the Dubai World Cup. He followed that up by shattering the meet record for wins at Keeneland and more than doubling the wins of his nearest competitor. Then he won five races on the Opening Day at Churchill Downs the week of the Derby.
He's wildly-confident, and clearly well-suited to the horse. The Derby was his first Triple Crown win, and his experience at Pimlico is limited, but that lack of experience is less of a concern here than it would be for some riders.
Trainer: Shug McGaughey. He was a living legend and hall of famer before winning the Derby, and now that he has won the biggest race on the planet he is even more of a legend.
He is very patient with his young horses, so he doesn't produce a lot of Triple Crown contenders — though he won the Belmont in 1989 with Easy Goer. He's universally respected, and, unlike last year's Derby winner Doug O'Neill, he runs a clean and honest operation.
What is striking about McGaughey and this horse, though, is how excited he is about him. After training since 1979, the guy has seen everything four times, yet he can't say enough about this horse and what he thinks of him. When a guy like this gets that excited about a horse, it's worth taking note.
Pedigree: Stamina is a big concern in this race given the length — just 1/16 of a mile less than the Derby — and the short rest between races. Orb's pedigree gives him plenty of stamina.
Sire Malibu Moon isn't a superstar sire, though Orb certainly helps his cause. He has solid stamina tendencies, though, as Orb has exhibited. Damsire Unbridled, on the other hand, is a horse that could run forever and that has offspring who can do the same.
Orb may not have the absolutely perfect breeding you would dream of when creating the perfect Preakness entrant, but it is more than adequate for the task.
Running style: I got some negative feedback before the Derby when I termed the horse a deep closer. Some people think of a deep closer as a horse that is way behind the field before making his move. Orb, up to the point of the Derby, had always been a bit closer to the pack.
What defines a deep closer for me, though, is not where he winds up in the pack — that depends on the rest of the field — but his attitude early in a race. A deep closer just doesn't care about what is going on. He settles where he wants and needs to be, relaxes completely, and just waits for the real race to start for him.
In that sense Orb is a textbook deep closer. He doesn't need the perfect race — though he got it in the Derby. He creates the race he needs.
2013 Preakness Stakes betting prognosis: In the last 16 editions of the Preakness Stakes, the Derby winner is 8-4-1. Orb is not the best of those past 16 Derby champs, but he is a very long way from the worst as well.
He's up against a group of horses he beat convincingly in less than ideal conditions in the Derby, and he has again been working very well heading into this race. His running style fits for Pimlico, too, and he has a very good jockey aboard.
I would have no argument with anyone wanting to bet on this horse. The biggest problem, of course, is going to be the price. He is likely to be about 7/5 in the morning line, and that is sure to fall by post time. If you take him, you can't really afford to take many other horses — or any — on top.
Want free Preakness picks? Doc's sports expert handicappers are offering $60 worth of Preakness Stakes picks absolutely free – no credit card needed and no salesman ever. Doc's Sports and Robert Ferringo both scored big at the Kentucky Derby, and they are looking for more of the same for the Preakness. Click here to take advantage of this offer.
Read more articles by Trevor Whenham