Texas A&M Handicapping: With and Without Manziel
by Trevor Whenham - 8/22/2013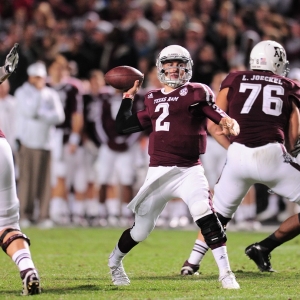 We are in a very strange time with Johnny Manziel and the Texas A&M Aggies. Unprecedented attention and scrutiny. Incredible stupidity to get into this autograph mess he is in. Total uncertainty about what could happen and what it might mean. The Aggies could play the whole season without Manziel. Or he could be there for every game. He could be just as good as always, or the distractions and pressure — and his temper — could derail his season. It's a betting nightmare. As you try to figure out how to bet on him, here are five factors to consider:
What could happen
Part of what makes this whole situation so interesting is that there is so much that could happen. There are few precedents — at least not for players this high-profile and still active. The NCAA could come down hard on Manziel, effectively ending his career by suspending him for the year. They could give him a simple slap on the wrist — a suspension of a game or two. They could reason that they have had a horrible summer on the PR front thanks to their selling of numbered jerseys and so much else, and they could try to avoid more negativity by ignoring the issue — claiming they don't have enough information to make a ruling. The timing of the ruling is also a question. The NCAA could rule at any time if they feel they know enough, but the organization certainly isn't known for their speed. That means that the ruling could come at any point during the season. The NCAA could also chicken out and rule at the end of the season — which would make thing irrelevant because there is a good chance Manziel won't be in college next year anyway. If the NCAA does delay their decision then there is a small but real chance that Texas A&M could look to protect themselves. If Manziel is eventually suspended then the team would have to void any wins they earn. To avoid that, and to look like they were taking action themselves in an attempt to avoid any significant institutional penalties, the school could suspend Manziel themselves — though they wouldn't do that unless they were quite sure he was guilty. With so many possibilities, it is really difficult to truly handicap what could happen and what the impact will be. One thing that is telling, though, is that the team is preparing entirely as if Manziel is the first and only primary option at quarterback.
Distraction when NCAA does rule
Whenever the NCAA does rule there is going to be an almost unprecedented amount of attention on Manziel and the team — regardless of what happens. The longer the NCAA goes without a decision, the more the distraction will increase, too. The Aggies face a tough enough challenge with their schedule without a monumental distraction in their way.
Why did he have the offseason he had?
This is the biggest question I had. Even without the alleged autograph signing sessions, Manziel had a truly ridiculous offseason. He partied with models, rock stars and athletes. He was at major events around the country and was all over social media. He was everywhere — except, seemingly, on campus. He's a free man and can do whatever he wants. I have to wonder, though, how Kevin Sumlin and the rest of the administration didn't have firmer control on their superstar. At a lot of schools a superstar would have been kept on a much shorter leash — especially once he started to run into some issues on social media and elsewhere. It seems like Manziel is the one driving the bus, and you have to wonder what that means going forward for this team — especially as the pressure and distractions mount up and Manziel feels more targeted and under pressure.
The second year should see improvement — in normal circumstances
As good as Manziel was last year, it is common for a guy in an offense that is, to loosely classify it, air raid-esque, to take a big step forward in his second year in the system as he gets more comfortable and things slow down. Offensive coordinator and mentor Kliff Kingsbury is gone, but Jake Spavital is in as QB coach. Most recently, Spavital has worked with Geno Smith and Brandon Weeden, and both guys were much improved in their second year. It's hard to know how everything else affects him, but there is at least some evidence that Manziel could be even better than he was. Scary thought for the opponents out there.
Public will overreact like rarely before — regardless of what happens
Manziel gets an unprecedented amount of attention. Even Tim Tebow is jealous of all the press he gets. The one thing you can be absolutely certain of, regardless of what happens is that the betting public is going to overreact significantly. If he gets off without punishment then they will bet the team heavily. If he gets suspended then they will almost certainly punish the team more than they deserve. Betting Texas A&M was going to be very tough this year because of Manziel and the attention he get even before anything happened. Now it could be all but impossible.
Read more articles by Trevor Whenham