2014 ACC Tournament Picks and College Basketball Predictions
by Robert Ferringo - 3/12/2014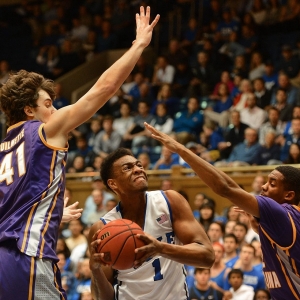 Perhaps no conference in the country, save the American Athletic, is as fundamentally disparate as the ACC this year. This conference is a clear case of the basketball haves and have nots, and it has made for some ugly hoops this year in one of the nation's most prestigious conferences.
However, the ACC has been in decline for a half-decade. The public may finally be catching on to that fact, but too many people still look at this league as a basketball powerhouse. It isn't. There are some very good teams in the top tier that mask the failings and weakness of the group as a whole. The fact of the matter is that the ACC remains mired in mediocrity, living off the successes of so many teams past.
That doesn't mean there won't be some thrills this weekend, though. A potential Duke-Syracuse rubber match in the ACC semifinals may turn out to be the best game of a thrilling week of basketball across the country. And the tension between Big East invaders (Syracuse and Pittsburgh), Big Ten defectors (Maryland) and ACC blue bloods (Duke, North Carolina) playing in their back yard will make for some intense action.
The ACC Conference Tournament begins Wednesday, March 12, and is being held at the Greensboro Coliseum in North Carolina. The championship game will take place at 3:30 p.m. on Sunday.
Here is Doc's Sports 2014 ACC Tournament picks and predictions:
The Favorite: Duke (+180)
Despite the fact that the Blue Devils are the No. 3 seed, they are still the favorite to cut down the nets in Greensboro. Duke has won 10 of the last 15 ACC Tournament championships and hasn't gone more than three years without a title since the late 90s. However, they have failed to win the last two tournaments and have a tricky road this year. Freshman of the Year Jabari Parker (19.2 PPG) and transfer Rodney Hood (16.5) lead a Blue Devils attack that is almost entirely perimeter based. Duke is essentially a chuck-and-duck team that tries to bury opponents under a barrage of 3-pointers. They are in the Top 25 in 3-point field goal percentage and points per game, and if they get hot this weekend then they can run the table. However, the Blue Devils are woefully thin on post defenders. They can get beat up on the interior and pushed around on the boards. Their matchup with Syracuse in the semifinals will be must-see TV.
The Contender: Virginia (+350)
The Cavaliers just still can't get any respect. They won the ACC regular-season title but had zero All-ACC players and now aren't even favored to win the tournament from the No. 1 slot. The Cavaliers are ruthlessly efficient on both ends of the court. They are No. 1 in the nation in points allowed and No. 7 in field goal defense. The offense doesn't score much, but it scores enough. Senior Joe Harris is the resident hero. And point guard Malcolm Brogdon gives the offense a jolt when it needs it. Virginia has a pair of capable big men in Mike Tobey and Akil Mitchell and an athletic X-factor in Justin Anderson. However, the Cavaliers did benefit from the easy end of the ACC's unbalanced schedule. They also haven't proven themselves outside of Charlottesville. This is a good team. But this is March. Catching fire and winning a tournament is a different animal than navigating a regular season. We'll find out if the Cavs are up for it.
The Sleeper: Syracuse (+400)
It is hard to call the team that spent the majority of the season as the No. 1 team in the land a "sleeper" but I have gotten the feeling that Syracuse has been written off as a national title contender. But what ACC teams don't know yet is that the Orange thrive in just these situations. Syracuse was always dynamite in the Big East Tournament, and they will try to start a new postseason legacy in their new league. No, the Orange haven't been very good in the past month. To say they're struggling offensively is an understatement. But Syracuse was the best team in the country the first three months of the season. They ran roughshod over good competition in Maui to win that neutral-site tournament. They are focused and healthy, and if the Orange can knock down some outside shots they can absolutely impose their will on the rest of the league this weekend.
The Spoiler: Clemson (+5000)
I guess it is time to find out if Clemson is a good team or not. They have beaten all the teams they should have and they have lost to just about everyone they should have. And by flying straight they have put themselves in the NCAA Tournament picture. But that's not enough. Not this time of year. And they have a draw to do some damage. Clemson will take on the Georgia Tech-Boston College winner. After that would be a rematch with Duke, a team the Tigers took down in early January. After that they would likely face Syracuse, a team they matchup relatively well with. I think it's a long shot for any second- or third-tier teams in the ACC to make much of a run. But if Clemson is better than I think they are then they have a chance to prove it. If they want an invite to the Big Dance here is their chance to go out and earn it.
The Matchups:
No. 12 Wake Forest (+3.5) vs. No. 13 Notre Dame (1 p.m., Wednesday, March 12)
Two underachieving teams will get things going in Greensboro. Wake Forest has won just twice in its last 11 games, but those victories were both upsets over Clemson and Duke. Wake has some guys that can play. And senior Travis McKie will fight to the bone to keep his career going. Notre Dame has been nearly as bad as Wake, winning once in their last five games and just five of their last 17. Wake won the first matchup back in January. But these are two different teams right now. Defense will be optional for these two. Both are soft, perimeter-oriented teams that want to shoot jumpers and win with offense. Whoever knocks down more from the outside will play on.
No. 10 Miami (-6) vs. No. 15 Virginia Tech (3:30 p.m., Wednesday, March 12)
Wow, is this a worthless game. Virginia Tech is pathetic. They have gone just 2-18 in their last 20 games, and they are worthless. But somehow they managed to beat the Hurricanes twice this year for their only league wins of the season. Miami is just playing out the string. They are the defending ACC Tournament champions but are just trying to get this season over with until reinforcements can come next year. I have a hard time believing that Tech will beat anyone three times in one year, though.
No. 11 Georgia Tech (-1) vs. No. 14 Boston College (7 p.m., Wednesday, March 12)
There is a lot more talent on these two teams than their records suggest. The wheels came off Boston College's season early, and they are just 8-23 on the year. They can't play any defense. At all. But that's kind of OK against Georgia Tech, which has all kinds of problems finding ways to score. The Yellowjackets did close out the regular season with a pair of wins, including taking down Syracuse in The Dome. Georgia Tech has more physical talent, better big men, and more seniors trying to stave off the end of their season.
No. 8 Maryland (+1) vs. No. 9 Florida State (Noon, Thursday, March 13)
This is Maryland's final go-round in the ACC; they are heading to the Big Ten next season. They would like nothing more than to make a run here. The Terps are coming off an emotional overtime win over Virginia on Sunday. And the only thing between Maryland and a six-game winning streak is a trio of last-second losses. Florida State has won four of five and beat Maryland by 24 points in the first matchup. (Maryland won the rematch by 12.) Florida State will try to put the clamps on Maryland's struggling offense with a smothering man-to-man defense. But the Seminoles have the same weakness: they struggle shooting the ball. In a way these two teams are the exact opposite of Wake and Notre Dame, but the premise is the same - whoever makes more outside shots plays on.
2014 ACC Conference Tournament Picks and Predictions: Hey, as a Syracuse grad I'm biased. But the fact is that I just think that they are better than Duke. So I have the Orange beating the Blue Devils in the semifinals and advancing to the title game. Once there they should handle any of the teams that make it through the top of the bracket. Pittsburgh doesn't have a chance at making the finals. North Carolina doesn't match up that well with the Orange because they are lacking on the perimeter. And I think that the Orange would get the better of Virginia in a rematch on a neutral court. Syracuse has a knack for performing in conference tournament situations, and they may be undervalued right now. I also think that teams like Virginia and North Carolina are being overvalued for what they did against the bottom of a murky ACC barrel. The Syracuse-Duke semifinal will determine who is going to win this one. Let's go Orange.
Robert Ferringo keeps proving himself to be one of the best college basketball handicappers in the nation. Robert has posted 11 of 16 winning college hoops weeks and 17 of 20 winning college hoops months. He has banked nearly $10,000 in profit with his side plays this year and almost $17,000 in profit since Nov. 11, 2012. Robert is a profit machine and you can take advantage of our free, no-strings-attached $60 credit to use toward a purchase of Robert's college basketball selections. CLICK HERE for $60 absolutely free!
Read more articles by Robert Ferringo