2014 AL Central Picks with MLB Betting Odds and Predictions
by Robert Ferringo - 3/25/2014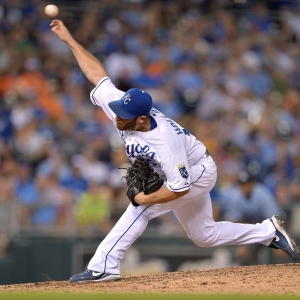 The American League Central has established itself as the new Weakest Division in Baseball. The Detroit Tigers are head and shoulders above a group that can best be described as inconsistent, underperforming and overmatched.
Sure, the Central produced two playoff teams in 2013 with Cleveland losing in the one-game playoff to Tampa Bay. But a big part of the Indians success was a 44-32 record against its division, tying them for third-best divisional mark in the American League and for sixth-best in MLB.
That is consistent with what Detroit (47-29) and Cleveland (44-32) were able to accomplish against their rivals. That also means at least half of the Tigers' and Royals' wins came from within the division.
Keep these numbers in mind this year as you consider betting on teams from the A.L. Central. If you ignore Cleveland's anomalous 25-8 record against the A.L. West last year, the teams in the Central combined to go just 185-207 (47 percent) against the rest of the league.
Here is Doc's Sports 2014 A.L. Central picks and betting predictions ( with odds courtesy of Sportsbook.ag):
Detroit Tigers
2013 Record: 93-69 (-1150)
2014 Wins Over/Under: 90.5
Odds To Win 2014 AL Central: -200
Odds To Win 2014 AL Pennant: +400
2014 Detroit Tigers Odds to win World Series: +800
Outlook: Believe it or not, the Tigers actually underachieved last year despite winning 93 games and their third straight divisional title. They came up six wins short of their Pythagorean Win Total, one of the biggest misses in the league, and that puts Detroit into a category where they should exceed this year's season win total.
However, the Tigers swapped Prince Fielder for shaky Ian Kinsler, they are embroiled in a nasty contract dispute with defending Cy Young Max Scherzer, and a touch of weakness on the left side of their infield (and outfield, for that matter) tells me that all is not well with this group.
Sure, Detroit will still be a formidable offense as long as Miguel Cabrera is hitting in the lineup and if Kinsler, Austin Jackson and Victor Martinez can stay healthy. But in what seems to be a recurring theme in this division, the drop-off from starter to backup is precipitous at most positions. And I'm concerned about the lack of flexibility that I see on the roster right now.
Also, Detroit's right-handed-heavy lineup should again punish left-handed pitching. The Tigers were No. 2 in the Majors, behind Cleveland, in batting and scoring against southpaws last year.
Whatever regression the Tigers offense might experience, the starting pitching should make up for it. Justin Verlander and Scherzer are Cy Young winners, and Anibal Sanchez has posted at least 180 innings with a sub-3.90 ERA in each of the last four years. It's a little dicey after that. And they will miss the departed Doug Fister. But the three horses at the top set the tone for everything on this staff, including taking a lot of pressure off the bullpen.
The cracks are starting to show in Detroit's Dynasty That Wasn't. The Tigers have lost in the World Series once and the ALCS twice in the last three years. I'm starting to think that the window on this team may be closing. Their frontline starters will be priced out for simple wagers. So it may be time to start betting against this team's No. 4 and No. 5 starters and making money against the Tigers rather than laying the heavy juice and trying to cash in on guys like Verlander and Scherzer.
Cleveland Indians
2013 Record: 92-70 (+2500)
2014 Wins Over/Under: 81.5
Odds To Win 2014 AL Central: +550
Odds To Win 2014 AL Pennant: +2000
2014 Cleveland Indians Odds To Win World Series: +6000
Outlook: Terry Francona received most of the credit for last year's dramatic 24-win turnaround and playoff berth for the Tribe. However, Cleveland had been knocking on the door the two years prior. But injuries and horrendous stretch runs wasted fast starts. And last year the Indians finally held it together for 162 games and used a dynamic 21-4 rush to close out the season to make a return to October baseball.
Their starting lineup can compete with any in the Central. The core of Asdrubal Cabrera, Jason Kipnis, Carlos Santana and Nick Swisher is legit. They also have capable guys like Michael Brantley, David Murphy and Ryan Raburn to lean on. And if they can get improved production from leadoff hitter Michael Bourn - who is injured to start the season - then the group could be even more productive.
The pitching staff has been renovated from top to bottom. Justin Masterson is the ace. But his track record tells me that things could fall apart at any moment. And an issue with the front office over his contract could leave some lingering bad blood through the season.
Youngster Danny Salazar looks like the real deal, and the 24-year-old could become a stud. Beyond that they are banking on Corey Kluber and Zach McAllister to continue to progress after each posted sub-4.00 ERAs last season. The No. 5 starter slot is up for grabs, but the Tribe has several equally sketchy options (Carlos Carrasco, Josh Tomlin, and Shaun Marcum), and this team has to replace the surprise production from departed Ubaldo Jiminez and Scott Kazmir.
The Indians are going for back-to-back postseason efforts. But there has been a load of turnover on this team, and depth is still a major issue, especially in the retooled bullpen. The rotation is no sure thing, and any regression from the top four guys could be disastrous. It will take a lot of Francona Magic to keep this team above 90 wins again, but after last season they feel as if anything's possible.
Chicago White Sox
2013 Record: 63-99 (-3220)
2014 Wins Over/Under: 75.5
Odds To Win 2014 AL Central: +1000
Odds To Win 2014 AL Pennant: +2500
2014 Chicago White Sox Odds To Win World Series: +6000
Outlook: The White Sox have been a roller coaster franchise for the better part of the last 15 years. They have seen their win-loss total fluctuate by 20, 12, 16, 18, 17 and 22 wins over the past 14 years, and their record has shown at least a nine-game difference 10 times during that stretch. Then the bottom completely fell out last year as they plummeted from 85 wins in 2012 to just 63 victories in 2013.
Unfortunately for the Southsiders, not much has changed heading into this spring. The Sox lost as much as they gained, and their roster still looks woefully short on proven Major League talent. That includes anointed savior Jose Abreu, a Cuban defector whom the Sox threw a six-year, $68 million contract at this winter.
The reports on Abreu have been positive so far. But he is tasked with anchoring a lineup that scored just 598 runs last year - which was fewer than the Astros. The White Sox have too many high-strikeout, low-average, boom-or-bust hitters like Adam Dunn, Alexei Ramirez and Gordon Beckham. There is no consistency with this group, and their only hope is that guys like Abreu, Conor Gillaspie, Avisail Garcia, and Dayan Viciedo can make giant leaps forward.
Chicago's starting pitching is just okay. Chris Sale is one of the most dynamic starters in baseball, and for my money he's the best lefty in the game. (Yes, that includes Clayton Kershaw.) But the key to this team may be two other southpaws, oft-injured John Danks and promising youngster Jose Quintana. There is a steep drop-off after that, and the bullpen is nothing but question marks. They have parted ways with closer Addison Reed as well as setup men Jesse Crain and Matt Thornton in the past eight months, and this group at the back end is a work in progress.
The White Sox are still a boom-or-bust team. If Abreu has a similar impact as Oakland's Yoenis Cespedes with the A's then things could click for the White Sox lineup. Their talent isn't far off from what Cleveland is packing. But the White Sox need about 1,000 things to break their way in order to remain competitive in the Central, and I have a hard time seeing it shake out for them.
Kansas City Royals
2013 Record: 86-76 (+640)
2014 Wins Over/Under: 81.5
Odds To Win 2014 AL Central: +500
Odds To Win 2014 AL Pennant: +2500
2014 Kansas City Royals Odds To Win World Series: +4000
Outlook: 2013 was a banner year for Kansas City as the Royals broke through for 86 wins, the franchise's highest total since 2003 and just its second winning mark in the last 20 seasons. The core of the club is still intact, and Kansas City is trying to follow Pittsburgh's lead and make its first postseason trip in 30 years.
Kansas City's recipe for success in 2013 was classic: win with pitching and clutch hitting. Their staff posted the No. 6 ERA in baseball, and their bullpen was simply astounding. The relievers combined for a club-record 2.55 ERA and 33 victories. They were aided by an incredibly durable rotation. Three starters logged 210 innings or more and six arms combined for 153 of 162 starts.
Jason Vargas was brought in to replace Ervin Santana, who went to Atlanta as a free agent. The Royals are also banking on intriguing youngster Yordano Ventura.
Kansas City's lineup is mediocre at best and underachieved last season. They needed 2.9 base runners per run, one of the worst marks in the league, and if the Royals get some more pop they could continue to improve. They added patient leadoff man Nori Aoki and professional hitter Omar Infante to revitalize the top of the order. They will set the table for Billy Butler, Eric Hosmer and Alex Gordon.
The Royals have zero depth. If any of their starting nine get injured or underperform then this group is in trouble. They desperately need Butler, Hosmer and Gordon to be exceptional for 162 games, and that's a lot of pressure on a group that's proven to be very good but not great. There's still something missing from this team. They need one more all-star-caliber bat to really be a threat to Detroit. And if James Shields, Vargas, Jeremy Guthrie or Bruce Chen back slide - which is entirely possible - then the pitching could collapse.
The foundation for a playoff team is set. But I don't know that this group has enough firepower and top-end talent to take it to the next level in 2014.
Minnesota Twins
2013 Record: 66-96 (-710)
2014 Wins Over/Under: 70.5
Odds To Win 2014 AL Central: +4000
Odds To Win 2014 AL Pennant: +6000
2014 Minnesota Twins Odds To Win World Series: +12500
Outlook: It is still kind of depressing to see the Twins these days. Minnesota was one of my money teams through most of the 00's and seemed to pioneer the consistent small-market winning philosophy that Oakland and Tampa Bay boast now. But they won just 66 games last year and have averaged just 65 wins each of the past two seasons, and this year might be their worst team yet.
The Twins have one of the worst pitching staffs in baseball. They were No. 29 in team ERA last year and somehow got worse this offseason. Their "big" offseason acquisitions were Phil Hughes, who is pathetic, and Ricky Nolasco, who somehow landed the largest free agent contract in team history despite his career 4.37 ERA in the pitcher-friendly National League. Retreads like Kevin Correia, Mike Pelfrey and Scott Diamond fill out the rest of this sad rotation.
The horrendous pitching helps take some of the spotlight off Minnesota's popgun offense. Joe Mauer - whose enormous contract, right or wrong, marked the beginning of the end for this franchise - has moved to first base full time. They desperately need 150-plus games out of Mauer because only three other guys on the roster topped 10 home runs last season, and no Twin on the current roster managed more than Brian Dozier's 18 dingers in 2013.
Minnesota was hoping to generate some excitement from blue chip prospects Byron Buxton (CF) and Miguel Sano (3B). But Sano needs Tommy John surgery, and Buxton will start the season in the minors.
These guys can't hit and they can't pitch. They have a very good defensive team and can try to utilize small ball to win some games. But at the end of the day they have one of the weakest rosters in the majors and should again be one of the worst teams in the American League. I think it would be a minor miracle if they won more than 73 games.
2014 American League Central Picks and Predictions: Predicted Order of Finish
1. Detroit Tigers
2. Cleveland Indians
3. Chicago White Sox
4. Kansas City Royals
5. Minnesota Twins
Doc's Sports is offering $60 worth of member's baseball picks absolutely free - no obligation, no sales people - you don't even have to enter credit card information. You can use this $60 credit any way you please on any of our top MLB handicappers. Click here for more details and take advantage of this free $60 picks credit today .
Robert Ferringo is a professional sports handicapper for Doc's Sports. He is considered one of the top MLB cappers in the country and has turned a profit in five of the last seven years on the diamond with his baseball picks. He closed 2012 with an amazing $11,700 in earnings over the last four months and this summer will try for three straight profitable years. He is looking forward to a great upcoming season against the MLB odds. Click here for more information on his MLB picks.
Read more articles by Robert Ferringo