2014 AL East Picks with MLB Betting Odds and Predictions
by Robert Ferringo - 3/19/2014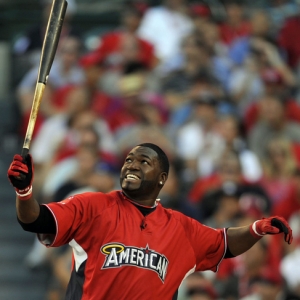 If I were MLB commissioner for a day, the first thing that I would do is shuffle up all of the divisions. Actually, I would institute a rule where every year all of the divisions are determined by a blind draw, essentially reshuffling the deck every season.
Imagine it. Think about how crazy people go for things like the NBA lottery or the World Cup draw. Now imagine that every year you took all 30 MLB teams, tossed their names in the lotto-popper-thing, and re-drew all six divisions each season. Think about the anticipation, the coverage, the interest and the intrigue each offseason surrounding the divisional draw. There'd be new rivalries, new opportunities for smaller-market clubs, and new playoff teams each and every year. I think it would be amazing, and that it would reinvigorate the sport.
The idea came from the poor plight of the Baltimore Orioles and the Toronto Blue Jays. Because no matter what they do or how good they get, they will never be able to compete at a high level for a long time in the deepest, most competitive division in baseball - the American League East.
The East is absolutely loaded. And I'm convinced that if the Orioles were in, say, the National League East or the N.L. Central, they would win either division this year.
But alas, I am not commissioner and never will be. So the O's and Jays are stuck fighting with the Yankees and Red Sox, two powerhouse franchises with deep pockets, and the Tampa Bay Rays, an anomaly of awesome led by genius Joe Maddon.
Here is Doc's Sports 2014 AL East picks (with futures odds courtesy of Sportsbook.ag):
Boston Red Sox
2013 Record: 97-65 (+1860)
2014 Wins Over/Under: 88.0
Odds To Win 2014 AL East: +200
Odds To Win 2014 AL Pennant: +650
2014 Boston Red Sox Odds To Win World Series: +1200
Outlook : Man, did I swing and miss with the Red Sox last year. After their last-place finish in 2012, I figured that this organization was in the middle of a ground-up rebuild. But a new manager, a new clubhouse attitude, and a whole lot of mojo carried the Red Sox to a surprise World Series title
Now the Red Sox will see if that chemistry and good karma can carry over to a new season. But even more than chemistry, the Red Sox will be hard-pressed to repeat last year's incredible .328 batting average on balls in play and their outstanding .278 average with runners in scoring position.
The Red Sox lost Jacoby Ellsbury and Jarrod Saltalamacchia, but they were hardly drivers of the league's No. 1 slugging and No. 2 hitting lineup. Instead they will hope that guys like Mike Napoli and Daniel Nava can repeat their career years and that David Ortiz still has a little magic left in his stick.
The Red Sox rotation is still top-tier. Former pitching coach John Farrell worked wonders with the staff, reigniting the flailing careers of Jon Lester, Clay Buchholz and John Lackey. Mix in lefty Felix Doubront and bulldog Jake Peavy (when he's healthy), and the Sox have a chance to win every day.
The Red Sox are turning into the St. Louis Cardinals of the East. What I mean is that no matter who comes and goes, this organization is a baseball factory capable of playing at a high level year after year. I do think that the Sox are going to take a slight step back this year. The stars aligned in 2013, and certain statistical aberrations are going to correct themselves. But it's not a reach to think the Red Sox will reach 90 wins and another playoff berth.
New York Yankees
2013 Record: 85-77 (+450)
2014 Wins Over/Under: 86.0
Odds To Win 2014 AL East: +250
Odds To Win 2014 AL Pennant: +600
2014 New York Yankees Odds To Win World Series: +1000
Outlook: The Yankees were simultaneously one of the league's biggest underachievers and biggest overachievers in 2013. They underachieved because injuries and off-field distractions absolutely decimated the clubhouse. But they overachieved because the Yankees actually won six games more than their Pythagorean Win Total suggested, one of the biggest discrepancies in baseball.
The Bombers scored their fewest runs in 23 years last season and finished near the bottom of MLB in every major statistical category. They also lost two of their best hitters, Robinson Cano and Curtis Granderson. However, the Yankees being the Yankees, they went out and replaced them with some of the biggest names in the game. New York added Ellsbury, Carlos Beltran and Brian McCann. If the Yanks get healthy bounce-back seasons from guys like Derek Jeter and (especially) Mark Teixeira then the offense should again be a strength.
Pitching is going to be the key for the Yankees this year. Their starting staff has been rotting over the course of several seasons. But the splashy signing of Japanese hurler Masahiro Tanaka and the suddenly-svelte C.C. Sabathia has helped reset the rotation. If those two can offer a dominant one-two punch, and if guys like Hiroki Kuroda and Ivan Nova can be stable for 30 starts, then this staff can be excellent.
Also, keep an eye on Michael Pineda. If he has a big bounce-back year after injury then the Yanks could be in for a big year. And if the starters are logging more innings, that should help take the pressure of their new-look bullpen, which will go into the season with a question mark at closer for the first time in forever.
So the Yankees are a dangerous team heading into the season. They appear healthy, although they are sporting one of the oldest rosters in baseball, and they are revamped across the board. They will also have the added motivation of this being Jeter's last season. Do you really think that Derek Jeter is going to end his career anywhere but the playoffs? Me neither.
Tampa Bay Rays
2013 Record: 92-71 (+80)
2014 Wins Over/Under: 89.0
Odds To Win 2014 AL East: +220
Odds To Win 2014 AL Pennant: +800
2014 Tampa Bay Rays Odds To Win World Series: +1500
Outlook : The Rays are an amazing creature. Despite one of the lowest payrolls in baseball, a lineup of guys hitting .245, and a pitching staff of 24- and 25-year-olds, they just crank out winning season after winning season in the top division in baseball. They beat their Pythagorean Win Total by five games last year, one of the highest numbers in baseball and enough to put them in a regression category this year. But I know I'm not counting on a decline.
The Rays get the job done with outstanding starting pitching, flawless defense, a devastating bullpen, and clutch hitting. Tampa Bay likes to win close, low-scoring games, and they do all the little things that don't show up in the boxscore. As a result, it's tough to quantify how they make the magic happen.
One key to watch this year is what the Rays do with ace David Price. He has two years left on his contract, but if Tampa Bay is going to deal him it will likely be this season. That potential move could shift the balance of power in this division.
As far as the roster, Evan Longoria, Ben Zobrist, Wil Myers, David DeJesus and Desmond Jennings aren't going to win you any fantasy leagues. But the guys just win, and they should keep it going.
Look, as long as Joe Maddon is on the bench I'm not betting against this team to have a great season. The Rays and the Rangers are the only two teams in baseball that have won 90 or more games the past four years. When I look at Tampa's roster and intentions, they don't look like a 90-win team. But that just means that they'll win 92 and be in the thick of things come September.
Baltimore Orioles
2013 Record: 85-77 (+40)
2014 Wins Over/Under: 81.0
Odds To Win 2014 AL East: +700
Odds To Win 2014 AL Pennant: +1700
2014 Baltimore Orioles Odds To Win World Series: +3000
Outlook: The Orioles are one of the slickest-fielding, hardest-hitting teams in baseball. They boast three Gold Glove winners and slammed the most home runs in MLB. But the same problem that has plagued the O's the past few years is still a major issue: starting pitching.
Baltimore has one of the worst starting staffs in the entire American League. Chris Tillman is their unwitting "ace" after winning 16 games last year. But when you compare him to the other No. 1 starters in the A.L., it isn't even close. After that is a hodgepodge of very average starters like Wei-Yen Chen, Miguel Gonzalez and Bud Norris. Not surprisingly, the Orioles also gave up the most home runs in the league and had the fifth-worst ERA in the American League.
The Orioles also lost some key cogs in their bullpen and should struggle to get people out this summer as well.
But man, can they hit. Adam Jones, Nick Markakis, Chris Davis and Co. forms a powerhouse lineup. They added Nelson Cruz this offseason, and this team can mash. Last year they were beset with nagging injuries, and they will start the year without superstar-in-the-making Manny Machado, who is banged up. But if these guys are healthy they have one of the best lineups in baseball.
The Orioles played in 137 games decided by four runs or less last year, and they have played in 250 close games over the past two seasons. They have had quite a run of luck in one-run games, although last year they regressed in that area. Despite all of the moving parts - the injuries, the close wins and losses, the pitching turnover - Baltimore has been extremely competitive the past two years. They will be there again. But until they get serious about their starting pitching they won't overtake the top teams in the division.
Toronto Blue Jays
2013 Record: 74-88 (-1080)
2014 Wins Over/Under: 79.5
Odds To Win 2014 AL East: +2000
Odds To Win 2014 AL Pennant: +1800
2014 Toronto Blue Jays Odds To Win World Series: +5000
Outlook : Toronto's 2013 flop was probably the most predictable occurrence in last year's MLB season. Sure, the bobblehead media were all surprised. But it has been consistently proven that teams that "win" December usually lose in September.
The new car smell is gone from Toronto's whirlwind 2012 free agent spending spree. Now they have to face the reality of trying to win with their high-priced roster.
There is potential in a lineup that was in the Top 10 in the Majors in home runs (No. 4), total bases (No. 8) and runs scored (No. 9). And they could be even better with a full season from Jose Reyes (who is never healthy) and Jose Bautista (who's had back-to-back injury-plagued seasons).
But the lineup, collectively, needs to cut down on strikeouts and do more of the little things - advancing runners, manufacturing runs, etc. - that winning teams do. Toronto also needs to get much better defensively after committing 111 errors. I just don't know if they can polish these edges.
R.A. Dickey is supposed to be the staff ace. But the aging knuckleballer isn't a great fit on turf and in the American League. Mark Buehrle is running on fumes, and Brandon Morrow is always hurt. The back end of the Jays rotation is dicey at best, and the fact is that their exceptional bullpen has been able to cover for the starters' shortcomings. The relievers logged the second-most innings in the league, and with most of the same guys back this year Toronto could pay for it with injuries and ineffectiveness.
This isn't a bad team. But everyone in the division is better. Toronto will win some games, and I think they'll be streaky. They could be a moneymaker for bold bettors. But everything with them is surface-level. They just don't have a strong enough foundation to be a real player.
2014 AL East Picks and Predictions: Predicted Order of Finish
1. New York Yankees
2. Boston Red Sox
3. Tampa Bay Rays
4. Baltimore Orioles
5. Toronto Blue Jays
Doc's Sports is offering $60 worth of member's baseball picks absolutely free - no obligation, no sales people - you don't even have to enter credit card information. You can use this $60 credit any way you please on any of our top MLB handicappers. Click here for more details and take advantage of this free $60 picks credit today .
Robert Ferringo is a professional sports handicapper for Doc's Sports. He is considered one of the top MLB cappers in the country and has turned a profit in five of the last seven years on the diamond with his baseball picks. He closed 2012 with an amazing $11,700 in earnings over the last four months and this summer will try for three straight profitable years. He is looking forward to a great upcoming season against the MLB odds. Click here for more information on his MLB picks.
Read more articles by Robert Ferringo