Betting Impact of the New College Football Playoff System for National Championship
by Trevor Whenham - 7/28/2014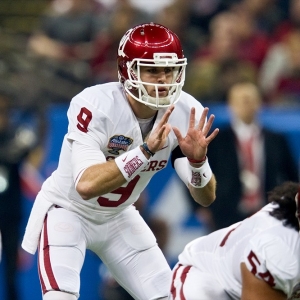 The start of the new college football season will mark the dawn of a new era as the BCS Championship is replaced by a playoff system. The top four teams - as selected by a carefully-selected group - will play off for the right to play in the National Championship Game. From a competitive perspective I am skeptical that this is really progress - it feels like a way to bring order to a sport that is unavoidably and beautifully chaotic, and there is no reason to think that the controversy that so frustrated people in the BCS system will be avoided here. From a betting perspective, though, there are some key changes that could, at least in the short term, provide some opportunities for bettors who are thinking about the differences and what they might mean.
Here are six differences between the BCS and the CFB playoff from a betting perspective:
Casual bettors even more focused on major conferences than usual: The talk lately has been all about the Power 5 - the Big Ten, Big 12, ACC, SEC and Pac-12. While other conferences are not excluded from the playoff and the rest of the major bowls, the system is definitely skewed to make it easier for the teams from the elite conferences. While public bettors have always tended to be more interested in major conferences, this shift is going to further widen the gap between the haves and the have-nots. There are going to be at least two distinct tiers in the eyes of the betting public, and their betting money will be directed overwhelmingly to the top tier. That can have an impact in both directions - it can make an opponent attractive against an underwhelming but very public team in a major conference, and it can lead to real value in lesser conferences as the real skill and potential of a team can be misunderstood by bettors. It can also have a big impact on nonconference games as public bettors will be even more inclined than usual to assume that a major-conference team will have a clear edge over a lesser-conference team.
Theoretically, a more objective, all encompassing ranking will be released: For so long now we have relied on Top 25 polls heavily in college football. The biggest of several issues with them is that once a team is placed, it's very hard for them to move down unless they lose, so the rankings don't always reflect the real strength of teams at that moment. The playoff committee will be attempting to address that. Seven times during the year, starting on Oct. 28, they will be releasing their own Top 25. They say that they will pay no attention to the previous rankings in making the new one and that each one will just be a portrait of team strength at that moment. You can be certain that these rankings are going to be heavily-anticipated and very closely scrutinized when they are released. They also will have a strong impact on the public perception of teams and the relative strength of opponents because they are going to be perceived as more accurate than traditional polls. If you disagree with the polls - and since they are ultimately still very subjective that is possible and potentially justified - then you could spot some nice value betting against the opinion of the polls and the public.
Fuel for the media: There is more airspace for the media to fill than ever before - more TV space, major news outlets, blogs, and so on. There really isn't enough to say to fill all that space, so much of what is said is just noise. When something is new and different then the media is going to make bold pronouncements about what it means. When a major media figure says something that is wrong or just plain stupid - and history has shown that that is all but a certainty - it could have a big impact on the opinions of the public. Public bettors are more likely to listen to what the 'experts' are saying than actually thinking for themselves. If enough experts say enough ridiculous things then there could be a real opportunity for those who can actually apply logic.
One more big game: Ultimately, this is by far the most significant and lasting impact of these changes. I have never gotten to the end of the BCS National Championship Game and thought that I was done with college football or that I had seen enough of the best team in the country. This new change means that now we get to see the two top teams play another game and that we get to bet on a very heavily-covered game. The heavy coverage has the opportunity to provide strong betting value if the public latches on to one team over the other (as long as you like the other team, of course). More isn't always better, but in this case it certainly will be.
Doc's Sports wants you to try out one of their expert college football handicappers, and they are now offering new clients a free $60 in credit that they can use for any handicapper on Doc's Advisory Board. This takes less than two minutes to sign up, and there is no credit card needed and no salesmen to deal with. Get your free college football picks now.
Read more articles by Trevor Whenham