2014 Big East Tournament Picks and College Basketball Predictions
by Robert Ferringo - 3/11/2014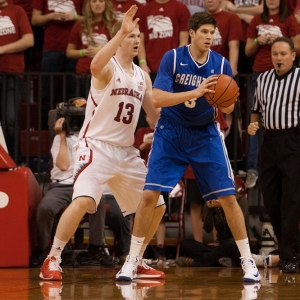 This isn't the Big East Tournament.
They can call it the Big East Tournament. They can pretend that this week's bracket is building on the hallowed past of college basketball's best conference. And They can act as if there is nothing pathetic and unjust about watching the powerhouse teams from the old Big East plying their trade in other league tournaments this week. But I know the truth.
The bastard child known as "The Big East Tournament" will be held in Madison Square Garden from Wednesday, March 12 to Saturday, March 15. As much as I wish that Syracuse, Connecticut, Louisville and Cincinnati would abandon their new conferences and crash the MSG party, I know that won't happen.
So instead of ripping open a bottle of 40-year-old whiskey and pounding it for four straight thrilling nights of college basketball drama, you can sit back and enjoy a sixer of piss-warm Genesee Cream Ale and pray that Villanova meets Creighton in the finals so you can actually get one quality game out of this sham tournament.
And no, I am not bitter about the breakup of the Big East. Jerk.
Here is Doc's Sports Big East Tournament picks and predictions ( with odds courtesy of Sportsbook.ag):
The Favorite: Villanova (+125)
Now that all the good teams are gone, the Wildcats have been able to wreck everyone in the new Big East. Well, everyone except Creighton. Villanova has an inside track for a No. 1 seed in the NCAA Tournament if they can win this title. They have only lost against two teams this year: Syracuse and Creighton. And most of the Wildcats games in league play have been total blowouts. This is a very well-balanced team that gets it done at both ends of the floor. Villanova has a solid point guard in Ryan Arcidiacono and two capable scorers in James Bell and Darrun Hilliard. JayVaughn Pinkston does the damage on the inside, and Dan Ochefu assists with the dirty work. This is a tough-minded team capable of going eight- or nine-deep down the roster. They will not be an easy out.
The Contender: Creighton (+150)
The Bluejays have enjoyed a dynamite season, stepping up in class from the Missouri Valley and proving that this group can play with the big boys. Doug McDermott is the best player in the country and one of college basketball's Top 10 all-time leading scorers. He is good for an automatic 20 points per game, and everything Creighton does offensively revolves around him. But he isn't a one-man gang. Ethan Wragge is a lethal stretch-four player that knocks down 48 percent of his 3-pointers. In fact, the Bluejays are No. 1 in the country from deep (42.1 percent) thanks to four players hitting over 40 percent from behind the arc. Their weakness is on the defensive end. And, as always, any foul trouble to McDermott can kill this team's chances quickly. But this group of Jays is tournament-tested, having won back-to-back Missouri Valley championships.
The Sleeper: St. John's (+350)
The Red Storm have very quietly positioned themselves on the NCAA Tournament bubble. They closed out the regular season with an 11-3 run following a five-game midseason losing streak. Two of those losses, at Creighton and at Villanova, were by just three points, and the Red Storm actually beat the Bluejays earlier this year on this very court. St. John's is playing close to home and could get a boost from the local crowd. And if they can shake free from pesky Providence in the quarterfinals (the teams split the regular season series) then St. John's will have a shot to punch its ticket to The Big Dance in a semifinal matchup with Villanova. They lost two tough ones to the Wildcats. But St. John's won't be intimidated at all against its long-time conference rival.
The Spoiler: Georgetown (+1200)
The Hoyas have slogged through one of their worst seasons in recent memory and the worst of the John Thompson era. The Hoyas have stunk on the road, going just 3-8 away from home dating back to November. However, this team is dangerous. Georgetown won a neutral-site matchup with Michigan State last month. They hammered Creighton at home last week and also have wins over VCU and Kansas State this year. Thompson is a savvy, experienced postseason coach, and Georgetown is essentially playing with no pressure since they know their only way into the NCAA Tournament is to win the automatic bid. If they beat DePaul they get another shot at Creighton, whom they topped 75-63 on March 4. After that would be either Marquette or Xavier, two more teams that the Hoyas can handle. This is a potentially dangerous Hoyas team.
The Matchups (with projected college basketball odds):
No. 8 Seton Hall (-1.5) vs. No. 9 Butler (8 p.m., Wednesday, March 12)
I have enjoyed Butler's demise this year after watching the Bulldogs become one of the more overvalued programs in the country. But that doesn't mean that they aren't capable in a one-and-done situation. Kellen Dunham is an elite scorer and capable of going off on the Pirates - again. Dunham scored 29 in a 17-point Butler blowout last Saturday. Of course, that game was at home, and Seton Hall will be closer to its fan base now. The Pirates have their own scoring machine in senior Fuquan Edwin. He is one of three seniors that will be looking to extend their careers as well as avoid a three-game sweep at the hands of the Bulldogs this year.
No. 7 Georgetown (-10) vs. No. 10 DePaul (3 p.m., Wednesday, March 13)
DePaul is a dead stick. And I'm going to go ahead and call it: the Oliver Purnell Experiment is not going to work for the Blue Demons. It has been another pathetic year for DePaul, and any hope they had of a possible NIT berth went out the window when Cleveland Melvin was dismissed from the team last month. They have lost nine of 10 since his departure, and the Demons are pretty bad on both ends of the court. I think they are ready to call it a day and mail this one in. The Hoyas should be able to take this one in a walk, but Georgetown is laying an awful lot of points in a tournament game.
No. 4 Providence (-9.5) vs. No. 5 St. John's (5:30 p.m., Wednesday, March 13)
This may be one of the best games of the tournament, and this could be considered an elimination game for an NCAA Tournament bid. Both teams are squarely on the bubble, and the loser will likely be headed for the NIT. Providence senior Bryce Cotton is the best player on the floor and is a moneyman for the Friars. Providence is highly efficient on the offensive end when they don't fall in love with the 3-point shot. Ed Cooley has had to coax defensive effort out of his charges, though, and that will go a long way in determining who advances in this one.
No. 3 Xavier (-2) vs. No. 6 Marquette (11 p.m., Wednesday, March 13)
Before you pencil in Xavier to the semifinals, I feel like I should warn you: this Golden Eagles team is much better than it seems. Marquette has faced one of the toughest schedules in the country this year. They also have four overtime losses in the last 11 games - including back-to-back double-OT losses to Providence and St. John's to close the regular season. Marquette beat Xavier by 11 in Wisconsin on Feb. 15, and Buzz Williams' teams are as hard-nosed as they come. Xavier boasts one of the best guards in the country, Semaj Christon, and the X-Men have shown an uncanny ability to come from behind and win games in which they were outplayed. Xavier lost its last two regular-season games and is just 5-7 in its last 12. I expect this one to be a rock fight from start to finish.
2014 Big East Tournament Picks and Predictions: I think that this could be the most wide-open of all the major conference tournaments. Sure, it will lack the drama and high level of play that we've come to expect in the Big East over the years. But I think that one of the multiple teams that need to make a run this weekend will do just that. I can't say where the upset will come from. Georgetown, Marquette, Providence or St. John's could be the one to bust the bracket. But I am predicting that either Villanova or Creighton will get knocked off prior to the finals and that one of the desperate teams from the old Big East will steal a bid with a surprise tournament victory.
Robert Ferringo keeps proving himself to be one of the best college basketball handicappers in the nation. Robert has posted 11 of 16 winning college hoops weeks and 17 of 20 winning college hoops months. He has banked nearly $10,000 in profit with his side plays this year and almost $17,000 in profit since Nov. 11, 2012. Robert is a profit machine and you can take advantage of our free, no-strings-attached $60 credit to use toward a purchase of Robert's college basketball selections. CLICK HERE for $60 absolutely free!
Read more articles by Robert Ferringo