College Football Playoff Betting: Handicapping the Semifinal Games
by Trevor Whenham - 12/29/2014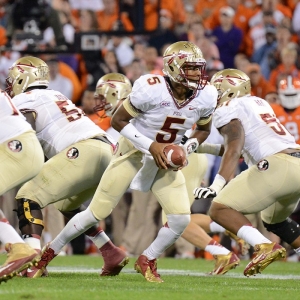 The teams are on the ground at the game sites, and we are nearing the first of two College Football Playoff games. The excitement is strong but not as strong as some might have anticipated - you can still buy a ticket to watch the last two Heisman winners at the Rose Bowl for less than face value. It certainly isn't helping the hype that both games feature favorites of well over a touchdown. It might not be the dream set of matchups we hoped for, but these semifinals are still two great games - and a great way to spend a New Year's Day afternoon and evening.
They are also both quite interesting handicapping challenges. Do you stick with the chalk, or is there value in the underdogs? Here are three key factors to consider for each game when it comes to trying to come to a decision:
Alabama vs. Ohio State
Cardale Jones: Jones entered the season as the third-string quarterback for the Buckeyes, and no one expected him to have to play at all - never mind in a game this significant. Is he up to the challenge? On one hand, he is raw and inexperienced, and he wasn't a blue-chip recruit when he was coming out of high school. On the other hand, he has had plenty of time to get comfortable with the system, his coaching staff has shown that it is capable of getting quarterbacks ready, he has had plenty of time to prepare for this game, and he was decent against Wisconsin in the Big Ten Championship Game. He also has an advantage - he has much more tape on the Alabama defense than they have on him. Your confidence in his ability to perform at a high level will go a long way towards shaping your betting decision here.
Tom Herman: Offensive coordinator Tom Herman has done a masterful job with this Ohio State offense this year, and they will have to be very sharp against the rigid Alabama defense. To complicate things, though, Herman accepted the head coaching job at Houston on Dec. 15. He is still sticking around for the playoffs, but his attention will obviously have been divided as he has tried to assemble a staff and work on recruiting with his new team. Will the focus and intensity of the offense suffer as a result of the change, or does Herman have his offense dialed in and as ready as he can despite the challenges they face?
Can the Buckeyes run?: This one is simple - at least to understand if not to handicap. The Buckeyes need to run, and they have proven that they can be very good at it. Their work against Wisconsin was a master class. Alabama is extremely tough to run on and has contained some very good offenses. One thing has to give.
Oregon vs. Florida State
Oregon secondary without Ifo Ekpre-Olomu: When the Oregon secondary lost by far their best player to an injury in practice leading up to this game, it was a disaster. There is no way to overstate that. The secondary is not an overall strength of this team, but the corner was a giant back there. Teams were terrified of throwing near him, so they would shift their whole approach as a result, and turnovers resulted. Can Oregon effectively overcome his absence, or will Florida State be too able to exploit the new weakness?
Florida State out of the gate: The Seminoles have a bad habit of taking the first quarter or two off before kicking into gear. That lethargy is understandable against the joke of a schedule they have faced this year, but they aren't going to get away with the same thing against an opponent like this. Can the Seminoles get their mindset in line, or will they beat themselves here?
Big game mentality: Florida State hasn't lost in two years, including the biggest game there is to play last year. They know how to shine in these conditions. Oregon does not exactly have a history of playing their best when the chips are down. Oregon is just as capable as Florida State is of beating themselves in this one. The game between the ears is really the most significant part of this game.
Read more articles by Trevor Whenham