Conn Smythe Trophy Betting Picks with Odds and NHL Award Predictions
by Trevor Whenham - 5/27/2014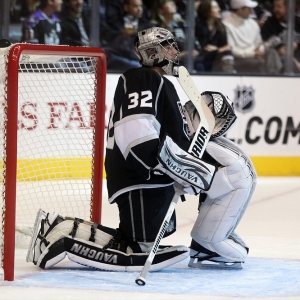 Every so often you come across a prop bet that is particularly interesting because the more you look at it the more complex and challenging it seems to be. This offering from Sportsbook.ag is certainly one of those. When you bet on which player is going to win the Conn Smythe Trophy as Stanley Cup MVP you are not only handicapping which player is likely to be the star of the Stanley Cup Finals, but you are also betting on which teams will be playing in the finals. As I write this the Kings and Rangers are both just one win away from the finals, but comebacks do happen and have to be factored in. It all adds up to create a complex and very interesting prop bet.
When looking at who is worth betting on, you need to start by looking back at history. Since 1988 only one player - goalie Jean-Sebastien Giguere for Anaheim in 2003 - has won the award despite playing for the losing team. Though it is possible to lose and still win the award, it certainly isn't worth betting that it will happen. That means that your view of the outcome of the Cup final is very important here. The other thing that stands out is the importance of position. In the last 10 years we have seen four winning goalies and four winning centers, so the highest-profile positions are the best bets. The other two winners were a defenseman and right winger. Finally, each of the 10 winners - and several more before that as well - were clear star-caliber players before they won the award, so betting on a long shot to rise up from nowhere to claim the glory just doesn't make sense.
With all that in mind, here are three things that stand out in the search for value in this prop:
The goalies: Since this is such a common source of winners, it makes sense to look here first. Corey Crawford (+1000) just has not been very good against the Kings, and he wouldn't be the clear first choice if the Blackhawks can manufacture what seems like an unlikely comeback. The two more likely choices also happen to be the two favorites in this prop - L.A.'s Jonathan Quick and New York's Henrik Lundqvist are tied at +275. It's hard to argue with that - they are at the most two of the three best goalies in the sport, and they are both playing very well in these playoffs. They would be the obvious choice for their teams if they were to win the Cup at this point. You have to look closer at what is being offered and really be careful, though. The Kings are strongly favored at -140 to win the Cup, with the Rangers far behind at +140. Since both goalies are at the same odds but Quick is deemed to be far more likely to win the Cup, Lundqvist is actually being presented here as the more likely overall winner - he would, according to the odds, be much more likely to win if the Rangers win the Cup than Quick would be if the Kings win. I'm not certain that that is accurate - and if it is then the gap between the two players isn't as large as it is suggested here. That means that there isn't a lot of value to be had in Lundqvist at this price - at least not on a comparative level.
The Kings: I am quite confident that both the Kings are Rangers will be able to finish out their series, so I am willing to completely ignore the Habs and Blackhawks in this consideration. What remains, then, is to look at which players for either team have the best chance of surpassing one of the goalies - if any. For the Kings there are two that stand out most. Anze Kopitar (+700) leads the postseason scoring race, and Jeff Carter (+500) is in second. Both have been brilliant, and both are centers, so they fit the needs well. Of the two I would lean towards Carter simply due to seeming voter bias - eight of the last 10 winners, including the last four, have been North American-born players. The two are so close, though, that they could effectively split votes and make it easier for Quick to win.
The Rangers: The biggest threat to get in the way of one of the goaltenders is clearly Martin St. Louis (+650). He has so much going for him - beyond how he is playing right now. He is a popular, long-serving veteran who hasn't gotten the recognition he deserves over the course of his career. He was a high-profile snub during the initial Olympic selection process for Team Canada, and that - and the way he handled himself after eventually making the team - has earned him some support. His mother died during these playoffs, and he has handled that with class and strength as well. And then there is his play. After a rough start in New York after being traded near the trade deadline from Tampa Bay, he has really found his game in the postseason. He leads the Rangers in scoring, and he has had an obvious influence on and off the ice that goes far beyond his offensive contributions. It's not a stretch to say that he is the biggest reason that the Rangers are where they are, and he is just the kind of player that voters could look to reward. He probably hasn't done quite enough to surpass Lindqvist quite yet. He scored the overtime winner in Game 4 against Montreal, though, and one or two more well-placed moments of heroism could easily put him over the top. If you like the Rangers to win the Cup - which I, incidentally, really don't - then there seems to be much more value in him than in Lundqvist at these prices.

Get free picks from any Doc's Sports handicapper - there is no obligation for this offer and no credit card required. Just sign up for an account, and you can use the $60 in free picks for any Doc's Sports Advisory Board handicapper and any sport. Click here to get started now.
Read more articles by Trevor Whenham