Free College Football Pick for Thursday: Florida State vs. Louisville
by CarbonSports - 10/27/2014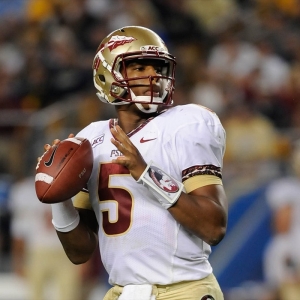 CarbonSports.ag Game Line: Florida State (-6.5) vs. Louisville (+6.5)
Both of these teams in the ACC had last week off to watch things unfold, they are both back on the field to get things going this week. Florida State still hasn't lost a game since 2012, but they haven't looked impressive at all this season. The Seminoles are 7-0 SU but only 1-6 ATS this year and odds makers and bettors are taking notice. With all the potential sanctions swirling around QB Jameis Winston and some top-tier talent gone, Florida State isn't the dominant force they were a season ago and many believe they are extremely lucky to be entering this week with their #2 ranking. Should we be fading Florida State again this week against a new conference rival?
Louisville had last week off after they got by NC State two weeks ago in a 30-18 win as 19-point favorites. The Cardinals were expected to have a bit of a down year after QB Teddy Bridgewater moved on to the NFL, but at 6-2 SU there hasn't been a tremendous drop off, although they've yet to really face the better teams in the ACC. Nobody is better than Florida State right now in this division and this game will be a great measuring stick for Bobby Petrino's team. If the Cardinals are able to pull off the outright upset on Thursday, they would create shock waves through the ACC and entire college football landscape.
Yet, you've got to wonder if Louisville will be able to hang with the Seminoles here like this spread suggests. The Seminoles have been brutal ATS this year which always helps out, but Louisville's 5-1 ATS mark after allowing less than 20 points last time out and their 16-5 ATS run in conference play (no matter what conference) are strong reasons to take the points here. Louisville is also a perfect 4-0 SU at home this year and have been gameplanning for this huge showdown for quite some time now. If there ever was a time to make a statement to the rest of the college football world that the Cardinals are back and haved moved past the Bridgewater era this would be it.
The bad news for Louisville is the fact that Florida State has had just as much time to prepare for this game after they narrowly got by Notre Dame last time out. They've known from the start of the season that they are the 'hunted' this season and while they haven't been bringing home the money for bettors, they've done what they need to to stay undefeated. Every week the pressure grows on Florida State because they know one loss would likely eliminate them from playoff contention thanks to a soft schedule/conference and this team is determined to defend their title.
However, with a 1-7 ATS run for Florida State before playing Virginia and a 2-6 ATS mark after rushing for less than 100 yards last time out, I believe you've got to take the points with the home dog here. This spread is likely to get past that key number of "7" and when/if that happens I think you've got to take the touchdown. Florida State is clearly not the same team as they were a year ago and numerous injuries to their O-line has them grinding to move the chains each possession.
The Seminoles ATS record this season can't be ignored and they've yet to cover a spread away from home this season. Even with the extra week off there is still the chance of a lingering hangover effect here after getting past the best opponent on their schedule this year (Notre Dame), and the Cardinals have showed improvement each and every week this season.
I don't think the Cardinals will win this game outright - although if they did I would not be shocked - but Florida State's margin of victory seems to be getting smaller and smaller as this season goes on. This game has the feel of being a 3-4 point win for the Seminoles thanks to a late scoring drive and that's why I'm grabbing the points with Louisville.
Take Louisville +6.5
$100 FreeBet at CarbonSports Use promo code: FREE100 Click Here
(Make a deposit of $25 or more and enter code: FREE100, get 50% freebet bonus, no rollover up to $100) Click Here