Free NCAA Football Pick for Saturday Michigan State vs. Maryland
by CarbonSports - 11/14/2014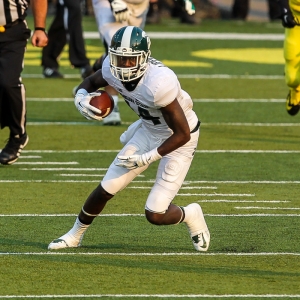 CarbonSports.ag Game Line: Michigan State (-13) vs. Maryland (+13)
It isn't exactly tough sledding for Michigan State the rest of the year as they've got this game with Maryland, and games against Rutgers and Penn State left, but the players on the Spartans have to feel like there isn't much left to play for after their chance at a Big 10 Title when out the window with last week's loss to Ohio State.
Michigan State would need to win out and have Ohio State lose twice over the next three weeks to get back into that Title game and it's unlikely that it happens. That game with the Buckeyes was so emotional and full of expectation that it's nearly impossible for the Spartans to go out on the road this week and have their best stuff against a weaker Maryland team.
Maryland had last week off as they watched the Spartans lose that game and the two weeks to prepare for this one should help the Terrapins here. At 6-3 SU, Maryland had held their own in their first year in the Big 10 and would love to pull off a huge upset win this week to make a statement. Talent-wise they don't necessarily match up well with Michigan State, but the rest factor along with Michigan State in a letdown spot puts Maryland in a good position to keep this one close.
Maryland definitely worked on their own weaknesses as well during that bye week and one of those would be to have more success on the ground. Last time out they rushed 30 times for only 33 yards and that's a brutal rate when you look at it. However, the Terrapins are 23-9 ATS after rushing for less than 100 yards and 12-3 ATS after gaining less than 275 total yards in their last outing.
Michigan State is 4-9 ATS the past few seasons after losing by double-digits at home and are going to have a tough time winning this game by two touchdowns.
It may seem like the unpopular pick, but I've got to grab the points with the home dog in this situation as Michigan State had their hearts ripped out with that loss to Ohio State last week. The Spartans should do enough to find a way to win this game outright, but it will be much closer than this spread suggests.
Take Maryland +13.
Take advantage of the $100 FreeBet at CarbonSports.ag. Use promo code: FREE100 Click Here
(Make a deposit of $25 or more and enter code: FREE100, get 50% freebet bonus, no rollover up to $100) Click Here