Kentucky Derby Horses in the Preakness for 2014
by Trevor Whenham - 5/6/2014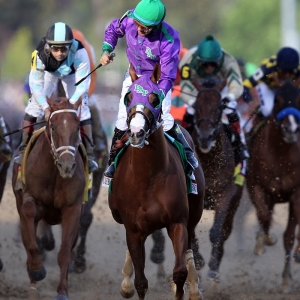 Every year I write this same article looking at all the horses that are heading from Churchill Downs to Pimlico to contest their second Triple Crown race. Usually there is a good group of runners who show how tough they are and make the trek. Well, this year it turns out that we are dealing with a bunch of sissies. Incredibly, only two horses from the Kentucky Derby are confirmed to be in the Preakness, and only one more is deemed even possible.
That is a pathetic showing at this point. We can't dwell on what we don't have, though, and I promise I won't rant about how ridiculous trainers and owners are being in this era. Instead, all we can do is look at the three horses that are doing what Triple Crown pretenders are meant to do (odds to win the Preakness are from Sportsbook.ag):
California Chrome (-120): I will write many words over the next two weeks about the heavy, heavy favorite in this race. That means I have two weeks to reflect on what I feel about this horse at this price. I didn't see any value in him in the Derby despite feeling like he was the best horse in the field, and I feel that it will be likely that I won't see any value in him here, either, despite the fact that he is again likely the best horse.
There are several things that concern me to some level. What stands out above all, though, is the Derby itself. He was a dominating winner, but the more I have gone back and watched the race the more annoyed and less impressed I have been. Chitu and Uncle Sigh set the early pace, but they did it at an almost glacial rate. They knew that the favorite would be right behind them early on, but instead of challenging him and testing him they let him settle in and run very comfortably through three-quarters of a mile. When he went to make his move he had lots left in reserve, and the race was over.
If the best horse gets the best trip, there is no race. Despite the ease of the trip, though, Chrome not only posted a horrifically slow winning time, but he was very slow in the last quarter mile as well. Part of that is because Espinoza didn't ride him hard once the race was in hand, but it still makes me uneasy.
There is a lot of very good early speed in the Preakness - Bayern and Social Inclusion are at the top of the list - so Chrome is likely to face a much more honest pace. I'm not saying he can't handle it, but he will be tested like he wasn't before.
Most people seem to think that it will be a virtual walkover for California Chrome in the Preakness. I'm not at that point quite yet.
Ride On Curlin (+1400): Despite his three Kentucky Derby wins, I have never been a huge Calvin Borel believer. He justified my skepticism in the Derby with a truly horrific ride aboard this horse. He should have looked to have settled into the front of the middle pack, slowly moving towards the rails from his outside post so he was positioned to make a move in the stretch. Instead, he practically took a left turn out of the gate, swerving to the rail and travelling well behind the field. He moved well later on, but the race was basically over for him after the terrible start. It was a disaster.
The good news, though, was that because he was out of it early he really barely ran at full pace for any of the race. He should be as fresh as a horse can possibly be two weeks after the Derby, and he could be in position to benefit if the speed blows up in front of him in the Derby. Borel won't ever get anywhere near his saddle again, so the trip should be much better. He's not nearly as easy to write off as many people will think he will be.
Danza (+600): Todd Pletcher had a very typical Todd Pletcher day in the Derby. He had four runners. Danza was respectably third, but he was hampered by getting hit extremely hard by stablemate Vinceremos early in the race. The other three Pletcher horses - Vinceremos, We Miss Artie and Intense Holiday - were disappointing and irrelevant. The guy just can't be at his best in this race.
Of the four, the only horse that is even remotely under Preakness consideration is Danza. He is headed back to Pletcher's barn at Belmont where he will be evaluated and a decision will be made. My gut tells me he probably won't wind up in the race, but it wouldn't be the most shocking thing if he did.
He was really hurt by the Vinceremos impact, and he is clearly a tough horse, but I just don't believe that he is good enough to win the Preakness. If the pace is indeed more honest in this race then it was in the Derby, that's not good news for him, either. I didn't bet him on the first Saturday in May, and I'm not likely to on the third Saturday, either.

Want free Preakness picks? Doc's sports expert handicappers are offering $60 worth of Preakness Stakes picks absolutely free - no credit card needed and no salesman ever. Click here to take advantage of this offer.
Read more articles by Trevor Whenham