2014 March Madness Bracket Picks: West Region
by Robert Ferringo - 3/19/2014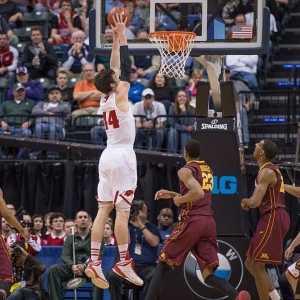 The West Region of the NCAA Tournament is all about contrasts, best exemplified by the top two seeds in the bracket.
Top seed Arizona is a tough, physical, defensive-oriented team. They want to lock people up and get in their faces with a hard-nosed man-to-man. Second-seeded Wisconsin is a team whose offensive flow and execution can carve up opponents. Sure, they can defend. Like Arizona can score. But the Badgers are a soft, skilled team that wants to get hot and hit jumpers for a full 40.
San Diego State and Nebraska join the Wildcats as the other grinders in this grouping, while trigger-happy teams like Creighton, Oklahoma, Oklahoma State and BYU serve as foils throughout the region. Defense allegedly wins championships. And we'll find out who can stop whom out on the Left Coast.
Here are Doc's Sports 2014 March Madness bracket picks for the West (Anaheim) Region:
No. 1 Seed: Arizona Wildcats (30-5 Straight-Up, 20-13 Against The Spread)
The top teams in the country all have one thing in common: dominating defense. And perhaps no one in the country is as tough to score on than Arizona. They are in the Top 5 in the nation in points allowed per game (58.1), and they were able to recover after the midseason loss of starter Brandon Ashley. Bouncy Nick Johnson had an All-American season, and freshman Aaron Gordon shows signs of being a young Blake Griffin. T.J. McConnell gives the Wildcats the steady veteran point guard presence they have so sorely lacked. And when Arizona is transitioning defense to offense they can overwhelm the opposition.
Arizona March Madness Picks: I think that this bracket is wide open for an Arizona march to the Final Four. If they can survive the opening weekend then I think they are tougher and more athletic than the offensive-oriented teams at the bottom of the bracket. It's Final Four or bust for this group.
No. 2 Seed: Wisconsin Badgers (26-7 SU, 17-16 ATS)
The Badgers have one of the best resumes in the country. They won at Virginia. They took down St. Louis. They are one of just two teams to beat Florida. And they were one of the top teams in the Big Ten. But Wisconsin's season hasn't been without some bumps in the road. They are not very athletic, and they have minimal depth. Badgers starters have logged over 80 percent of the available minutes this year, and I wonder how much this group has left in the tank. They have exceptional guards in Ben Brust, Josh Gasser and Traevon Jackson and a lethal stretch-four in Frank Kaminsky. But this group has shown a penchant for choking away big leads and being shaky in the stretch. We'll see if they can regain some early-season magic.
Wisconsin March Madness Picks: The Badgers have proven they can play with any team in the nation - and beat them. But this is not a title team. They simply don't have the size, strength or depth to win six straight. They have a favorable draw and could make the Elite Eight.
No. 3 Seed: Creighton Bluejays (26-7 SU, 18-13 ATS)
Doug McDermott, the Player of the Year and one of the top college scorers of all-time, is ready to make one last charge up the hill toward the Final Four. Creighton has four senior starters and is the best shooting team in the nation. McDermott (45.4), stretch-four Ethan Wragge (47.3), Grant Gibbs (47.5), Jahenns Manigat (41.7) and Austin Chatman (39.5) all hit around 40 percent of their 3-point shots, and these guys can bomb opponents out of the gym. This group of guys has played together for the better part of the last three years, and they can go toe-to-toe with anyone. They can get pushed around near the paint and are lacking just one rim protector. But McDermott's career is not going to end easily, and he won't go down without a fight.
Creighton March Madness Picks: I think that Creighton is capable of surviving this bracket. But they need some help. If they can win their Round of 32 game I believe the Bluejays can get past Wisconsin. Arizona and SDSU are bad matchups for Creighton. But if they can draw anyone else, this team can march on.
No. 4 Seed: San Diego State (29-4 SU, 18-12 ATS)
The Aztecs won the Mountain West regular-season title and were a minute away from taking the tournament trophy as well. Had they beaten New Mexico last Saturday this team may have earned a No. 2 seed. They are No. 2 in the country in points allowed (56.6 per game), and they are in the Top 10 in field goal and 3-point defense. This team is uber-athletic and attacks the board on both ends. Point guard Xavier Thames is the triggerman of a limited, but efficient, offense. The Aztecs can shoot just enough to keep teams honest. But, like Arizona, they excel at generating offense from their defense
San Diego State March Madness Picks: In keeping with the recent pattern of Mountain West tournament flops, I think that San Diego State will add another early tournament disappointment to the resume.
No. 5 Seed: Oklahoma Sooners (23-9 SU, 18-11 ATS)
This is a precocious group that has shown an ability to play with the best teams in the country. Like most Lon Kruger teams, this group is a bunch of seemingly interchangeable parts. Senior Cameron Clark is the leader. But sophomores Buddy Heild, Isaiah Cousins and Je'lon Hornbeak are the real core of this team. Oklahoma can run up and down and score with anyone. But their March will be determined by how well they defend. Also, this team will have to try not to be distracted by a potential Sweet 16 matchup with rival Oklahoma State. .
Oklahoma March Madness Picks: I'm a big fan of Lon Kruger. He has this team playing above itself as they have all year. But there are too many teams in their pod that can knock them off to predict anything significant for this group. That comes next year.
No. 6 Seed: Baylor Bears (24-11 SU, 13-14 ATS)
Teams don't get much shakier than the Bears. This team was overhyped coming into the season. But they showed some signs of putting it together at the end of the year, winning 10 of their last 12. Baylor has two very talented big men in Cory Jefferson and Isaiah Austin. They also have a pair of slick guards in point guard Kenny Cherry and shooter Brady Heslip. Add in X-factor Royce O'Neale and some other experienced pieces and this looks like a complete team. Looks. But they take bad shots and have lulls defensively, and this team is always ripe for an upset. That said, Baylor has won the NIT and owns a pair of Elite Eight trips in the last five years, so they are no stranger to postseason success.
Baylor March Madness Picks: I can't even begin to make a prediction about how this team will fare. They could lose their first game. They could earn another trip to the Elite Eight. They could fall anywhere in between.
Best first-round matchup: No. 6 Baylor vs. No. 11 Nebraska
This is a matchup of two former Big 12 foes. I couldn't even call them old rivals, because Nebraska was nothing but mud on the bottom of the shoe of the conference before bolting to the Big Ten. Now Nebraska is a hot team playing with a lot of confidence. They run some intricate sets and can cause trouble with the way they invert their big men on the perimeter. Terran Petteway, a transfer from Texas Tech, had a breakout season and will look forward to trying to stick it to his old conference mates. Baylor has loads of talent. But you can't count on them to come to play - or to play well. This one could be one of the best games of the opening round.
Best potential second-round matchup: No. 1 Arizona vs. No. 9 Oklahoma State
Back in January this looked like it could be a potential Final Four matchup. But Oklahoma State stumbled through injuries and suspensions and slid to this seed line. However, Marcus Smart and Markel Brown might be the best backcourt in the country, and the Cowboys are more than capable of playing at a high level. Arizona, along with Florida and Syracuse, dominated the No. 1 slot in the polls this season. They want to slow this game down, and the matchup of Johnson vs. Smart will be sensational to watch.
Upset Alert (first round): No. 5 Oklahoma vs. No. 12 North Dakota State
Here we have another vaunted 5-12 matchup that could end with the 12-seed advancing. NDSU is talented, experienced, and explosive offensively. And they match up very well with the Sooners. The Bison have three senior starters and a pair of studs with Taylor Braun and Marshall Bjorklund. They will also be sky-high for a chance to knock off a Big 12 opponent. I think that this one could be a back-and-forth affair, and if the Sooners don't clamp down on the defensive end they could be in a position where one possession makes or breaks this game.
Upset Alert (second round): No. 2 Wisconsin vs. No. 7 Oregon
Obviously, Arizona will be on Upset Alert. Creighton as well. But this game is a bit under-the-radar. Oregon has been an extremely streaky team. They won their first 13 games of the season, lost eight of 10, and then came back to win eight of their last nine heading into The Dance. They have a load of experienced players and the type of athleticism that can really bother the Badgers. Both teams want to outscore the other. So this one will come down to which team can get the most stops. That's not a game this group of Badgers excels at, and it could lead to an early exit - again - for Bo Ryan's bunch.
Dark Horse team: No. 3 Creighton
When you have a player at the level of McDermott, you always have a chance. But what really stands out about the Bluejays is their potential path to the Final Four. If they can get past the athleticism of Baylor or Nebraska then things really open up for the Jays. I think Creighton matches up perfectly with Wisconsin. And if anyone but Arizona survives the top half of the bracket then the Jays should be able to punch their way through to Dallas. I think Creighton would've struggled in the South or the East. But they have a real shot at the Final Four from their current position and will be a team I watch closely.
Team That Makes Me Nervous: No. 4 San Diego State
Baylor is unquestionably the shakiest team in this bracket. But the team I'm not sure what to do with is SDSU. They have the resume of a No. 2 seed and have huge wins at Kansas and over Creighton. But teams from the Mountain West have been huge duds in recent tournaments. And while the Aztecs are one of the nation's top defensive teams, they can be brutal to watch on offense. Their first-round matchup with New Mexico State is no pushover (and neither is NMSU's 7-5 center Sim Bhullar). After that is likely Oklahoma, followed by Arizona or Oklahoma State. I just can't see the Aztecs surviving very long. But it is also hard to overlook four months' worth of domination and bet against this group.
2014 West Region March Madness Picks: I think that an Arizona-Oklahoma State matchup in the Round of 32 will be the defining game of this tournament. And I think that the winner is going to carry the flag all the way to Dallas. There are some teams - Creighton, Wisconsin, San Diego State - whose entire focus is simply making the Final Four. There are other teams - Baylor, Oregon, Oklahoma - with the talent to make a run but lacking in consistency. In the end I'm going to stick with Arizona. They have been consistent, and there is something to be said for that. The Wildcats can dominate defensively, and they have a savvy backcourt. If they get past Oklahoma State I don't think they'll be stopped.
Robert Ferringo keeps proving himself to be one of the best college basketball handicappers in the nation. Robert has posted 12 of 17 winning college hoops weeks and 17 of 20 winning college hoops months. He has banked over $10,100 in profit with his side plays this year and $17,100 in profit since Nov. 11, 2012. Robert is a profit machine and you can take advantage of our free, no-strings-attached $60 credit to use toward a purchase of Robert's college basketball selections. CLICK HERE for $60 absolutely free!
Read more articles by Robert Ferringo