MLB Handicapping: Atlanta Braves Have Lots of Questions Heading into Season
by Robert Ferringo - 3/26/2014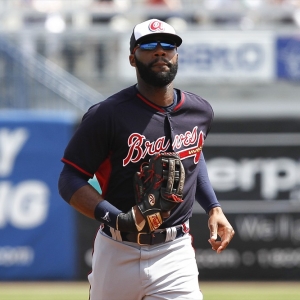 Last winter was one of the mildest on record in many parts of the country. Snow was sparse. Cold was transient. And jokes about global warming were freely flowing.
Flash-forward to this winter, still ongoing in many parts of the country no matter what that drunken groundhog has to say about it. This winter has been a frozen hellscape of twisted ice and shattered dreams. It has been a frozen nightmare of apocalyptic doom, with humans caught in the crossfire of the sky's unrelenting assault on the ground.
I see a similar parallel in comparing the past two Spring Trainings for the Atlanta Braves.
Last spring the Braves were energized by the offseason additions of the Brothers Upton along with Chris Johnson. At this point in 2013 they were wrapping up a 20-15 Spring Training record, the best in the National League and second-best in baseball. They used that as a launching pad to a brilliant 12-1 start to the season and never looked back, winning 96 games and the division title.
But this spring things have gone quite a bit differently. They are currently 10-17, the second-worst mark in the National League and fifth worst in baseball, and have been shaken by injuries and lingering question marks that should carry into the start of the year.
Atlanta's lackluster turn through Florida this spring comes amidst heightened expectations. The Braves committed $280 million in contract extensions to five core players this offseason, highlighted by Freddie Freeman's eight-year, $135 million deal. Jason Heyward, Craig Kimbrel, Julio Teheran and Andrelton Simmons also cashed in for significant paydays.
Those moves were paired with financially-driven decisions not to retain Brian McCann and Tim Hudson, two respected veterans and clubhouse leaders.
The Braves enter the 2014 season as one of the favorites to win the National League East, something they have only done once in the past eight years after a stretch of 14 titles in 15 years. Sportsbook.ag has Atlanta's season win total "over/under" set at 87.5, and they are expected to return to the postseason for the 18th time in the last 24 years.
However, Atlanta's starting rotation has been decimated this spring. Projected Opening Day starter Kris Medlen and up-and-coming hurler Brandon Beachy were both lost for the season to Tommy John surgery. Mike Minor, a surprise 13-game winner last season, has been on the disabled list all spring with a shoulder issue, and offseason acquisition Gavin Floyd (elbow) is still recovering and likely won't be available until late May at the earliest.
The Braves also made the surprise move to cut Freddy Garcia on Monday despite a solid stretch performance last year. The replaced him by signing journeyman Aaron Harang. Prior to that move Atlanta signed free agent Ervin Santana to fill in one of the starting slots.
They are also hoping Teheran can build on last year's success. But arms are sparse after that, and to say the Braves are entering the regular season with less than a full arsenal is an understatement.
Pitching is a long-term issue for the Braves, but one that could potentially work itself out. Some of the issues involving their everyday players, however, are a little touchier.
Dan Uggla is in a make-or-break season. He came over from Florida with manager Fredi Gonzalez but has been terrible for most of the past two seasons, hitting just .179 in 448 at-bats in 2013. Uggla's struggles led to Gonzalez leaving him off the postseason roster, which has caused friction in their relationship. If Uggla struggles again this year and Gonzalez has to bench him for good then that could cast a dark cloud in the locker room.
Also, fan favorite Jason Heyward looks to be headed down the path of Overhyped Braves Right Fielders recently blazed by Jeff Francoeur. Heyward signed a two-year deal this offseason. But expectations have tempered since his breakout rookie campaign, and Heyward hit below .230 for the first four months of 2013. It brought back memories of his disastrous 2011, in which he hit just .227 for the season, and if Heyward struggles again it could open up old wounds related to former hometown hero Francoeur's unceremonious exit.
Further, B.J. Upton gives the Braves another starter with a tenuous grasp on a position. Upton was a mega-bust after signing a $75 million contract prior to last season. He went on to hit just .184 in 126 games, posting more strikeouts (151) than total bases (113). Upton is now batting a pathetic .233 since the start of 2009 (2,620 at-bats), and I personally just don't think he is a Major League-caliber player.
B.J. is the brother of Braves star Justin Upton, who had an outstanding first season in Hotlanta. It will be interesting to see the potential impact that B.J. being benched or sent to the minors could have on Justin's psyche. Justin had his own ups-and-downs at the plate in Arizona, and if he falters in the middle of the order then the Braves offense is in even bigger trouble.
Finally, with so many young players given so many lucrative contracts in the same offseason, there is a chance that the Braves could lose some of their edge. We'll call that the Rocky III Syndrome.
Gonzalez is an excellent manager with a proven track record of exceeding expectations. But that is a lot of grenades to juggle heading into the regular season.
The ZiPS projection system had the Braves with a 42 percent chance of winning the East this year, five points behind favorite Washington. However, Atlanta's spring has been so poor that they are now given just a 36 percent chance to win another title compared to a 52 percent chance for the Nationals.
Spring is coming for the winter-weary parts of the country. The clouds will break and the sun will shine, but the scars of this cold season will linger. Soon enough we will find out if the same can be said for Atlanta's shabby spring.
Doc's Sports is offering $60 worth of member's baseball picks absolutely free - no obligation, no sales people - you don't even have to enter credit card information. You can use this $60 credit any way you please on any of our top MLB handicappers. Click here for more details and take advantage of this free $60 picks credit today .
Robert Ferringo is a professional sports handicapper for Doc's Sports. He is considered one of the top MLB cappers in the country and has turned a profit in five of the last seven years on the diamond with his baseball picks. He closed 2012 with an amazing $11,700 in earnings over the last four months and this summer will try for three straight profitable years. He is looking forward to a great upcoming season against the MLB odds. Click here for more information on his MLB picks.
Read more articles by Robert Ferringo