2014 Mountain West Tournament Picks and College Basketball Predictions
by Robert Ferringo - 3/11/2014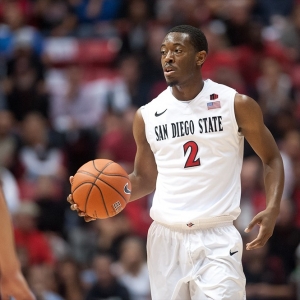 The Mountain West always holds one of the most entertaining and intriguing conference tournaments in the country. Even though this has been a relatively down season for the MWC, there is still no shortage of storylines for this league as it prepares to crown a champion.
Will San Diego State make a shocking run to a No. 1 seed in the NCAA Tournament? Will New Mexico rebound to avenge its shocking loss to the Aztecs last weekend after blowing the regular season title? Will host UNLV finally put the pieces together and wreak havoc throughout this bracket? Will Boise state, Utah State or Colorado State salvage disappointing seasons with a miraculous run in the conference tournament?
The Mountain West Conference tournament commences on Wednesday, March 12 at the Thomas & Mack Center in Las Vegas. The finals will take place on Saturday, March 15.
Here is Doc's Sports Mountain West Tournament picks and predictions:
The Favorite: San Diego State (+200)
The Aztecs are not only the top team in the Mountain West - they are one of the top teams in the country. San Diego State is currently ranked No. 7 in the country and has been a staple of the Top 10 for the majority of the last month-and-a-half. The Aztecs have wins over Creighton and Kansas on their resume, and with a win - and lots of help - they head to Las Vegas with an outside shot at earning a No. 1 seed in the NCAA Tournament. Everything the Aztecs do starts on the defensive end. They are No. 8 in the country in defensive efficiency, and they allow just 57 points per game, No. 2 in the nation. This is a gritty, athletic, experienced team - think: Cincinnati - that uses its defense to generate offense. When they are forced into a half-court attack the Aztecs lean on senior guard Xavier Thames (16.9 points per game). This is not a good shooting team, though, and if opponents can keep them off the offensive glass they have a chance. I wouldn't say that this team is "hot" coming into the tournament. But they did take down UNLV and New Mexico last week in two hard-fought battles. And at 27-3 this team isn't lacking for confidence.
The Contender: New Mexico (+175)
The Lobos were one of the hottest teams in the country and had the regular-season Mountain West title in their grasp. Then they suffered a total collapse in the second half of last Saturday's de facto regular-season championship game at San Diego State. New Mexico blew a 16-point second-half lead while taking their first loss in nearly a month. But the Lobos are still playing outstanding basketball at the moment, and the fact that they were even up 16 on the road against SDSU is a testament to that. New Mexico is the defending league champion, and they will rely on stud seniors Cameron Bairstow (20.3 PPG) and Kendall Williams (16.4 PPG) to lead them to another crown. The Lobos can beat teams inside and out. And I think they can shake off Saturday's defeat and set their sights on a rubber match with the Aztecs.
The Sleeper: UNLV (+300)
The Rebels will always be a sleeper to win the conference tournament because it is held on their home floor. UNLV has dropped four of its last six games, and they know the only way into the NCAA Tournament is by cutting down the nets here. The Rebels did just that in 2007 and 2008, and they made the finals last year before losing to New Mexico. Two of UNLV's best players, Roscoe Smith (concussion) and leading scorer Bryce Dejean-Jones (suspension) missed one or both of the Rebels' last two games of the regular season. But both are expected to be in uniform this week, and both will be fighting to extend their season. This Rebels team has been somewhat undervalued all season long, and they put up a game effort against top seeded SDSU just last week on this court. They know they can beat anyone in the field and are a team to watch out for.
The Spoiler: Boise State (+700)
The Broncos have been one of the most disappointing teams in the country this year. After earning an NCAA Tournament berth last year and bringing back seven of its top eight players, the Broncos entered the year with heightened expectations. They have flopped, and now their only chance to earn a return trip to The Dance will be to win the league tournament. That's not an impossible feat for a team that shoots the ball as well as Boise State. If they can get hot, they can go on a run this weekend. Also, the bracket cuts nicely for them. They will handle San Jose State in the opener, and then they take on soft No. 3 seed Nevada. After that the Broncos would take on New Mexico, whom they've already beaten once this year. Boise has not treated backers kindly this year, so it is tough to jump on the bandwagon. But a serious run is not out of the question.
The Matchups (with projected college basketball odds):
No. 8 Utah State (-2.5) vs. No. 9 Colorado State (8 p.m., Wednesday, March 12)
Here we have two teams that just couldn't establish identities in league play this year. Utah State was one of the dominant forces in the old WAC but struggled to adjust to life on The Mountain. Colorado State slogged through a rebuilding year and is now fighting to stay above .500 and eligible for postseason play. Utah State swept the season series, most recently winning in Fort Collins on Feb. 11. The Aggies have one of the most experienced teams in the country, featuring four senior starters, and they are No. 3 in the country in 3-point shooting. However, if the deep shots aren't falling the Aggies struggle to find points. Colorado State leans on beastly transfer forward J.J. Avila, who was one of the best newcomers in the league this year.
No. 7 Fresno State (-7) vs. No. 10 Air Force (3 p.m., Wednesday, March 12)
This is a very interesting Fresno State team that appears to be peaking at the right time. The Bulldogs have won eight of their last 10 games. And that streak came on the heels of back-to-back overtime losses to Nevada and UNLV. So Fresno has been on an upswing. Oklahoma State transfer Cezar Guerrero and veteran Tyler Johnson give Fresno a pair of solid options in the backcourt. In fact, Fresno has five guards averaging at least 8.6 points per game, and they will be looking to run and gun their way past Air Force. The Falcons are small and not nearly as physical as Fresno State. But they execute their quirky Princeton offense and can be a dangerous opponent if they are making their 3-point shots. Air Force scored a surprise upset of Boise State last Saturday and will try to carry that momentum into this game. But Fresno has too many options. And if they can contain Air Force guards Tre Coggins and Max Yon - no small task - then this one should be a blowout.
No. 6 Boise State (-15) vs. No. 11 San Jose State (5:30 p.m., Wednesday, March 12)
WAC castoff San Jose State was predictably awful in its first go-round in the Mountain West. They won just one league game this year - somehow beating Nevada in Reno - and haven't beaten another D-I team since before Christmas. I think it is safe to say that Boise will advance here. The only question is whether you think they'll be able to handle this large number. I don't know that I do.
No. 4 UNLV (-7.5) vs. No. 5 Wyoming (11 p.m., Thursday, March 13)
Wyoming's season took a turn when they lost leading scorer and rebounder Larry Nance Jr. a couple weeks ago. Since then the undermanned Cowboys have flailed their way to a 1-5 finish. UNLV has had issues of its own, both on and off the court. But I expect the Rebels to be at full strength and with laser focus for this one. These two met just one time this year; with UNLV earning an ugly 48-46 victory here back on Feb. 8. But, again, that was with Nance on the court, and his 12 points and nine rebounds won't be easily replaced. Wyoming has morphed into a guard-heavy 3-point chucking squad without its best big man. But they should be no match for UNLV's No. 18 ranked 3-point defense.
Mountain West Conference Tournament Predictions: I like New Mexico this weekend. Sure, they choked that game away to the Aztecs over the weekend. But they will be more prepared for SDSU's 1-3-1 defense, which really changed that game. And that's if SDSU is even still alive for the final. I think that UNLV is going to win its opener over Wyoming and then spring an upset over the Aztecs in the semifinals. I just have a hard time seeing San Diego State taking down the Rebels at the Thomas & Mack twice within 10 days. I like New Mexico to beat UNLV and to cut down the nets for the second straight season.
Robert Ferringo keeps proving himself to be one of the best college basketball handicappers in the nation. Robert has posted 11 of 16 winning college hoops weeks and 17 of 20 winning college hoops months. He has banked nearly $10,000 in profit with his side plays this year and almost $17,000 in profit since Nov. 11, 2012. Robert is a profit machine and you can take advantage of our free, no-strings-attached $60 credit to use toward a purchase of Robert's college basketball selections. CLICK HERE for $60 absolutely free!
Read more articles by Robert Ferringo