NBA Betting Studs and Duds Up to All-Star Break
by Trevor Whenham - 2/18/2014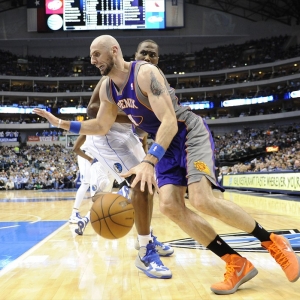 As we get ready for NBA action to resume after the all-star break, now is a good time to look back at what happened from a betting perspective up to this point in the season. Here are the ATS studs and duds of the season so far and what we might be able to expect moving forward:
Studs
Phoenix Suns (33-17-1 ATS): The Suns aren't as strong now as they were earlier, but they are still a major surprise as a current playoff team. People keep waiting for them to crash down to earth, but so far they haven't, and that has led to the biggest profits in the league. It's hard to believe that they will remain atop this list for the rest of the season, but if you have managed to cash in so far then you have to be happy.
Indiana Pacers (32-20 ATS): It's not very controversial to say that this has been the best team in the East so far and quite possibly the best in the league. They play absolutely punishing defense, and they are all but unbeatable at home. Expectations are high, and they are exceeding them. This team shows us that there is more than one way to find success — 12 of the other 15 current playoff teams outscore them, but no team has a bigger point differential.
Toronto Raptors (31-20-1 ATS): This organization is so mixed up they can't even tank properly. They traded Rudy Gay away, and almost everyone expected that that was a clear move to secure the right to bring Canadian Andrew Wiggins back home in the draft this year. Instead, they have improved dramatically, are four games over .500 at the break, and are in good position to win the Atlantic Division. Bettors can't quite believe it, and the profits are the result of that.
Oklahoma City Thunder (32-23 ATS): If Indiana isn't the best team in basketball right now it's because Oklahoma City is. Kevin Durant has stepped his already impressive game way up, and it is showing on the court and at the betting window. Only Indiana outscores opponents by more on average, and this team takes care of business better than any team aside from San Antonio.
Dallas Mavericks (31-23 ATS): Much to the chagrin of Mark Cuban, the Mavs are pretty much a forgotten franchise right now. That means that it is easy for them to occupy a betting sweet spot good enough to exceed expectations but not good enough to attract too much attention.
Duds
Philadelphia 76ers (21-33 ATS): This team has given up 4.8 more points per game than any other team in the league. And they score 10 fewer points per game than they allow. Not a real mystery why they can't cover spreads. Things could get even more bleak going forward, too, as the team has the potential to be very active at the trade deadline — and not in a way that will make them better in the short term.
Milwaukee Bucks (20-32 ATS): Again not a mystery this is a really, really terrible team. Awful. Of course, it's not a surprise given the lousy roster and the overreliance on youth. If tanking was an Olympic sport this would be your runaway gold medalist. If history is any indicator, though, they will blow their opportunity.
New York Knicks (21-31 ATS): When a public team comes off a pretty solid season and disappoints as badly as the Knicks have, it's inevitable that they are going to burn up a lot of bettor money. To make matters worse for their backers, they keep showing small signs that they could be back on track, but then they come crashing back to earth.
Orlando Magic (23-31 ATS): The Magic has played 26 road games this year. They have just three wins. They are a dramatically better team at home, but it doesn't matter. That road performance, which equates to 9-17 ATS, is just too damning.
Cleveland Cavaliers (23-30 ATS): Strangely, I think it is actually impressive that this team isn't worse against the spread than they are. The public is so negative about this team for so many reasons -- the King James exodus, the potential departure of Kyrie Irving, the poor play of Anthony Bennett, the eternal struggles, and on and on — so you would expect them to give the team even more credit than they do. They have looked like a reborn team since firing a GM, though, so things could change somewhat for this team. Or they could just keep being the Cavs.
Read more articles by Trevor Whenham