NBA Betting Something or Nothing: Taking a Look at Importlant Trends
by George Monroy - 11/4/2014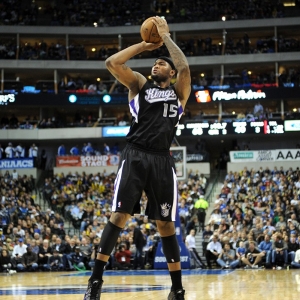 The NBA is only a handful of games old, but with huge injuries mounting for various teams to go along with a multiple players doing far more than what we expected, it might be time to take a look at a few early season trends and figure out if they will have a bigger impact as the year wears on in this edition of NBA something or nothing. All odds and lines come from Sportsbook.ag.
Russell Westbrook Broken Hand: Something or Nothing?
Something : Oklahoma City is in real danger of having a lost season. The squad played admirably without Kevin Durant to open up the year and even covered a spread when Westbrook went down, but the team will probably be in serious trouble now that its best two players are out of the lineup. Oklahoma's City's NBA title odds have already fallen from +650 to +1200 in a matter of weeks.
Durant and Westbrook are expected to miss 20-something games, and even though that is only a fourth of the season, the squad will probably win seven or eight of those games and could be sitting on a 7-13 record once both stars return. And in a loaded Western Conference, that would leave to the Thunder hoping to squeak into the seventh or eight seed, which would not be enough to make a deep playoff run.
Derrick Rose Sprained Ankle: Something or Nothing?
Nothing : Rose sprained his ankle during the second quarter of Chicago's second game of the year and nearly left Bulls fans in tears again as he hobbled off the court. Luckily, it was a mild sprain and he is expected to be back in the lineup tonight. The big question surrounding the former MVP is whether or not his health would hold up over the course of an 82-game season, and already getting injured, no matter how small, during the second game is not a good omen for the team.
Expect Chicago to monitor Rose and rest him throughout the year, which could be a tricky situation for bettors looking to wager on the Bulls. The injury itself is nothing to worry about, but Chicago may not be as good of an ATS team as bettors probably expected. Keep an eye on Rose and watch for the scouting report on whether or not he will play on various nights.
Chris Bosh Star Turn in Miami: Something or Nothing?
Something : Most NBA analysts seem to have forgotten how great Bosh used to be in Toronto after spending the better part of the last four years playing third fiddle to LeBron James and Dwyane Wade. The all-star center can be aggressive, excel in the paint and be an outright scorer. Bosh is already putting up 25 points, 11 rebounds and four assists on a nightly basis and could be a surprise MVP candidate if his production continues.
Miami is still undefeated and has been covering spreads by an average of 6.3 points per game. The team may be better than most people expected after the departure of James, and Bosh may still be that elite-level player we all saw in Toronto. Expect this Miami trend to continue.
Los Angeles Lakers Horrendous Start: Something or Nothing?
Something : Los Angeles started out the year 0-4, with an average loss of 17 points per game, and only managed to cover one spread in that span. Many experts predicted Los Angeles to be a bad team but still be able to win 30-something games. However, that assessment has been thrown out of the window as Los Angeles currently looks like the worst team in the entire NBA-Philadelphia included.
The Lakers cannot score and may be flirting with matching the worst ATS record in the last 10 years, which was a 27-54-1 mark set by the Orlando Magic in 2003-04. Rumors have already begun to swirl about Los Angeles' strategy to secretly tank, because it will lose next year's first-round draft pick to the Phoenix Suns if it is not a Top 5 pick. At this point there is not reason to wager on the Lakers.
Sacramento 's Hot Start: Something or Nothing?
Something : Sacramento opened up the year with a brutal schedule against Golden State, Portland, Los Angeles Clippers and Denver, and managed to produce a 3-1 SU and ATS mark when most experts were predicted a 1-3 or 0-4 start to the year. The Kings played the role of underdog in each of those games yet managed to look impressive after only winning 28 games last season. Every year in the NBA there is a surprise team that comes out of no where to win games and cover spreads, and this season Sacramento could be that team.
The squad plays a ugly style of basketball that relies on a strong presence in the paint and overpowering teams down low. DeMarcus Cousins is quietly become a star as one of the best big men in the league and could be the leading cause of the Kings turnaround. Sacramento is probably not a playoff contender, but they can cover spreads.
Read more articles by George Monroy