NBA Handicapping: Bad Teams that have been Good for Bettors
by Trevor Whenham - 1/8/2014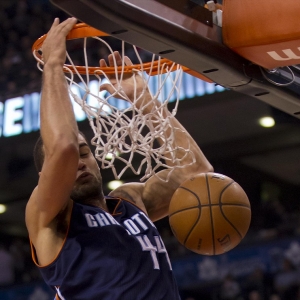 There are a lot of bad teams in the NBA right now, and the gap between the good teams and the bad ones is very large. For the general public it can be very easy to ignore these bad teams. They aren't watchable and they get little media attention, so they easily fade from the public mind. While the public is probably smart to ignore bad teams, bettors shouldn't automatically cast them aside. Some bad teams are just as bad to bet on as they are to watch. There are others, though, that are surprisingly strong from a betting perspective despite their struggles on the scoreboard. Here are four teams that are in no danger to win the title this year that are nonetheless quite profitable in one way or another:
Washington Wizards: The Wizards are not a very good team, and they certainly cannot be accused of being a consistent one. Of course, they are solidly a playoff team, but that's hardly a tough thing to do in the Eastern Conference. Despite being a sub-.500 team now, and likely throughout the rest of the season, though, these Wizards have been decent for bettors. They aren't lighting the world on fire, but they are nicely profitable, and they are doing better against the spread than all but six teams in the league. That's exceeding expectations, and given that they are a relatively anonymous team, there is a chance that they could keep it up. They sit at 18-14 ATS, and they would be very handy for bettors if they could keep that up. They had dropped three games in a row without covering a spread before Tuesday night, but they were convincing winners on the road against Charlotte last time out to stop the bleeding and get back on track.
Detroit Pistons: The Pistons are not good, and they haven't been good for a very long time. While their 14-21 record impresses no one, they are nonetheless quite useful for bettors in two different ways. Against the spread they are a bad 14-20-1 ATS, which has made them nice to bet against on a regular basis. Even more impressively, though, they are remarkably good at going "over" totals. In fact, only the Spurs are better at it than Detroit — they have done it 25 times in 35 games. They have an underwhelming defense and an offense that is short of average, so it isn't a big surprise that they are going over totals with some frequency. They sit near the bottom of the league in both 3-point shooting and free-throw shooting. If they can show some improvement on that front — which isn't likely — then it would seem to be almost impossible for them to go under the total.
Charlotte Bobcats: The Bobcats have just one more win than the Pistons, but from a betting perspective they are almost exactly the opposite team. They are very good at covering spreads — the fourth best in the league at 20-14-2 ATS — and they are a very profitable 14-21-1 against totals. When you look at the statistical profile of this team, there is no real surprise that they go under with such success. They are a surprisingly strong defensive team — their 95.8 points per game against is third lowest in the league, and they are effective at controlling the tempo and slowing games down. Offensively, they are also weak — only two teams in the league score fewer points per game, and they are near the bottom of the league in most offensive production stats. Slow tempo, bad shooting, solid defense — a recipe for going "under," and one that seems to be sustainable.
Chicago Bulls: The team is 14-19 against the spread, and the Bulls have gone under the total 21 times in 33 tries. Both of those are nicely profitable. They are also both no surprise, with the second Rose injury having crushed the soul of this team and now the loss of Deng not really going to improve things. The offense is probably the worst overall in the league right now, and that sure isn't going to change in a hurry. They are a very good defensive team still, however, though that will suffer a bit now — at least in the short term. No offense and a strong defense explains the unders and makes it reasonable that it will continue. The Deng salary dump makes it clear that this team has all but given up on the season. As long as their defensive play doesn't fall completely off a cliff, then, they should continue on the profitable path they are on now.
Read more articles by Trevor Whenham