NBA Handicapping: Clippers Winless ATS to Start the Season
by Trevor Whenham - 11/10/2014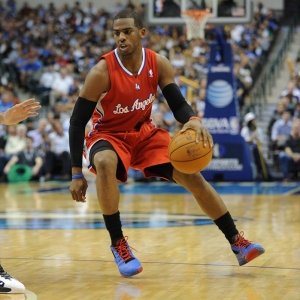 The L.A. Clippers, it seems, need drama to shine. Last year they were the fourth most profitable team in the league against the spread - a respectable and nicely-profitable 46-35-1 ATS. Since then they ditched their former owner - a stingy racist - for one of the richest, least controversial, and seemingly free-spending owners in Steve Ballmer. It should be happy, happy days in L.A.. So far in this young season, though, the team has been a disaster. Their 4-2 record isn't terrible on the surface, but they have looked mostly lousy, and have a perfect, and perfectly awful, 0-6 ATS record.
So, what is wrong? Will it last? Can this team be trusted to bet on soon? Or will betting against them continue to be the smart move? So many questions. Let's see if we can find some answers:
Allergic to paint: This is a team that scored a lot of points last year - more than any other team, in fact. They averaged 107.9 last year. So far this year they have averaged just 103.3, which is ninth in the league. More concerning, they had 93 in a win against Oklahoma City and 92 in their humiliating loss to Sacramento - and both games were at home where they should be at their best. Now, they are far from a disaster offensively - a lot of organizations would kill to play as well as the Clippers do when they struggle. In relative terms, though, this team is not performing like they should.
The most striking difference is that a team that dominated the paint so often last year is staying away from it like they are allergic to it often times this year. Most strikingly, both Blake Griffin and Chris Paul seem to be settling for jumpers instead of penetrating. For Griffin that is especially a concern because he not only scores so well inside, but he is excellent at getting to the foul line as well. Against the Warriors he had just one free throw. That's ridiculous.
It's a lack of aggressiveness that is having an impact on the way the team is playing in general - or perhaps it reflects the mindset of the team right now. Either way, it needs to change if the team wants to shine.
Small forward: It seems like an odd strategy to construct a lineup like this one has been constructed. You have two superstar starters and a couple of very solid players complementing them in the starting lineup. Then you have a total lack of anything worthwhile at small forward. When Matt Barnes is your starter, you don't have a starter. Reggie Bullock and Chris Douglas-Roberts provide little relief off the bench. Hedo Turkoglu is way past his prime. None of these have even played as well as they are capable of this year - and their best wouldn't be good enough.
Winning games in the West is tough enough at the best of times - never mind when you are effectively playing 4-on-5 too often or forced to put a modified lineup that causes matchups issues out there to address your painful shortcomings. This is not the only example of why it is much easier to get excited about Doc Rivers the coach than Doc Rivers the executive.
Raining down threes: Last year this team worked very hard to improve their defense against 3-pointers, and it really paid off - they were tops in the league on that front. It's like they have forgotten everything they learned last year so far. Opponents are shooting .398 from beyond the arc, which if fourth-worst in the whole league. That doesn't make winning games or covering spreads very easy.
That's just one example of how poor this team has been defensively so far. They are 24th in points against and 29th in opponent field goal percentage. Most disturbingly, they are second last in the league, allowing 1.40 points per shot. Only the Lakers are worse, and they are a really terrible team.
Teams don't need to be an elite defense to be an elite squad, but they need to be better defensively than this team has been.
Hunger?: My biggest criticism of the Clippers since they have been reborn is that they just haven't seemed to want to win when it matters as much as great teams do. They just don't seem to care enough often enough. What we have seen so far this year is a team that doesn't seem to care nearly as much as previous Clippers squads have. That's just not going to get it done.
They looked better last time out than they have to this point, but they still have a long way to go if they want to finally turn potential into accomplishment.
Sample size: While things are bleak, and there are reasons to be concerned, perspective is crucial here. The team is just six games into their season. They have 76 more games to play. They are less than 10 percent of the way through the season, so they have plenty of time to rewrite their story - and they are still 4-2.
This is one of those squads that we need to be patient with and wait until they have played 20 games before we draw any real conclusions. If these same issues still exist by then, it could be time to really worry. Until then, though, just pick your spots.
How about $60 worth of member's picks absolutely free? No obligation, no sales people, no credit card. You can use you $60 credit on any of our top NBA handicappers. Get your free daily NBA predictions today!
Read more articles by Trevor Whenham