NBA Odds: Thursday, May 1, 2014 Opening Line Report and Handicapping
by Alan Matthews - 4/30/2014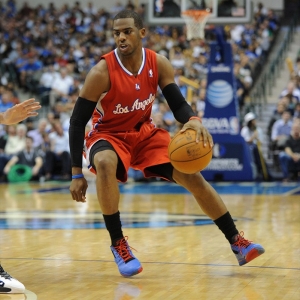 We could learn one half of the Western Conference semifinals on Thursday night if the Los Angeles Clippers can beat the Warriors in Golden State and the Memphis Grizzlies beat visiting Oklahoma City. The third-seeded Clippers probably had no illusions of having home-court advantage in the conference semifinals, assuming the Thunder would win, but would have it against the No. 7 Grizzlies.
Game 6: Pacers at Hawks (+1, 186.5)
I played lower-level college basketball and obviously never sniffed the pros. But I guarantee you that I could have had as much of an impact in Game 5 of the Pacers-Hawks series as Indiana all-star center Roy Hibbert did. Somehow, Hibbert managed to go scoreless with no rebounds, four fouls and one turnover in 12 minutes of the Hawks' 107-97 win in Indianapolis that really wasn't that close. Hibbert's confidence is totally gone. I think Coach Frank Vogel now has to bench him for good. How can the Pacers also have trailed by 30 points at home to a below-average Atlanta team? A 41-point second quarter for the Hawks? Never seen a title contender implode like this when it wasn't injury-related
Look for Vogel to go with a small lineup as the Pacers cut that 30 point deficit briefly to single digits with the smallest lineup the team has used all season (Vogel used shooter Chris Copeland at power forward, for example). The Pacers are 0-for-10 when trailing 3-2 in a best-of-seven series since they joined the NBA. They have only forced a Game 7 three times. One of those was last year when Hibbert had 24 points and 11 rebounds in Game 6 against Miami, but that was at home and he was a different guy.
Key trends: Indiana is 4-0 ATS in its past four after a loss. Atlanta is 3-12 in its past 15 after scoring 100 points or more in its previous game. The "under" is 6-0 in the Hawks' past six at home.
Updated Sportsbook.ag series line: Hawks -170, Pacers -150
Early lean: No team has won two straight in this series yet, and that continues.
Game 6: Thunder at Grizzlies (+2.5, 185)
I wouldn't have thought it possible to top this season's Blazers-Rockets playoff series, but Oklahoma City and Memphis have done it. They played their NBA-record fourth straight overtime game on Tuesday. The Grizzlies won 100-99. The Thunder's last possession was puzzling. You knew the ball was going to Kevin Durant for the win, but he shot as soon as he got it, a good three feet behind the 3-point arc. He had plenty of time to take a dribble or two. Serge Ibaka half volleyball-spiked the rebound into the basket, but replays showed the ball left his hand about a tenth of a second too late. What everyone is talking about today is when Durant was on the free-throw line with 27.5 seconds left. He hit the first to cut the lead to one. Then he was about to take a second when referee Joey Crawford quickly came over and took the ball away before walking over to the scorer's table to deal with something. Durant missed the second, but he wouldn't take the bait and blame Crawford (and a fine would have been coming if he had).
Durant had another off night, shooting 10-for-24. He's lucky the MVP votes were in before the playoffs. Russell Westbrook had a triple-double but was 10-for-31 from the field. Again, he should not be taking more shots than Durant. Westbrook is now 7-for-38 from long range in the series. Top bench player Reggie Jackson, who blew up in Game 4, was quiet with only six in Game 5. Somehow, the plodding Grizzlies outscored the Thunder 15-7 in transition. That shouldn't happen. Really Game 4 shouldn't have gone to OT, but the Grizzlies blew yet another big lead. They have blown four leads in the final minute in the last four games.
Key trends: The Thunder are 0-3-1 ATS in their past four after a loss. The Grizzlies have covered only four of their past 16 after a win. The "over" is 4-1 in Memphis' past five home games.
Updated Sportsbook.ag series line: Grizzlies -145, Thunder +120
Early lean: Memphis knows it can't afford to go back to OKC for a Game 7 despite being 2-1 there in the playoffs. Grizz finish this off at home -- and the job status of Thunder coach Scott Brooks becomes a hot topic.
Game 6: Clippers at Warriors (+1, 209)
You will rarely see such a change in energy levels for one team than what the Los Angeles Clippers looked like in Game 4 right after the Donald Sterling story broke and Game 5 soon after Sterling's punishment was announced by Commissioner Adam Silver. You could tell the Clippers were very distracted and probably didn't want to play Game 4 on Sunday night in getting blown out by 21 in one of their worst games of the year. DeAndre Jordan pulled a Roy Hibbert in that one with zero points, five rebounds, three fouls and two turnovers in 25 minutes. Really no Clipper played well except perhaps Blake Griffin.
However, on Tuesday the Clippers looked emboldened by the lifetime ban of their racist owner as well as a very supportive home crowd. Jordan especially as he dominated with 25 points, 18 rebounds and four blocks. That is where the Warriors miss Andrew Bogut the most, and there's no reason why Jordan shouldn't crush the smaller Warriors frontcourt. Golden State's Steph Curry has been very inconsistent in this series. He was great Sunday but had only 17 points on 10 shots Tuesday along with eight turnovers. If Curry doesn't score somewhere around 25 or more, the Warriors simply aren't going to beat the much deeper Clippers.
Key trends: The Clippers are 1-5 ATS in their past six after a win. The Warriors are 5-0 ATS in their past five following an ATS loss. The over is 7-1 in each team's past eight overall.
Updated Sportsbook.ag series line: Clippers -750, Warriors +500
Early lean: The West is potentially wide open for the taking for the Clippers. They won't blow a chance to finish things off. Sometimes teams can bond together in spite of a coach or manager the players despise. Why not an owner?

Doc's Sports has had a winning tradition for more than four decades. Don't believe us? Try us out for free, and we are convinced you will be a believer. Get $60 worth of free sports picks - members' picks just like our paying clients get - here .
Read more articles by Alan Matthews