NBA Rookie of the Year Odds with Picks and Predictions
by Trevor Whenham - 7/1/2014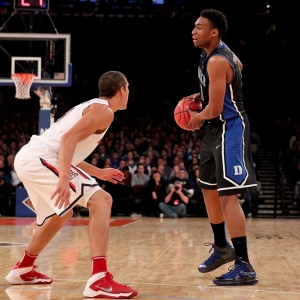 Now that the NBA Draft is over and we know where the next generation of young stars will be playing, it's a good time to look for value in NBA Rookie of the Year futures with some picks and predictions on the candidates ( odds are from Bovada):
Jabari Parker, Milwaukee Bucks (3/1): As we have heard so many times by now, Parker is the most NBA-ready player in the draft. He has some decent pieces around him in Milwaukee - most notably the "Greek Freak" - but he will get as many minutes as he can handle right away, and he will have the freedom to do whatever he wants offensively. He should post some solid numbers and is a legitimate favorite. I see no value in this price, though.
Andrew Wiggins, Cleveland Cavaliers (13/2): It's hard to tell how to deal with Wiggins at this point because we don't know exactly what the Cavs are going to look like going into the season. They have some payroll flexibility, and they have an obvious target or two - though they aren't likely to hit their home run. Wiggins has some nice young talent around him either way, though. It depends on how hungry he is - his consistent motivation was a knock in college. I don't think he is less than half as likely to win as Parker, though, so there is relative value in this price.
Julius Randle, Los Angeles Lakers (9/1): It's hard to be optimistic about anything regarding the Lakers right now. There are just too many questions. Will Kobe be back and in form? Will Kobe accept Randle and give him a big role on the court? Who will Randle be playing with? Who will be coaching? Way too many questions, though even without the questions I am far from certain that Randle can settle in and produce numbers quickly that would make voters excited.
Dante Exum, Utah Jazz (10/1): Exum is an intriguing talent, but he is also a great unknown. He hasn't played a meaningful game in months. Will he be rusty or ready? Can he and Trey Burke find a way to effectively co-exist in backcourt? Will Burke take a big step forward in his sophomore season, and how will that help Exum? Will he struggle with the move from Australia to the U.S., or has his American father prepared him for it? Can he get noticed enough in the media backwater that is Salt Lake City? I like him better than Randle at their prices, but that doesn't mean that I love the bet.
Marcus Smart, Boston Celtics (12/1): This one is simply impossible to judge until the Rajon Rondo situation is resolved. Was selecting a point guard a sign that Rondo is gone, or will they try to find a way to work together? Smart's talent is impressive, but his shooting concerns me, and I really hated his play last year - at least compared to the prior year.
Nerlens Noel, Philadelphia 76ers (12/1): He has had a year to acclimatize and prepare for the NBA. The status of his knee is unknown, though, until he takes the court. He also plays on what is going to be a really lousy team, and even at his best he is never going to have the big offensive stats that will impress voters. This is a lousy bet.
Shabazz Napier, Miami Heat (12/1): The value here depends entirely on what the Big 3 do and what else the team is able to do to help them. He will certainly have the chance to play lots because point guard has been a big issue. He'll get lots of attention playing in Miami, and he is a winner. I'm concerned that he won't get enough credit for good play, though - voters will feel like the players around him make him look good. He's also much more of a heart-and-intensity guy than a pure skill player, so I'm not sure he can shine over 80 games. In college he was definitely at his best when things mattered most. I'd pass at this price.
Doug McDermott, Chicago Bulls (14/1): Nope. It's hard to judge because we don't know what Chicago will look like, but I expect it to take time for him to find his role and don't trust voters to like a pure shooter who isn't particularly athletic.
Elfrid Payton, Orlando Magic (14/1): This is a big step up in competition for Payton, but he will be able to play a ton of minutes as soon as he proves that he is competent, and he has a nice backcourt companion in Victor Oladipo. There are lots of issues elsewhere on the court, though, Still, I like Payton long term, and at this price he is an attractive bet.
Nik Stauskas, Sacramento Kings (18/1): There is good value at this price. There is some uncertainty about his role because the Kings drafted another shooting guard, Ben McLemore, high in last year's draft, and there is a logjam at the position. The team is desperate for shooting, though, and he is the best shooter in the draft. He is also a versatile scorer, and he brings swagger that the team could really use. He's very hungry, and given the massive jump he made in his game from his freshman to sophomore seasons we know we can expect another big step forward.
Want free sports betting picks? Doc's Sports has you covered - get $60 worth of picks free from any of Doc's Sports expert handicappers. Click here for free picks (new clients only).
Read more articles by Trevor Whenham