NCAA Football Handicapping: Teams Out of the Playoff Hunt
by Trevor Whenham - 9/10/2014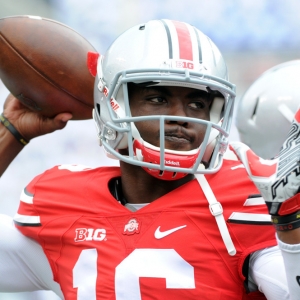 One of the interesting challenges of handicapping college football this year is that no one has ever seen the new playoff system in action, so we don't know what to expect. We can look at what likely would have happened in past years as a guide, but we'll only really know for sure what the impact will be once it has played out because every season is so different.
One of the interesting impacts of the playoff so far has been the perception that high-profile teams that have had a rough loss - South Carolina, Ohio State, Michigan State, Wisconsin and so on - have already doomed their hopes of playing in the playoff. That in turn has an impact on how the betting public acts.
Here are five factors to consider when looking at these teams that are, in the public mind anyway, already out of the hunt for a playoff berth:
Early setbacks can cause public to overreact: If there is one thing we have learned many times over the years it's that nothing will skew the public perception of a team more than a public early loss. People expect perfection early from top teams, and when they don't get it they immediately write the teams off. Losing early is far from ideal, but when two top-level teams meet up in September they can't both win. Losing -- even by a lopsided margin -- does not necessarily mean that they are a bad team or that we need to drastically change our expectations of the team based on that one game. Take a deep breath, assess the team with long-term objectivity, and look for value that the public panic may have created.
This is all new: Because we haven't seen the playoff system play out before we don't yet actually know for sure that an early loss is fatal. Some years it clearly would be, but other years a team that lost early and then rebounded strong could be in good shape if other high-level teams suffered similarly ugly losses late and recent form became a consideration. All the teams that are perceived to be out of the playoff hunt because of a loss would unquestionably be better off if they had won, or even if they had lost more impressively, but there is no reason to categorically rule them out and downgrade our opinion of them accordingly because of this setback.
Was a playoff berth a reality anyway?: I have read in many places that more than 60 teams have already been eliminated from playoff consideration. Before we can consider what impact that might have on teams, though, we have to remember that almost 60 of those teams had no realistic shot at making the playoffs anyway. Heck, a lot of them would count it as a somewhat surprising success if they even made a decent bowl. Even some of the higher-profile teams would likely have looked at the playoff as a nice aspiration more than as a driving goal. Most teams haven't affected their pursuit of a conference title -- and even the ones that have, like South Carolina, are not out of that hunt with just one loss -- so a more likely goal for a lot of teams is still intact despite what happened.
What other statement games remain?: The only situation I could see a bad loss like this really having a big psychological impact for the teams is if it was their only chance to make a real statement during the season. Even teams with particularly weak schedules don't have just one game that is particularly significant, and if they do then they were unlikely to make a serious push for a playoff spot anyway. Instead of dwelling entirely on a loss, look forward to when a team could redeem themselves, consider how they will likely respond when given that opportunity, and look for value accordingly.
Was there a good excuse for the setback?: Sometimes a bad loss is because a team just isn't very good and got exposed. The problem, though, is that they public assumes that that is always the case, and it really isn't. Often, a team actually loses not because they are bad overall but because they had some bad luck or bad circumstances that led them to play below their potential in that game. If those circumstances change then the team's performance will change as well -- and they could provide some decent value if the public doesn't recognize the differences. Was a key player missing or limited? Were they forced to field a lineup that didn't maximize their scheme? What is the real reason that they weren't at their best -- or at least the biggest reason? Figure that out and you are on the road to value.
Got free picks? Doc's does. And for new clients we would like to offer you $60 in free member's college football picks from Doc's Sports Advisory Board of college football handicapping experts. Click here to sign up today. We never require a credit card for this offer, and you will never have to deal with a salesman. Also, get three handicappers for the price of one when you sign up for a full-season football package! Click Here for details.
Read more articles by Trevor Whenham