NFL Handicapping: High Expectations Out of the Gate for Johnny Manziel
by Trevor Whenham - 8/14/2014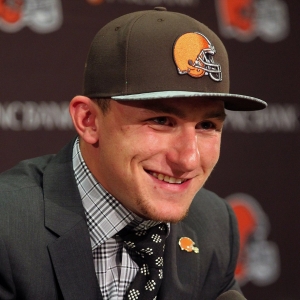 You know a story is out of control in the NFL when it is not even the middle of August yet and you are already completely sick of hearing about it. That is definitely the way with Johnny Manziel and his time in Cleveland.
Ever since he became a Heisman contender as a freshman he has drawn a tremendous amount of media attention, and that has only intensified leading up to the draft and beyond. His every move is tracked and dissected, and the team faces questions and scrutiny at every moment.
It's all ridiculous - he's a potentially special player, but he's still just a rookie, and he's far from a lock to be the starter out of the gate. For bettors, a player like Manziel can be a real headache. He draws so much attention from casual bettors that determining how to bet him effectively can be a brutal challenge. When trying to figure out how to bet on the so-called new king of football, here are six factors to consider:
The competition isn't what it could be: A lot is being made of the showdown between Manziel and Brian Hoyer - like it is some sort of death match for the starting job. Some perspective is required here, though. I like Hoyer and was as disappointed as anyone when he was injured. The fact remains, though, that his experience is not exactly significant, and he is coming off a serious injury. He has been in the league since 2009, but he has just four career starts and well under 200 career pass attempts. This isn't a David vs. Goliath battle like it is being portrayed by many, so it would be far from shocking for a rookie to beat out the supposed incumbent in this race. Regardless of who wins this race, we can be fairly sure we will see both of them during the season and that the starter doesn't really mean much for this team.
He hasn't been slacking: Johnny Football has been going to Vegas. So freaking what. He's young and he's rich, and he is far from the only football player who likes to have a bit of a god time now and then. The only reason that this would be an issue is if it was truly and significantly impacting his performance, and we have no reason to believe that it is. He's physically ready, and though he has struggled with the playbook at times so has every other rookie quarterback. Letting his off-field exploits - and the TMZ-fueled coverage of them - color your opinion of Manziel and how to bet on him would be a major mistake.
Nothing that management says means anything: Browns management has been kind of ridiculous since drafting Manziel. They are clearly determined to make it all seem like some kind of a controversy because they know that controversies sell tickets. The large majority of things you hear around the NFL are not worth the time it takes to listen to them, and anything that management says about Manziel - right up until the moment they announce who will be starting the opening game, at least - means very little.
He's still just a rookie: The ratings for his preseason debut set records, and people seemed disappointed when he largely looked mortal in the outing. The important thing to remember, though, is that as special as Manziel was in college, he is still just a rookie, and this isn't college anymore. The new challenges he is facing are very significant, and the number of quarterbacks who make the move to the pros and don't look at least a little out of place early on is very, very short. He has a chance to be special in this league, but he has to change a lot about how he plays and adapt to a new and much tougher league. Temper your expectations until he gets settled in.
The team has issues: Manziel did not get drafted by the 49ers or the Seahawks. He is on a team that was lousy to begin with and is worse now that the status of their best offensive weapon has changed due to off-field issues. This is not a good offensive team. It wouldn't matter if Manziel or Peyton Manning got the starting nod here - this is a team that is going to have issues putting the ball in the end zone with regularity. It's important to remember that when thinking about the immortal Manziel and the magic he is expected to be capable of.
Look out for the public: It is clear that the betting public has absolutely no perspective about Manziel at all. Why does he get so much coverage and attention? Because people eat it up. The imaginations of the betting public has been captured by Manziel like no player since Tim Tebow. We know that they were completely incapable of having an objective opinion when it came to Tebow. It remains to be seen if they can be more effective at evaluating Manziel and patiently waiting for value, though I seriously doubt it.
Doc's Sports is offering a great deal for new clients - you can get $60 worth of free college football picks with no obligation. No credit card is needed, and you will never have to deal with a salesman. See what all the hype is about with $60 worth of free college football picks by clicking here . Also, get three handicappers for the price of one when you sign up for a full-season football package! Click Here for details.
Read more articles by Trevor Whenham