NFL Survivor Pool Picks and Expert Advice: Playoffs Edition
by Matt Severance - 12/31/2014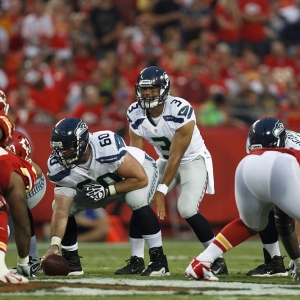 Welcome to my final Survivor Pool column for the 2014 NFL season. I hope these won you some money -- I was able to win one of my two competitions and almost always stuck with the same choices I used in this space. Again, though, getting this in early means injuries could change things by kickoff.
For Week 17, my Lock of the Week was Houston. It wasn't my surest pick but figured there was a good shot you hadn't used the mediocre Texans yet. Houston struggled a bit with Jacksonville but did prevail 23-17 to finish a pretty impressive 9-7 after ending last year on a 14-game losing streak. However, the Texans missed the playoffs when Baltimore rallied past Cleveland to clinch the AFC's final wild-card spot.
All four of my Extremely Confident picks also hit in Week 17, but those weren't exactly reach choices and no doubt all four had been used in your competition by then. Missed out on going 9-8 overall on my Upsets of the Week as Washington couldn't topple Dallas. Still, 8-9 outright on teams that were betting underdogs I'll take.
So in case your Survivor Pool ended in a tie and you decided to carry over into the postseason, or your group simply started a new competition for the playoffs, here's my overview of the 12 teams left. Did you know that since the 12-team playoff format was adopted in 1990, at least four teams have qualified for the playoffs that were not in the postseason the year before. This season five did it: Dallas (12-4), Arizona (11-5), Detroit (11-5), Pittsburgh (11-5) and Baltimore (10-6). The Cowboys became only the sixth team since the 16-game schedule was adopted to finish unbeaten on the road. The AFC North has three playoff teams a year after the AFC West accomplished the rare feat.
Don't think defense matters in this day and age? The top three teams in total defense -- Seattle, Detroit and Denver -- are in the playoffs. The No. 1 team in total offense -- New Orleans -- missed out (next three on list made it). So here we go, and see you next August.
Lock of the Playoffs
Seattle Seahawks : Once the Seahawks beat St. Louis in Week 17 to clinch home-field advantage throughout the NFC playoffs, they had to be the choice. I know how hard it is to repeat in the NFL, but I don't see any team going to the Pacific Northwest and winning. True, Dallas did earlier this season, but the Cowboys -- if they beat Detroit -- will be underdogs in the divisional round in Green Bay. For what it's worth, the Seahawks will be very familiar with the stadium where the Super Bowl is held, beating the Arizona Cardinals like a drum there in Week 16. Seattle's defense dominated a historic Denver offense last year, and the Seahawks led the NFL in points allowed again in 2014. All I need to know.
Extremely Confident
New England Patriots: I'm not exactly re-inventing the wheel here by picking the top two seeds as my top choices. It's not often that both No. 1 seeds make the Super Bowl, although it did happen last year. The Patriots already thumped both Cincinnati and Indianapolis this season, and the winner of that wild-card game will be the divisional round opponent unless Baltimore upsets Pittsburgh. It seems that Tom Brady always beats Peyton Manning in Foxboro. That's where the AFC title game would be if both win. BTW, Brady and Manning will face off yet again next regular season (finally in Denver) assuming both come back. If it's a New England-Seattle Super Bowl, the teams last played Week 6 of 2012. The Seahawks won at home 24-23 as some rookie QB named Russell Wilson threw the game-winning 46-yard TD pass with 1:27 left.
Equally Unconfident
Denver Broncos: Manning has said he will return in 2015, but I'm not 100 percent convinced if he happens to win a Super Bowl. If you have watched Manning all season, he has been vastly different the second half of the season. Still very good at times but not otherworldly like the first half. His arm strength was never Elway-esque, but those passes seemed to flutter even more late in the year. The guy is 38 after all. Perhaps the bye week will do wonders. Ditto for star tight end Julius Thomas, who has been gimpy since returning from injury. Maybe it's a good thing the Broncos have a bruiser at running back now in C.J. Anderson. Lot of maybes here.
Green Bay Packers: This probably would have been my Super Bowl choice if Aaron Rodgers was 100 percent healthy. He clearly is not with that calf injury that can only get worse. Rodgers had to leave the Week 17 game against the Lions when he re-aggravated the problem and admitted he thought his season was over. He was typically great after returning, but I don't see how he has any mobility, and that's part of what makes Rodgers a future Hall of Famer. It hugely helps Green Bay is off this week and potentially could get another week off for Rodgers if the Pack make the Super Bowl. It's just now I can't see a less-than-100 percent Rodgers winning in Seattle.
Dallas Cowboys: I have been wrong on the Cowboys all season, so maybe I am here. I think Dallas will beat visiting Detroit this Sunday, although the Lions getting Ndamukong Suh back helps their chances. Maybe Dallas can then go to Green Bay and upset the Packers considering Rodgers' status. Then perhaps to Seattle and win there twice in one season. The Cowboys have the best offensive triplets in the NFC this season in Tony Romo, DeMarco Murray and Dez Bryant. I simply don't trust the defense.
Pittsburgh Steelers: This would have been my surprise AFC choice if not for Le'Veon Bell's knee injury that is likely to keep him out of this weekend's wild-card game vs. Baltimore. The former Michigan State star means everything to Pittsburgh; that's why he was named team MVP. Now I'm not 100 percent sure that the Steelers beat Baltimore. If you were to tell me Pittsburgh would squeak by this week and Bell would then be 100 percent, I think this is a great value pick to win the conference. Otherwise no.
Indianapolis Colts: Is Andrew Luck ready to lead his team to a Super Bowl? Not yet. He still throws too many interceptions. Indy also was blown out in its final three games against playoff teams in the regular season. The Colts should win this week vs. Cincinnati but then lose next week in Denver or New England.
Carolina Panthers: Streaking into the playoffs and how interesting would it be if a below-.500 regular-season team were to reach the Super Bowl? Not enough offense here, though. No team that lost six straight games at one point deserves to be in the playoffs.
Cincinnati Bengals: Do you trust Andy Dalton in the playoffs? Me neither. Plus, he may not have A.J. Green this week in Indianapolis. That likely means a loss if not.
Detroit Lions: Love the defense, but Matthew Stafford has yet to show he's a big-game quarterback. Don't see that offense winning three road games. The Lions were held to 20 points of fewer in six of their seven true road games (the eighth was in London). You aren't going to win the conference scoring at most 20 points a game unless you have the 1985 Bears defense.
Chicago Bears ownership, president Ted Phillips and QB Jay Cutler: Sorry, couldn't resist. Why would I think they will get this coach and GM hiring right? Don't even get me started on Cutler or this won't be a PG-13 article any longer.
Upset of the Playoffs
Baltimore Ravens: If you want to ride a long shot, this is the choice. The last time the Ravens made the playoffs, Joe Flacco became Joe Montana and they rolled to the Super Bowl title as a No. 4 seed. That team won in both Denver and New England. Why can't this one? The Ravens get the Steelers potentially without Bell this week. That would mean a trip to Foxboro. The Patriots didn't exactly play great football the final two weeks of the regular season (to be fair, Week 17 meant nothing). That team is one Rob Gronkowski injury from becoming average. I mentioned above the Broncos don't look dominant.
Yawn!
Arizona Cardinals: Two words. Ryan. Lindley. Enough said. It's a shame because the defense is good enough to win a title. And I would like to see a team play a Super Bowl in its own stadium. It's not likely to happen in 2016 with the San Francisco 49ers, either. Maybe 2017 with Houston.
New to Doc's Sports? We'd like to offer you $60 of free, no obligation picks. Try us out. See why experience matters, and why we have been around for so long while others have come and gone. Click here to sign up today. Also, get three handicappers for the price of one when you sign up for a full-season football package! Click Here for details.