NFL Survivor Pool Picks and Expert Advice: Week 13
by Matt Severance - 11/26/2014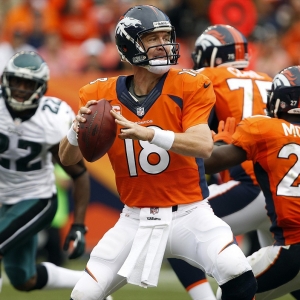 Chances are the team you back is still alive in the playoff hunt as an amazing 21 teams are either currently in the playoffs or within one game of a spot entering Week 13. Naturally my Bears aren't one of those, and the Lions can mercifully end Chicago's season for all intents and purposes on Thanksgiving. That 21-team mark is a bit misleading because it includes Atlanta, New Orleans and Carolina, all of which have seven losses. But someone has to win the puke bucket that is the NFC South.
If you were to rank the best weeks of the NFL regular season, I'd have to say Week 1 is first and Week 17 second, assuming your team is in the playoff hunt in the last week. Some will argue it's this week with the three Thanksgiving Day games. Some great memories watching those Lions and Cowboys games in between turkey-induced comas and second and third trips to the kitchen for leftovers (third game wasn't added until 2006). Getting force fed the Lions and Cowboys every Thanksgiving just fed my hatred of them, but that's a story for shrink's couch. You can't beat the three Thanksgiving Day games this week, all division rivalries and all with something on the line. In addition, all 32 teams are available for your Survivor Pools with the bye weeks finished.
Last week my Lock of the Week was Indianapolis beating Jacksonville, and that game was never in doubt. I did hit on my Upset of the Week yet again (I need to start betting those) as winless Oakland surprised Kansas City in the definition of a trap game for the Chiefs.
Week 13 is a tough one because I don't see one team that is essentially guaranteed to win.
Lock of the Week
St. Louis vs. Oakland: This is probably my weakest Lock of the Week since I have been writing these columns, and to be honest I may change it by Sunday. I'm hoping a key injury pops up in another game that alters my opinion of it. If not, I do think the Raiders actually are in a bit of a letdown game here as they got that first win monkey off their backs. Really what's the point of winning again? Just hurts your draft positioning. I know players don't think that way, however. The Rams have been playing pretty well of late. If that defense, which should get back Chris Long, can shut down Peyton Manning in the dome then it could blank Derek Carr and Co.
Extremely Confident
Indianapolis vs. Washington: If you haven't used Colts yet as your Lock, feel free to move them up there. Sadly, we don't get a showdown between Andrew Luck and Robert Griffin III, the top two picks of the 2012 draft. The Skins are benching RGIII for Colt McCoy, which shocked me. I realize Griffin was struggling, but I still say he gives Washington a better shot to win. Jay Gruden is trying to get himself fired.
Detroit vs. Chicago: This just about went into my Lock position but for two things: The Lions have bitten me big time in the past, and the Bears might, MIGHT, actually show some heart and keep their season alive with an upset. It's probably going to take a defensive and/or special teams score to do it. I was only 10, but I still remember the 1980 Bears-Lions Thanksgiving game where Chicago rallied from 17-3 down in the fourth to tie on Vince Evans' 4-yard TD run as time expired. The Bears then received the OT kick and and won it on Dave Williams returning it 95 yards for a score. Can't believe I just typed the words "Vince Evans."
Denver at Kansas City: Broncos swept the Chiefs in 2012 and last season, and I see no reason why it won't happen again, although Denver is dealing with some key injuries on both sides of the ball. The Broncos have been shaky for about a month, but I expect their best effort with a chance to largely wrap up the AFC West.
Baltimore vs. San Diego: Chargers are probably too good to be a loser in this category, but I don't trust them traveling to the East Coast for an early game. Last time the Bolts did they were slaughtered in Miami.
Pittsburgh vs. New Orleans: I have given up on the Saints, who enter on a three-game losing streak. Although those were all at home, where they used to be invincible, so maybe playing outside the dome will help things. Yeah, probably not. Steelers also off a bye.
Equally Unconfident
Atlanta vs. Arizona: I just can't get on the Arizona bandwagon, and I definitely don't trust the Cardinals on the road off a physical beating they took in Seattle last week. Falcons coach Mike Smith finds new and inventive ways to blow certain wins for Atlanta, but I still like the Falcons here.
Green Bay vs. New England: Obviously the game of the week and it could be the game of the year with how incredible both offenses have been playing for weeks. Can you believe it's the first time Tom Brady and Aaron Rodgers have started against one another? Could be the last unless the teams meet in the Super Bowl.
Dallas vs. Philadelphia: Could probably flip a coin here, but Tony Romo has been excellent in his career on Thanksgiving with a 6-1 mark as a starter. Eagles have been shaky on the road in 2014.
San Francisco vs. Seattle: Definitely flip a coin here, but the home team generally wins in this series. The loser is in deep doo-doo to make the playoffs, especially if the Lions win.
Buffalo vs. Cleveland: Bills impressed me on Monday in destroying the Jets as I thought the chance for an upset was there with the game being in Detroit and Buffalo barely being able to practice last week due to that biblical snowstorm. This game will be played in Buffalo unless it starts raining frogs too.
Carolina at Minnesota: Not too often a 3-7-1 team faces a huge game, but that's the case as Carolina could find itself atop the NFC South with a win and some help from the Cardinals and Steelers. Seriously, the NFL competition committee needs to make a rule, right now, that the South winner can't host a playoff game. Panthers come off a bye and should shut down Teddy Bridgewater.
Miami at NY Jets: Not sure I've seen a less-spirited effort all season than the Jets put up in Monday's blowout loss to the Bills. Clearly the Jets have quit on Coach Rex Ryan, who is 100 percent gone. Ryan also has clearly given up, too, because he's going back to Geno Smith this week. The Dolphins probably are still giggling. So why don't I have more faith in Miami? Warm-weather team playing outdoors in the cold. Fins also have lost two straight away from home. If this were in South Florida it's my Lock of the Week.
Upset of the Week
Tampa Bay vs. Cincinnati: It's not so much that I have faith in the Bucs but that the Bengals are due one of their bad games, specifically Andy Dalton. It's also the end of a three-game road trip. Dalton played well in wins in New Orleans and Houston the past two weeks, so he's overdue to not play well. For example, he had good games Weeks 8-9 in wins over the Ravens and Jaguars and then was awful Week 10 vs. Cleveland in a loss. Had pretty good games Weeks 5-6 in New England and vs. Carolina but then terrible the next week in a loss in Indy. See a pattern here? Two on, one off.
Yawn!
Jacksonville vs. NY Giants: Odell Beckham Jr., super genius! Other than that, no reason to watch the Giants. They have given up. Jags get win No. 2 and ruin their shot at the No. 1 overall pick in the draft because Oakland probably doesn't win again.
Houston vs. Tennessee: Ryan Fitzpatrick (in for the out-for-season Ryan Mallett) vs. Zach Mettenberger. Pass. If Mallett were playing and I knew Arian Foster was, I'd feel quite confident about Houston.
One of the many benefits Doc's Sports offers is a wide range of NFL handicappers to choose from. How about $60 worth of free picks so you can try out those handicappers and find what works for you? No obligation. Just click here to sign up.