NFL Survivor Pool Picks and Expert Advice: Week 7
by Matt Severance - 10/15/2014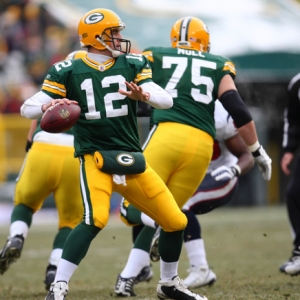 Week 6 of the NFL season was exactly why you should take this column as a barometer more than gospel and never, ever, put in your survivor pool picks until the last minute (not including Thursday game, obviously -- all pools I know allow you to simply pick Thursday and then do the rest).
My Lock of the Week when writing this column early last Wednesday was Cincinnati at home bouncing back from an embarrassing loss at New England as the Bengals hosted Carolina. Then later Wednesday after having been filed, Cincinnati receiver A.J. Green left practice with a toe injury that has been bothering him all season. He was pretty quickly ruled out for Week 6 and perhaps longer. There are only a few non-quarterbacks that would make me change my survivor pool pick, but Green is one of them. Probably Calvin Johnson, Adrian Peterson (when the Vikings are good) and J.J. Watt are others off the top of my head (Watt the only defensive player I would pick).
So I went off the Bengals -- who tied the Panthers 37-37, thanks to Mike Nugent missing an easy 36-yard kick for the win, but that's a Survivor loss -- and with my top Extremely Confident pick in San Diego, although I did worry a bit about a letdown game for the Bolts in Oakland. Clearly it was, but they rallied for a 31-28 victory. Kept me perfect on my Lock of the Week thus far.
So the Bengals may have bitten some of you. Ditto Seattle, which was shocked -- and dominated -- at home by Dallas. The Packers nearly lost in Miami, and that would have had survivor pool ramifications. Perhaps Tennessee almost losing to Jacksonville would have as well, but the Titans blocked a last-second kick.
In Week 7 on the bye are Philadelphia and Tampa Bay.
Lock of the Week
Green Bay vs. Carolina: I'll be honest with you, I will be holding off on the Lock until Sunday as I am still pondering Seattle at St. Louis. I just hate to take a road team if there's an equal home option. The Panthers looked so terrible in Weeks 3-4 but much better the past two weeks. I have a feeling the Pack won't lose at home this season, and they know how lucky there were to escape Miami with a victory in Week 6. Green Bay will be focused.
Extremely Confident
Seattle at St. Louis: The Rams clearly stink, and they are on a short week after playing well briefly at home Monday against the 49ers before being outscored 31-3 in the final three quarters. Can you believe that St. Louis still has just one sack this season? St. Louis struggles against the run as well, and that plays into Seattle's hands. Plus, the Seahawks are really going to be p*ssed off with how they played in Week 6 against Dallas.
Baltimore vs. Atlanta: The Ravens are pretty good I think. Their two losses were only by a touchdown to likely playoff teams Cincinnati and Indianapolis. Baltimore embarrassed Tampa Bay last week. But mostly this pick is about Atlanta. Its offensive line is in disarray, and the Falcons were dominated by my Bears defense in Week 6. Yeah, Chicago's defense shouldn't be dominating anyone.
Buffalo vs. Minnesota: It almost feels like Vikings rookie head coach Mike Zimmer is losing control of his team already. This week he threatened to cut playing time for guys because they are showing up late for meetings, etc. Teddy Bridgewater looked like a rookie QB in last week's loss to Detroit as he had three interceptions and was sacked eight times. The Vikings' offensive line is a problem. Buffalo has a very good defensive front and should cause similar problems for Bridgewater.
Chicago vs. Miami: I am probably jinxing the Bears here. I have picked against them three times this season, and they won all three. Chicago has lost both home games in 2014. Maybe the defense is improving. Getting Willie Young in free agency was a steal, especially at his low price, as the former Lion leads the NFL in sacks. To me last week summed up the Dolphins under Joe Philbin. Just no heart or no ability to finish off games. How great would it be to see Jay Cutler do a fake spike for a big play against the Fins this week?
Denver vs. San Francisco: The clear game of the week and very possibly a Super Bowl preview. It starts a killer three-game stretch for Denver, with a short week vs. San Diego up next and then a trip to New England. I doubt the Broncos overlook the Niners. Peyton Manning needs three TD passes to break Brett Favre's career mark of 509. San Francisco is on a short week, but the defense has really raised its game in a three-game winning streak.
San Diego vs. Kansas City: The Chargers might have gotten their one truly lousy game of the season out of them last week in Oakland, although it's concerning that Derek Carr could torch them for four touchdown passes. The Raiders hadn't topped 14 points all season and put up 28 on San Diego. Certainly the Chiefs, who come off a bye, will have San Diego's full attention in a big division game. The Bolts won't be looking ahead to Thursday's trip to Denver. Right?
Equally Unconfident
New England vs. NY Jets (Thursday): This has the biggest spread of Week 7 but terrifies me if I'm a Patriots backer. New England looks great again, but perhaps that simply means it is due a bad game. Also, the team lost two key guys, running back Stevan Ridley and linebacker Jerod Mayo, to season-ending injuries on Sunday. Tom Brady is playing on a bum ankle. The Jets usually raise their game in this rivalry because they hate the Patriots. Last year both games were decided by a field goal. New York will also play with 110 percent desperation. I would steer clear here, but a lot of your competitors won't.
Indianapolis vs. Cincinnati: That Bengals defense has been terrible the past two weeks and now faces Andrew Luck, who is torching everyone. The Colts had a few extra days to prepare after playing on Thursday in Week 6. In addition, Green is almost surely not going to play again. The winner here holds a key playoff tiebreaker for a potential postseason matchup.
Arizona at Oakland: I was very tempted to make this my Upset of the Week. Oakland is going to win a game, and it's surely going to come at home. Easy for the Cardinals to look past this one with big games vs. Philadelphia and at Dallas up next. As long as Carson Palmer plays, however, you still have to lean Cardinals.
Dallas vs. NY Giants: I want to say the Cowboys are for real, but I simply can't yet. Maybe it's an internal bias. But that win in Seattle was awfully impressive. You could easily see a bit of a letdown this week against the Giants. In addition, New York will want to redeem itself after Sunday's blowout loss in Philadelphia. I may have picked this as my Upset of the Week if the Giants hadn't lost Victor Cruz for the season vs. the Eagles and if running back Rashad Jennings wasn't out again.
Pittsburgh vs. Houston (Monday): I have no real opinion on this game. The Steelers simply aren't the Steelers any longer. Might be time for Mike Tomlin to go. There's a chance Houston could get back No. 1 overall pick Jadeveon Clowney this week. All I know here is that it should be low scoring.
Detroit vs. New Orleans: I probably wouldn't touch this game. If Calvin Johnson doesn't play, which appears likely, then I might slightly lean New Orleans despite how bad it has looked on the road. But at least this is in a dome. Then again, if Jimmy Graham doesn't play, I probably go back to the Lions.
Upset of the Week
Jacksonville vs. Cleveland: Much like Oakland, Jacksonville is going to win at least one game, and it's probably coming at home. It's too bad we won't see Blake Bortles vs. Johnny Manziel in this one. Bortles looks like the real deal despite virtually no help around him. Johnny Football may not see the field again this season except on a trick play as Brian Hoyer is playing excellent. This feels like a trap for the Browns. They never beat Pittsburgh yet dominated the Steelers last week. Now Cleveland is one of the stories of the NFL, and everyone is predicting a 6-2 start. Perhaps the Browns will be a bit full of themselves and wilt in the heat Sunday.
Yawn!
Washington vs. Tennessee: Must I explain? Still want to get rid of Robert Griffin III and keep Kirk Cousins as your starter Redskins fans? Didn't think so. The Titans may or may not get back starting QB Jake Locker this week, otherwise it's Charlie Whitehurst again. How exciting: Cousins vs. Whitehurst. Notre Dame-Florida State has a better QB matchup, you know, if Jameis Winston doesn't break the law, NCAA rules or FSU school code again between now and kickoff. I give 50/50 odds on that.
Doc's NFL handicapping team is confident that a great year is ahead of them. How confident? So much that they are giving away their picks. New clients can claim $60 worth of free picks just by clicking here. No hassle. No obligation. Just great picks. Also, get three handicappers for the price of one when you sign up for a full-season football package! Click Here for details.