NHL Betting Studs and Duds
by Trevor Whenham - 11/24/2014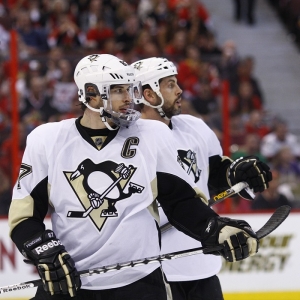 It seems like the hockey season only just began, yet we already find ourselves about a quarter of the way through the season. We certainly can't complain that it has been boring or predictable. We've seen shocking success and perplexing failure. In the West, we have three playoff teams last year that wouldn't make the playoffs if they started today - and all three looked to be improved heading into this season. The East is somewhat more true to form, though Columbus was a playoff team last year and looked like they would be even better this year, yet they are tied for last in the league.
Through all the action and unpredictability, some teams have really done well for bettors, while others have burned huge piles of bettor money. Here's a look at the betting studs and duds at the quarter mark of the season:
Studs
Pittsburgh Penguins: The Penguins are among the best teams in the league, so it's no surprise that they have been a good team for bettors to back. What makes them especially pleasing for bettors is how they win - 10 of their 13 victories have been by more than one goal, so they have been wildly-profitable on the puckline. They were doing even better until lately - they dropped games against the Islanders on Friday and Saturday.
Minnesota Wild: The Wild have been disappointing in the standings, but they still have a strong recipe for betting success going this year. They have won more games than they have lost, and when they lose they are almost always an underdog or just a small favorite. That means that the losses don't cost much. Add in a handful of nice road wins as underdogs, and you have a profit.
Winnipeg Jets: Winnipeg isn't much above .500, but their betting success is all due to what they have done on the road. They aren't a team that people respect or fear, so they have been an underdog in all 12 road games played. However, they have gone 6-4-2 in those games. That's an easy recipe for profit. Some of them have paid off at big prices to really pad the bottom line, too - they were +201 at Chicago, +152 at the Islanders, and +130 at the Rangers.
Montreal Canadiens: You don't have to think too hard to figure this one out. They are the best team in the NHL right now - their 16-5-1 record has earned them 33 points. They were seen as good coming into the season but a step behind the truly elite. When a team wins so regularly, they are going to be profitable. When they do it while, in the eyes of many, overachieving, the profits are even better. The best thing that happened to bettors concerning this team was their three-game losing streak at the start of November. They were red hot before that, and have been since, but that flash of mortality kept prices moderated in the few games after that and pumped up profits.
Duds
Dallas Stars: The Stars were coming off a strong year last year, had an excellent offseason, and were a popular pick to be a strong contender in the Western Conference. So far, though, that just hasn't been the case. They have eight wins in 21 games and have lost seven times as favorites - including costly losses for bettors as favorites of -155 and -164. What is so perplexing is the disparity in their lines. Tyler Seguin has been exceptional, and Jamie Benn and Jason Spezza have been very good, but so much of the rest of the roster has not carried their weight. Combine that with some pretty underwhelming goaltending, and the bleak results are no surprise.
New Jersey Devils: Things opened up so well for the Devils. They won three straight out of the gate - all on the road, no less. Since then they have just six wins in 18 games, and that has had an obvious and significant effect on the bankroll of bettors who are loyal to this team.
Boston Bruins: Boston hasn't been terrible - they have 13 wins in 22 games and have not lost in overtime yet. They were viewed coming into the season as the cream of the Eastern Conference crop, though, and haven't nearly been good enough to meet that hype. Seven of the nine losses have been at less than even money - often much less - so they have been costly.
Columbus Blue Jackets: Starting Oct. 24 this team lost nine straight games. Then, after winning twice in a row, they launched into their current three-game losing streak. They were a playoff team last year. Hardly a surprise they have been awful to bettors, is it?
$60 worth of member's NHL picks absolutely free - no obligation, no sales people - you don't even have to enter credit card information. You can use this $60 credit any way you please on any of our top hockey handicappers. Get your free picks by clicking here! Also, for a limited time get three hockey handicappers for the price of one! Click here for our 3-for-1 NHL picks offer.
Read more articles by Trevor Whenham