NHL Handicapping: Demise of the Vancouver Canucks
by Trevor Whenham - 3/11/2014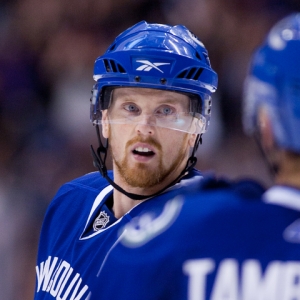 There has been no worse team to bet on in the NHL this year than the Vancouver Canucks. They have burned money at a shocking rate - especially because they are still one game above .500. It's not surprising that bettors haven't adjusted to the new reality of this team, though. They have been the model of consistency, winning their division five years in a row. Suddenly, though, they look old and ineffective, and they aren't likely to make the playoffs. So, what has gone wrong? And can they turn it around?:
Given up?: On Monday night the Canucks showed just how bad they are right now . Through two periods they had a 3-0 lead against the hopeless and very depleted Islanders. Not only did New York come back to win, but they did it in historic fashion - they tied the record for most goals scored in the third period after not scoring in the opening two with 7. The final score of 7-4 - in a game played in Vancouver, no less - was incredibly humiliating, but it was fitting given their current level of play. They have just two wins since Jan. 26, and nine of their last 12 losses have been by multiple goals. This is a team in a bad, bad place - one that looks like they have given up.
Deadline debacle: You couldn't really have handed the trade deadline worse than the Canucks did this year. In fact, you really couldn't have handled the last year much worse. It all starts with the chaos in net. For all of last year they dangled Roberto Luongo and his unwieldy contract as trade bait. They made it clear that he wasn't wanted. Then, in one of the most shocking and illogical moves in memory, they instead traded Corey Schneider - younger and cheaper than Luongo and seemingly no less talented - to the Devils for a return that seemed inadequate. Luongo was installed as the shocking No. 1, and it seemed like the team was finally settled in the one key spot - even if it wasn't in a way that no one thought. But then, right before this deadline, they shocked everyone in hockey by trading Luongo back to the Panthers team they got him from, and they got precious little in return. Now their situation in net is ridiculously uncertain, and they have squandered a goaltending situation that was the envy of most teams in the league. Pointless, and disruptive.
That would be bad enough, but it doesn't end there. In Ryan Kesler they had the most valuable asset on the trade market heading into the deadline. The timing was perfect - he's in his prime, he's a center which teams covet, and the significant returns from trading him could help to ensure the Canucks don't have to go through a long and ugly rebuilding process. They flirted with several teams, seemed to have big offers on the table, and then ultimately did nothing. Now they are left with a player annoyed that he wasn't dealt after going through that uncertainty, an asset that might not ever be worth as much as it was at the deadline, and a team that can't help but feel like they are performers in a sad circus.
Post-suspension: On Jan. 18, the Canucks and Flames had a line brawl at the opening faceoff of their game, and it kicked off a crazy period of hockey. Coach John Tortorella wasn't happy about it, so at the first intermission he tried to get into the Flames dressing room to, presumably, start a brawl of his own. It was moronic, and it got him suspended for 15 days. The team went just 2-4 without him and has just two wins in the 11 games since. That suspension obviously didn't come at a good time, and it was a turning point for this fragile team. Of course, you could easily argue - and I would - that the problems didn't come when Tortorella was suspended but rather back in the summer when he was hired in the first place. He seemed like a serious mismatch for the culture of this team, and he has obviously not done a great job. The team needs to cut their losses and get rid of Tortorella before it's too late. He's a guy who made his reputation winning the Stanley Cup in 2004 in Tampa Bay, but he has done very little to show he knows what he is doing since.
Twin troubles: The creepiest twins in sports drive this team. Henrik Sedin was injured for the first time in years this year, though, and was forced to miss the Olympics. Even when he has been healthy he has been wildly ineffective this year compared to his normal level of play. Now Daniel has been placed on the IR, and he could be out for as much as a month. His numbers have been lousy compared to expectations, too. When those two aren't working well then they throw off the top line of the Canucks and really the whole squad. For better or worse the Sedins are the Canucks right now, and that's a big part of the struggles for this team lately. It doesn't help that they have personalities that seem like the exact opposite of what would work well for Tortorella.
Offense: The Sedin's struggles are at the forefront of an offensive disaster this year. They are 28th in goals per game with just 2.3. They are 25th on the power play as well. They have scored more than three goals just once in their last 14 games, and that was last time out when they gave up seven goals, so it didn't matter. They gave up more than three goals seven times in that stretch, so it is no wonder that they are in poor shape.
Read more articles by Trevor Whenham