NHL Handicapping: Toronto Maple Leafs
by Trevor Whenham - 1/16/2014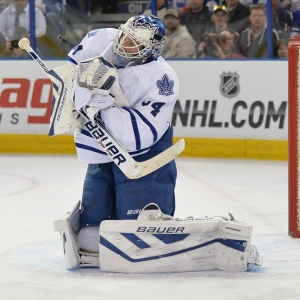 The Toronto Maple Leafs are a divisive team for hockey fans. If you like them then you are likely really, really obsessed. If you don't like them, though, then there is no team you would rather see lose — and lose in spectacular fashion. No market is more invested in their franchise, and no organization has delivered less over the years despite essentially bottomless resources.
This year has followed a sadly familiar script. Early in the season they got off to a strong start, peaking at 11-5. Expectations, which are always high, were ratcheted up to dizzying heights. But then reality hit, and the team has struggled mightily. Their 4-3 win in Boston on Tuesday night was just their third win in regulation time in their last 28 games. They have eight overtime or shootout wins as well, but they are requiring extra time to resolve far too many games. They have won their last three to get back into a playoff position, but a team that looked like it could be in cruise control early on is now in a dogfight to advance to the postseason — where they will very likely disappoint if they do make it.
So, how do handicappers need to deal with this team? What has their play taught us? Here are seven factors to consider when evaluating the Maple Leafs:
Consistently flat play: This is a team with leadership issues. The biggest giveaway to that is when you listen to players and coaches in interviews. When they hit a slump and things go poorly, the frustration is quick to come to the surface, and there isn't often a good explanation for the sloppy or uninspired play. When a team is working very hard and not getting the breaks, it is easy to imagine them turning the corner. That is not really the case here.
Been here before: This is not a new story in Toronto. In 2011, the team was 10-5-1 on Nov. 10 and was playing very good hockey. But then the Leafs became the Leafs, and they wound up at 35-37-10 on the season — not good enough to make the playoffs. A coaching change was made in mid-season that year, with current coach Randy Carlyle replacing Ron Wilson. There have been plenty of roster changes here since then as you would expect, but the core is consistent, and the team is giving indications that they haven't necessarily learned from that frustrating setback.
Carlyle in trouble?: The last time this happened the coach was sacrificed. If the collapse continues or intensifies then that could be the course of action again. There aren't immediate signs that Carlyle's job is in jeopardy, but it isn't hard to imagine what it would take for him to really start looking over his shoulder. Even if he isn't in immediate danger, there can be issues. Sometimes just the perception of a hot seat can start to make it real if the players use the uncertainty as a further excuse.
East weakness in their favor: With 53 points, the Leafs sit in fifth in the Eastern Conference. If they were in the West, 53 points would have them in ninth place, two points behind Minnesota and four behind Vancouver. Things are very tight in the East — seven teams have between 50 and 53 points — but they aren't particularly strong. This isn't the NBA's Eastern Conference by any means, but there is no doubt that Toronto is in better position to salvage the season because of geography than they could be.
Too many shots: The biggest single issue the Leafs have is the incredible number of shots they give up. Opposing teams have shot 1,783 times during the season. Washington is second worst at 1,605. The Leafs have given up 178 more shots than any other team. While there isn't a perfect correlation between low shots allowed and success, it's obvious that allowing fewer shots is preferable, and that it is a sign of more rigorous defensive discipline and stronger overall team play. When you give up more shots, you are giving up more scoring chances as well and putting more pressure on your goaltenders to perform. The goaltenders have not handled the pressure as well lately as they were earlier, though you can't blame them. To me, the issue with shots is symbolic of the wider issues with this team and why it is tough to be optimistic about them in the longer term.
Expectations were too high: Coming into this season there was a strong sense that this team was poised for a major breakthrough. Expectations are always ridiculously high in Toronto, of course — you can generally divide the expectations of a hardcore Toronto fan in half to get an accurate representation. In this case, though, the height of expectations just didn't make sense from a non-biased perspective. Defensive depth is really lacking. The leadership qualities of captain Dion Phaneuf are questionable. Scoring depth is a question, and expectations certainly weren't helped here by the blazing start Phil Kessel got off to. This is a decent team that has a chance to be a middling contender — one that could make some noise if they broke through. They are not built to be anything close to an elite squad. Part of what has happened this season, then, is an issue of perspective. It's not as much that the team has fallen off a cliff after an expected start. It is that they are performing somewhat below expectations after opening far above real potential. If you had told me heading into the season that your prediction for this team was 53 points through 49 games, I wouldn't have had too many reasons to argue with you based on what they were on paper. If you expected more and you believed in their fast start, your bankroll has probably been hit hard since.
Read more articles by Trevor Whenham