NHL Hockey Odds and Picks: Scouting the Week Ahead
by Alan Matthews - 10/6/2014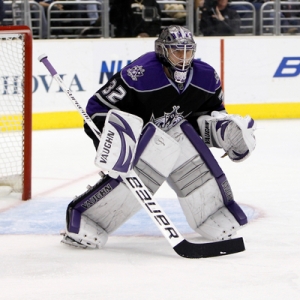 The puck drops on the 2014-15 NHL season Wednesday night, and not a minute too soon in my opinion. I'm one of those who loves daily sports action and thus have been having some withdrawal shakes since the baseball regular season ended. Plus, those two ALDS sweeps were no fun. Generally in this space I will look at any potentially big NHL games for the upcoming week as well as any injuries that might alter your betting choices. This week I will also touch on some futures odds.
Bovada is based in Canada , so it often has the best hockey props out there. All of the player props are out, and to no surprise Pittsburgh's Sidney Crosby is the 7/4 favorite for the Hart Memorial Trophy, or league MVP. Crosby won the award for the second time last season, finishing with 36 goals, 68 assists (NHL-high 104 points) and a plus/minus of plus-18. He has been the favorite on this prop for several years and probably will be a handful more. It feels like Crosby has been around forever, but he's still just 27. The big worry with him is staying healthy, but he managed to play in 80 games last year. Crosby is also the 13/10 favorite to win the Art Ross Trophy, which is the NHL's points leader. The site gives him an "over/under" of 104.5 points, with both at -115. Go under there. He has topped that number only twice. If he misses even 10 games, then it's highly unlikely that Crosby gets that many. He still will finish with the most points.
Crosby is 7/1 to win the Maurice Richard Trophy, which is the top goal-scorer. He managed that just once, in 2009-10, when he tied with Tampa Bay's Steven Stamkos with 51. That has been by far Crosby's career high. In fact, he never has gotten to even 40 otherwise. The 2/1 favorite on that prop is not Alex Ovechkin (3/1), who has won the goal-scoring title four times, including the past two seasons. It's Stamkos at 2/1. He also won the award in 2011-12 with a career-high 60 goals. Stamkos was limited to 37 games last year and missed the Olympics with a broken leg. He still had 25 goals, while Ovechkin won with 51.
I do like Stamkos on that prop and he is 6/1 for MVP with Ovechkin at 12/1. I don't think the Lightning or Capitals will be good enough for either to win MVP. I think Tyler Seguin is great value on that prop at 15/1. The young Stars center had 37 goals and 47 assists last year and Dallas is going to be a lot better with the addition of Jason Spezza.
I correctly projected the Vezina Trophy winner last season in Boston's Tuukka Rask -- alas, I also predicted the Bruins to beat the Blackhawks in the Stanley Cup Finals last October. Rask was fourth in the NHL with a 2.04 GAA and fifth with 36 wins. The Bruins are going to be excellent again, so I can see why Rask is the 3/1 favorite to repeat as the Vezina winner. My pick is the Devils' Cory Schneider at 8/1. Now that Martin Brodeur is gone, he doesn't have to worry about playing time. Schneider was third last year with a 1.97 GAA but played only 45 games.
The Blackhawks open the season as the 13/2 favorites to win the Cup, and I believe they do. They would have handled the Rangers as easily as the Kings did in last year's Finals. Of course, Chicago lost a Game 7 in overtime at home in the West Finals vs. the Kings. It was perhaps the greatest conference finals series ever played. It was that entertaining. L.A. is 10/1 to repeat, along with Anaheim and Boston at the same number. The West looks much, much deeper overall than the East. I like Boston to come out of the East again. The Penguins (12/1) have been postseason flops the past few years.
Here are a few interesting openers:
San Jose Sharks at Los Angeles Kings (-132, TBA), Wednesday: The Kings will raise their banner to the Staples Center rafters in this game, and perhaps it's fitting that San Jose is the opponent. The Sharks had the Kings dead to rights in the first round of last season's West playoffs. San Jose outscored L.A. 17-8 in taking a 3-0 lead, only to be outscored 18-5 in the final four games, losing each by at least three goals. It was just an unbelievable turnaround. The Kings return every regular on all four forward lines and have the outstanding Jonathan Quick in net (although he's coming back from offseason wrist surgery and might not play every game for a little while). The Sharks always look like contenders in the regular season but then usually choke in the playoffs. I think they win this game, however. Call it a Cup hangover and payback.
Anaheim Ducks at Pittsburgh Penguins, Thursday (TBA): Already the Pens are dealing with some injury worries. Crosby played in only one preseason game due to injury and the death of his grandmother. Evgeni Malkin didn't play in any of them due to injury, and he's no sure thing to be ready for the opener. It's the Pittsburgh debut of Coach Mike Johnston, who replaced the fired Dan Bylsma in the wake of Pittsburgh's playoff collapse against the NY Rangers.
NY Islanders at Carolina Hurricanes, Friday (TBA): This is the only game Friday. It will be good to see Islanders young star John Tavares back on the ice. He suffered a serious knee injury for Team Canada in the Olympics and missed the rest of the season. The Isles collapsed without their captain. Prior to the injury, Tavares was in the midst of a career year, averaging a career-high 1.12 points per game. This also is the Isles' final season before moving to Brooklyn. They could be a surprise team this year with the addition of goalie Jaroslav Halak and recent trades for Boston's Johnny Boychuk and Chicago's Nick Leddy. The Hurricanes likely will be one of the East's worst teams. They won't have center Jordan Staal for at least the first three months. He broke a bone in his leg during the preseason. Staal had 40 points and was plus-2 last season, playing every game. In an odd quirk, the Hurricanes then visit the Islanders on Saturday night in New York's final home opener at ancient Nassau Veterans Memorial Coliseum.
Doc's Sports is offering free NHL picks to new clients. You can get free hockey picks by clicking the following link. No credit card is needed and there is no salesman to deal with. You try the picks, and if you like what we offer then you will be able to purchase one of our fairly-priced hockey betting packages. Click here to get your $60 in free picks. Also, for a limited time get three hockey handicappers for the price of one! Click here for our 3-for-1 NHL picks offer.
Read more articles by Alan Matthews