2014 NL West Picks with MLB Betting Odds and Predictions
by Robert Ferringo - 3/11/2014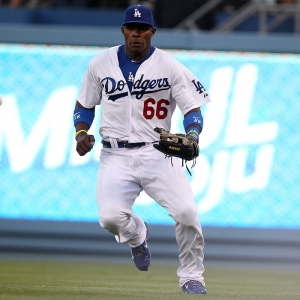 There's really only one question in the National League West this year: can anyone stop the Los Angeles Dodgers?
The answer, in a word, is "no".
Los Angeles is one of the strongest favorites to win their division of any team in the Major Leagues. Emboldened by a $7 billion tele vision contract last year, the Dodgers have been on a whirlwind two-year spending spree. And unlike some teams in recent years - I'm looking at you Marlins and Blue Jays - the Dodgers have spent wisely, made savvy trades, and built up one of the top rosters in baseball.
And right now it looks like everyone else in the West is playing for second place.
Here is Doc's Sports 2014 NL West picks and preview (with odds courtesy of Sportsbook.ag):
Los Angeles Dodgers
2014 Record: 92-70
2014 Wins Over/Under: 93.0
Odds To Win 2014 NL West: -260
Odds To Win 2014 NL Pennant: +250
2014 Los Angeles Dodgers Odds To Win World Series : +550
Outlook: Sunny.
The Dodgers are absolutely stacked, and anything less than a trip to the World Series would have to be considered a disappointment for one of the largest payrolls in baseball. I mean, when your biggest issue is finding at-bats for the outfield quartet of Yasiel Puig, Carl Crawford, Matt Kemp and Andre Ethier, you are officially a juggernaut.
On any given day the Los Angeles' lineup is projected to boast six all-star hitters. That group combined to finish No. 6 in the majors in batting last season. But Los Angeles was without its full compliment of players for most of the year. Last season they found themselves in last place in the West on June 20. But they went on a late-summer tear and ended up taking the division and winning 92 games overall.
This year the Dodgers seem focused on dominating the National League from start to finish. And health may be the only thing that can stop them. Kemp, Crawford, Adrian Gonzalez and Hanley Ramirez have each lost significant time to injury over the past three seasons. If they stay healthy, they will be an unstoppable force.
The Dodgers added Dan Haren to shore up the back end of an already potent rotation. Cy Young winner Clayton Kershaw is the unquestioned ace, followed by Zach Greinke and Hyun-Jin Ryu. Veteran Josh Beckett is attempting one last career resurrection as the No. 5 starter. But even if he doesn't regain his form, there are several options to fill in on a staff that was No. 2 in ERA last year.
The Dodgers will be a tough team to make money on for bettors this year. I expect that they will be favored nearly every day and that their moneylines will be steep. However, I know I'm not looking to bet against this bunch very often as they will be a freight train running through this division.
Arizona Diamondbacks
2014 Record: 81-81
2014 Wins Over/Under: 81.0
Odds To Win 2014 NL West: +1200
Odds To Win 2014 NL Pennant: +2500
2014 Arizona Diamondbacks Odds To Win World Series : +6000
Outlook: Operation Grittiness met mixed reviews in 2013 as the Diamondbacks overhauled their roster with younger, cheaper, more hard-nosed players to fit the style of manager Kirk Gibson. They finished in the middle of the pack both offensively and defensively, and it didn't make a difference in the standings as they went .500 for the second straight year.
Arizona has tweaked its roster heading into 2014. But will it be enough for them to compete with the Dodgers and Giants?
The key offseason addition was outfielder Mark Trumbo. The big right-hander hit 34 home runs and drove in 100 last year with the Angels and should fit perfectly in Arizona's ballpark. He will fill out the middle of the order with a hopefully healthy Aaron Hill and underrated Paul Goldschmidt to give Arizona some pop.
Another key addition was that of closer Addison Reed. The former White Sox reliever will be tasked with stabilizing a bullpen that finished last in save percentage (52.9) and blew an MLB-leading 29 games last year.
The Diamondbacks have quietly built an intriguing starting pitching staff as well. But while Wade Miley, Trevor Cahill, Patrick Corbin and Brandon McCarthy are all guys that have shown top-end stuff at one point or another, none of them has proven to be consistent enough to anchor a staff.
This team has the skeleton of a contender. But the irony is that the only thing now missing is one or two stud, superstar players in the lineup and the rotation. They should be a quality team to wager on, though, as their lack of sex appeal at the window belies a consistent clubhouse and franchise.
San Francisco Giants
2014 Record: 76-86
2014 Wins Over/Under: 85.5
Odds To Win 2014 NL West: +450
Odds To Win 2014 NL Pennant: +700
2014 San Francisco Odds To Win World Series : +1800
Outlook: After a three-year barnstorm that saw San Francisco win two World Series in three years, the Giants endured a serious season-long hangover in 2013. The wheels came off as San Francisco won 18 less games last year than in 2012, and they now find themselves looking up at archrival Los Angeles.
San Francisco's pitching staff, the catalyst to both world championships, completely fell apart last year and was the main culprit for the demise. The Giants dropped from No. 7 to No. 22 in team ERA and watched as several former aces suffered through injury and ineffectiveness.
This year's Giants are banking on a bounce-back effort from guys like Matt Cain (8-10, 4.00 ERA), Tim Lincecum (10-14, 4.37 ERA), and Ryan Vogelsong (4-6, 5.73 ERA). They brought in veteran Tim Hudson for support, but he is 37 years old and on the decline.
The Giants may have their best lineup in several seasons. They were No. 8 in the league in batting last year but just No. 21 in runs scored. Their lack of power (No. 29 in the home runs) was a big factor, and they are hoping that new addition Michael Morse and holdovers Brandon Belt and Pablo Sandoval will provide more slugging.
I like San Francisco's lineup and its bench. However, I am definitely concerned about its starting pitching. Guys like Cain, Hudson and Lincecum have logged a lot of extra postseason innings over the past several seasons. They still command a lot of respect from oddsmakers. However, are their best years behind them? If so then it is going to be a scramble for this streaky team to keep up in the West.
San Diego Padres
2014 Record: 76-86
2014 Wins Over/Under: 79.0
Odds To Win 2014 NL West: +1200
Odds To Win 2014 NL Pennant: +3000
2014 San Diego Padres Odds To Win World Series : +6000
Outlook: Don't be fooled by San Diego's close-to-.500 record the past two seasons. They have used September hot streaks to mask how pathetic they were from April to August. And I'm just wondering how long it will take before the franchise realizes that it isn't bad luck, injuries or the ballpark holding them back - it is the fact that the roster stinks.
The Padres finished in the bottom tier in the majors in hitting, slugging, and run production last season. Their offseason upgrades - platoon outfielder Seth Smith from Oakland - show me that this organization still just doesn't get it. Oft-injured Cameron Maybin is already hurt. It's only a matter of time before oft-injured Carlos Quentin is on the disabled list. And those are two of the only decent hitters on this roster.
The hope - yet again - is that some of the younger players will finally develop. Chase Headley has talent but is far from proven. The same goes for Will Venable and Yonder Alonso. But when you compare what the Dads are trotting out each day with the lineups in the rest of the division (and the rest of the league), it's obvious that they aren't a serious contender.
One area where the Padres have made some savvy moves is with the pitching staff. Andrew Cashner has a very high ceiling. Josh Johnson is an affordable reclamation project (though he also carriers the "oft-injured" tag with him). And moves to get Ian Kennedy and Tyson Ross could pay out long-term dividends.
But the Padres are still one of the weakest teams in the National League. If absolutely everything broke their way - health, pitching, and player development - then I think that the ceiling for this team is .500. But their season win total of 79.0 suggests that they are in a better position than they are. I'm not buying.
Colorado Rockies
2014 Record: 74-88
2014 Wins Over/Under: 76.5
Odds To Win 2014 NL West: +2000
Odds To Win 2014 NL Pennant: +3500
2014 Colorado Rockies Odds To Win World Series : +7000
Outlook: Stop me if you've heard this one: "Troy Tulowitski and Carlos Gonzalez provide Colorado with one of the best young cores in baseball, and they will lead a Rockies team that could be a sleeper in the West."
Look, I like Tulo and CarGo. They are nice players, among the best at their position. But one of them always seems to be battling injury. And at this point I think it's proven that they aren't exactly controlling that clubhouse. They are building blocks. But this duo is not some superhuman force capable of carrying the Rockies back to the postseason.
Colorado was able to add Justin Morneau to replace soon-to-be Hall of Famer Todd Helton. Morneau signed for next to nothing, and if he can regain his MVP form it would be a major coup for the Rockies. Morneau joins former Twin Michael Cuddyer, who won the N.L. batting crown, to offer protection for Tulowitski and Gonzalez and to lend a steadier veteran influence in the locker room. Colorado sorely need both.
The lineup is a wasteland beyond that.
Here is another recurring theme with this franchise: Colorado needs to find better starting pitching. Their starters posted a league-worst 4.57 ERA last year and repeatedly put the lineup in a hole by giving up early runs. I mean, when Jorge De La Rosa is your ace, you know you have serious problems.
The Rockies made a 10-win improvement in their first season under Walt Weiss. But all that illustrated was how pathetic they were in 2012. Also, Colorado started 13-5 last April. They were just 61-83 the rest of the way. So this team has a long way to go before they will be able to compete with the top teams in the division.
2014 NL West Picks and Predictions: Predicted Order of Finish
1. Los Angeles Dodgers
2. San Francisco Giants
3. Arizona Diamondbacks
4. San Diego Padres
5. Colorado Rockies
Robert Ferringo is offering $60 worth of member's baseball picks absolutely free - no obligation, no sales people - you don't even have to enter credit card information. You can use this $60 credit for any of the sports Ferringo handicaps. Click here for more details and take advantage of this free $60 picks credit today .
Robert Ferringo is a professional sports handicapper for Doc's Sports. He is considered one of the top MLB cappers in the country and has turned a profit in five of the last seven years on the diamond with his baseball picks. He closed 2012 with an amazing $11,700 in earnings over the last four months and this summer will try for three straight profitable years. He is looking forward to a great upcoming season against the MLB odds. Click here for more information on his MLB picks.
Read more articles by Robert Ferringo