Odds to Win 2015 Stanley Cup and NHL Futures Betting Lines with Picks and Predictions
by Trevor Whenham - 6/20/2014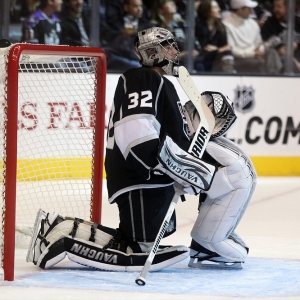 You can still probably find confetti on the streets of L.A. following the Stanley Cup parade, so there is a lot of time and changes to come before we see another hockey game - never mind another Stanley Cup finals. It is never too late, though, to take a look at Stanley Cup futures for interesting value - and spots to stay away from. Here's a look at the latest numbers Bovada posted just after the Kings beat up on the Rangers:
Chicago Blackhawks (7/1): Chicago is favored, and it is hard to argue with that. They came within an overtime goal of making it to the Cup, and I would have been even more optimistic about their chances than I was about the Kings - and I had little doubt about how the final was going to turn out as it was. The Blackhawks are deep and dangerous, and their core is spectacular and will largely be intact. They have experience, and falling just short like this will have them fired up and ready to go next year. They have a potential question in net as other contenders have more certain and reliable situations between the pipes, but there is no need for a massive change. The biggest concern I have is that they play in a conference that is again going to be brutally tough, so winning the conference is in many ways tougher than winning the Cup once you make the finals. Just think about what the Kings had to do - after beating San Jose, Anaheim and Chicago they had to be relieved to see New York. While they are the justifiable favorites and the team I would pick if I had to make a choice today, there isn't much value in the price.
Boston Bruins (8/1): Things should have gone better for the Bruins than they did this year. They had the full package - scoring, defense, outstanding goaltending. Sometimes the best teams don't win, though, and that was the case in the East. There are some concerns - they need to decide what to do about Jarome Iginla and others up front, for example. For the most part, though, the team will keep doing what they have been doing and will again be a contender. Maybe it is geographical bias, but I don't see them quite at the level as the best of the West, so I won't be taking this price, but I wouldn't argue with you if you did.
L.A. Kings (9/1): With two Cups in the last three years, are you going to bet against this team? They have a few decisions to make - they may not, for example, be able to keep Mike Richards and the shocking Marion Gaborik both in the fold. They have a superhuman goaltender and a top backup, though, along with the best defenseman in the world and plenty of ways to score. They also have a coach who is very tough to play for but who obviously has complete command of his team. The interesting news right after the Cup win was that John Stevens, the brilliant assistant coach who seemed all but certain to be heading to a head coaching job, signed back on as an associate coach instead. That keeps him and his valuable input around, and it's a clear sign that the team is building aggressively towards a future as strong as the past. You can't count this team out. The biggest reason to be skeptical, though, is the amount of luck that was involved in this win - the comeback against the Sharks from a 3-0 series deficit, the ridiculous number of overtime wins, and so on. That is harder to replicate than the gritty play is. I'd pass at this price but be prepared to be wrong. By now the biggest thing we have learned about the team is that there is no reason to judge them based on their regular season play - this is a team that only cares about June.
Pittsburgh Penguins (10/1): You just can't even consider betting on this team right now - no matter how good Crosby and Malkin are. They have failed repeatedly in the playoffs. They have holes in their roster in several places. They don't have a head coach, and the new GM has not even begun to implement his vision. At best this team deserves a wait-and-see attitude, but I really struggle to see them winning it all this year. Lousy, lousy price.
St. Louis Blues (12/1): This is where the value is in my eyes. This is a very talented team, and they will have learned from their playoff frustrations this year - like other strong young teams have in recent years. They have a couple of issues. They took a big swing by acquiring Ryan Miller in net, but that just didn't work out, so they have a hole in net to address. They could also likely use one more guy to score some goals. They have some moves they can make, though, and there is no reason not to be optimistic. The core of the team is just so good, and this is the time for them to prove it. I like this price a lot.
Doc's Sports has a great offer for new clients. You can get $60 worth of picks from any Advisory Board handicapper for any sport he handicaps. All with no obligation and no credit card needed. Claim your free picks today .
Read more articles by Trevor Whenham