2014 Odds to Win the Big Ten West Division for College Football with Picks and Predictions
by Trevor Whenham - 7/22/2014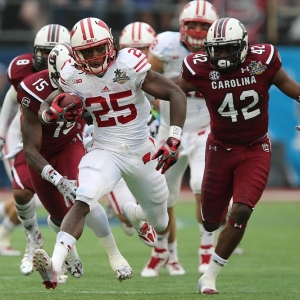 The divisions in the Big Ten are exactly why I hate that conferences have gotten big enough, and greedy enough, to need divisions and championship games. These conferences, loosely based on geography, pay no real attention to competitive balance. You don't have to pay attention very closely to know that historically Michigan and Ohio State have ruled this conference, with Michigan State and Wisconsin making noise from time to time. Of those four powers, only Wisconsin is in the West. Penn State, a once and potentially future force, is in the East, too.
Like the SEC, winning one division will, in many years, be just as tough as winning the conference. With all of the glamour teams out east, we are left with a whole lot of not very much in the West. Still, there are odds available from Bovada to bet on the Big Ten West champion, so it's not all bad. Here are the odds to win the Big Ten West for college football with picks and predictions as well:
The odds
Wisconsin (6/5)
Nebraska (3/2)
Iowa (5/1)
Minnesota (10/1)
Northwestern (20/1)
Illinois (33/1)
Purdue (100/1)
Breaking it all down
Wisconsin: They are the deserving favorites. Last year they made a fairly dramatic coaching change, and though there were growing pains, the overall direction the team headed in was very positive. Now in the second year of the Gary Andersen regime, they could be poised to take a big step forward. I don't have the faith in their quarterbacking that I wish I did, but there is no shortage of the strong and reliable types that have defined Wisconsin football for so long elsewhere on the field. We'll get a much better sense of where this team stands after their opener - they travel to Houston to play LSU. That's irrelevant for league play, of course, and the rest of nonconference play is a joke. So is much of their conference schedule - I would bet not only a lot of what I own, but also a lot of what you own that they will open 5-0 in conference play thanks to a very easy start. Then comes their only test - a two-week stretch hosting Nebraska and playing at Iowa. They close out against Minnesota. They are certainly capable of winning all of those games. The price is low here, but it wouldn't be tough to argue that there is still some value.
Nebraska: I find this one laughable. Heading into bowl season last year Bo Pelini had made yet another PR gaffe, and it seemed like he was on the way out after yet another underwhelming season. But then he beat Georgia, and it seems like nothing ever happened. Did I miss something? Is he suddenly competent? I just don't see it. He plays at Michigan State, Wisconsin and Iowa. That isn't going to go well - two wins there would be a miracle. I hate this bet.
Iowa: Kirk Ferentz is one of the world's true mysteries. He never seems to reach the potential of this team, yet he is mentioned at least in passing for every big opening out there. His talent isn't particularly inspiring this year, and they finish against Wisconsin and Nebraska - albeit at home in both cases. I like them better than Nebraska - especially given the prices - but I am still far from enthusiastic.
Minnesota: When Jerry Kill took over this team I thought that he was an inspired choice. There have been some nice moments, and they have made strides in some areas. They just haven't been able to become relevant before now, and they aren't relevant now, either.
Northwestern: This team won four straight to open their season last year and gained plenty of buzz. Then they dropped their next seven. It was ugly. They aren't going to lose seven straight this year, but they aren't good enough to win a bunch, either.
Illinois: Illini fans will be counting the days until college basketball season. Or they would be if that team wasn't a real disappointment, too. Sucks to be an Illini fan, I guess.
Purdue: Drew Brees must be humiliated every time talk in the locker rooms turns to alma maters. This team never really has been, and likely never will be, truly relevant on a national level. No team should be anywhere close to this bad, though.
Want free sports betting picks? Doc's Sports has you covered - get $60 worth of picks free from any of Doc's Sports expert handicappers. Click here for free picks (new clients only).
Read more articles by Trevor Whenham