Possible 2014 NBA Finals Matchups Odds and Predictions
by George Monroy - 5/13/2014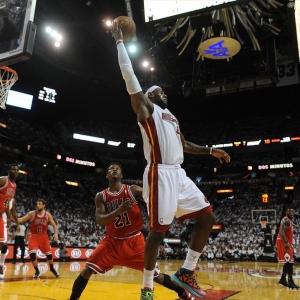 With the Miami Heat and San Antonio Spurs sprinting out to 3-1 leads in their second-round series, both squads are once again the favorites to meet in the NBA Finals for a second straight year. However, the matchup is far from a sure thing as both teams will face a tough conference finals opponent (if they are able to advance). The Los Angeles Clippers and Oklahoma City Thunder are only gaining experience and toughness with each game they play, while the Indiana Pacers may have already turned a corner after a difficult first-round series against the Atlanta Hawks.
There is still over a month of playoff basketball on the schedule and many bets to be made, so let's take a closer look at Sportsbook.ag's possible NBA Finals matchup odds with predictions and analysis.
Pacers vs. Clippers: +1500 -Indiana seems to have finally figured things out after a long and dysfunctional stretch that begin in February and lasted until Game 2 of the second round. Los Angeles is probably the weak link in this equation as the team struggled with beat Golden State and is now in another tough series against Oklahoma City. There is value in wagering on this matchup, but the Clippers will have a difficult time beating San Antonio it they can make it that far.
Pacers vs. Thunder: +1000 -when the Pacers are on their game, they are a bad stylistic matchup for the Heat. And that isn't taking into account that Miami is simply not as good as it was last year and may finally be feeling the rigors of four deep playoff runs. The Thunder, on the other hand, have been exposed for their lack of offensive cohesion and coaching deficiencies, but the team is still ridiculously talented and still has the best one-two combination in the league. If you are looking for a long shot bet, this wager has the most value, and it isn't really much of a long shot to begin with.
Heat vs. Clippers: +550 -this wager is solid, but it depends on how you feel about the Clippers. Miami will be a favorite to get past Indiana, so wagering on them to make the Finals is a solid spot. Los Angeles still has a tough road out of the West even if it can survive its slugfest against Oklahoma City. There isn't much value on this wager unless you are a Clippers fan or have a hunch about the team.
Pacers vs. Spurs: +400 -Indiana versus San Antonio might be the one matchup that most fans do not want to see. The series would be a grind-out, defensive battle between two efficient squads. San Antonio's road to the Finals will be largely dependant on how the Clippers-Thunder series plays out. The Spurs struggled against Oklahoma City all season and simply do not match up well against the Thunder. The last time the two teams met in the playoffs, Oklahoma City won four straight games.
Heat vs. Thunder: +350 -this is the most likely, and most exciting, Finals matchup in my mind. Both teams still have a lot of work to do before it happens, but receiving 3.5/1 is a great price and holds excellent value as opposed to the favorite on this list, which is essentially a pick 'em. Basketball is a sport that can be dominated by a single player, and just wagering on the best two players in the league to make the Finals is a solid bet.
Heat vs. Spurs: +110 -a Spurs versus Heat rematch is a great NBA Finals matchup and could very well happen. However, wagering on it at only +110 is insane. These odds should be much, much higher. San Antonio is good and may be the best team in the West, but is it really that much better than Oklahoma City or Los Angeles? And with Indiana looking more and more like the contender it was expected to be, Miami's road out of the East isn't as certain as it was even two weeks ago. This series should probably be the favorite to happen; the only problem is that it has no value at +110-too much can happen to make it a worthwhile bet.
Remember that the odds are constantly updated every day to reflect the latest changes in each series, so check back with Sportsbook.ag for the newest possible NBA Finals matchup's lines.
Get free picks from any of Doc's Sports Advisory Board of expert handicappers - and with no obligation or credit card. You can use these free picks for any sport, and you will never deal with a salesman. Click here for your free Doc's Sports picks.
Read more articles by George Monroy