2014 Preakness Stakes Jockeys: Handicapping and Analysis
by Trevor Whenham - 5/13/2014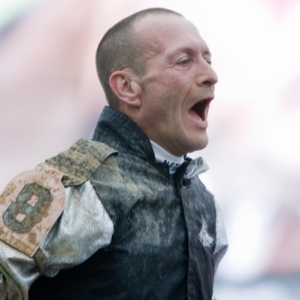 Jockeys are the toughest, bravest athletes there are. This year's Derby features a wide range of jockeys - from the experienced to the raw, and from the wildly-successful to the journeyman. Here's a look at this year's roster for help with your 2014 Preakness Stakes handicapping:
Victor Espinoza, California Chrome: Espinoza is no stranger to the pressure of riding the Derby winner in the Preakness. He also did it in 2002 aboard War Emblem, and he rode to a nice win before a disappointing eighth in the Belmont. Espinoza has four other appearances in the race with a second to show for it. He is far from the peak of his career right now, but he is certainly dialed in with this horse.
Jeffrey Sanchez, Pablo Del Monte: Sanchez is making his Preakness debut, though he came close once before. He was the regular rider aboard Jackson Bend, but the ride was given to Mike Smith for the Preakness in 2010, and he finished third. Sanchez is not having a particularly good year by his standards, and doesn't have a great horse here under him.
Julian Pimentel, Kid Cruz: Pimentel has ridden in this race only once - an 11th in 2011 - but he certainly knows the track. He is based in Maryland, so Pamlico is home. That gives him an edge on the field because Pamlico isn't on the rotation for most top jockeys. He is just a journeyman jockey, though, and he is in the midst of a pretty underwhelming year.
Luis Contreras, Social Inclusion: Contreras is making his Preakness debut, and he spends much of his time riding at his home base of Woodbine in Toronto, so he isn't as familiar to bettors as many riders. He was named the top jockey in Canada in both 2011 and 2012, though, and he won a personal Canadian Triple Crown in 2011 by winning the three races on two different horses. He has game.
Joel Rosario, Ride On Curlin: Rosario is in just his third Preakness, but he has been in the superfecta both times - third in 2012 and fourth last year aboard his Kentucky Derby winner Orb. He picked up this ride after a lousy ride aboard the horse by Calvin Borel in the Derby. Rosario had a pretty lousy ride of his own in that race aboard General A Rod, so there have been some musical saddles heading into this race.
Miguel Mena, Dynamic Impact: Mena, who is another jockey making his Preakness debut this year, is having a respectable year from an earnings perspective - he sits just outside the top 50 nationally. The problem, though, is that he doesn't win very many races - his 11-percent win rate is well below what the best are capable of. He has only ridden this horse once, though, and it was for a surprising win in the Illinois Derby.
Rosie Napravnik, Bayern: Napravnik is having another very good year. She currently sits third in the nation in earnings - behind only two rivals in this race, Javier Castellano and Joel Rosario. She won the Kentucky Oaks on the eve of the Derby, so she is in good form. Last year she became only the third woman to ride in the Preakness, finishing third. Now she looks to take a step up on the podium and make some history. The only time she rode this horse was last time out in the Derby Trial, though, and she wound up getting suspended three days for the effort.
Alan Garcia, Ring Weekend: This is the third trip to the Preakness for Garcia and the first since 2009. He is coming off a forgettable year, but has already been significantly better this year. He does have a Triple Crown win - the stunning victory of Da' Tara in the Belmont in 2008. What haunts him, though, is the one that got away - he was the regular rider for Animal Kingdom, but he gave up the mount in the Derby in favor of the forgettable Soldat.
Calvin Borel, Ria Antonia: Borel will always be remembered for a lack of loyalty when it comes to the Preakness. In 2009 he won the Kentucky Derby aboard Mine That Bird. In an almost unthinkable move, he subsequently gave up that mount for the Preakness in favor of the filly Rachel Alexandra, who he had won the Kentucky Oaks with. Rachel Alexandra got him the win, while Mine That Bird was second, but it left a sour taste in my mouth and many others. He has also been second in the race aboard Street Sense. This year he is back with another filly, but I have seen Rachel Alexandra run many times, and despite the common initials Ria Antonia is no Rachel Alexandra.
Javier Castellano, General A Rod: Castellano picks up the mount on this horse for this race after winding up on We Miss Artie in the Derby after his favored mount, Constitution, was scratched. Castellano is the runaway leader in earnings for jockeys this year. The biggest cause for that is his freakish win percentage this year. He is winning 27 percent of his races and hitting the board in more than 60. Those are absolutely incredible numbers, and they are testament to just how talented he is. I'm not convinced, though, that he is good enough to turn this horse into a serious contender.

Free Preakness picks? Doc's Sports has been a leader in Triple Crown handicapping for more than four decades, and we are offering new clients $60 in Preakness Stakes picks - there is no obligation for this offer. Click here for more details and to get your $60 in free picks.
Read more articles by Trevor Whenham
---
Most Recent Preakness Stakes Handicapping