Todd Gurley Odds to win the 2014 Heisman Trophy
by Dave Schwab - 7/3/2014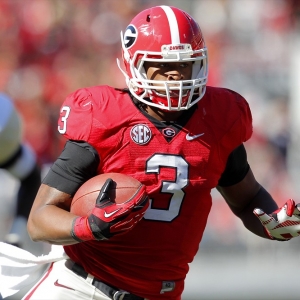 Georgia running back Todd Gurley will come into the 2014 college football season as Bovada's fifth-favorite to win the 2014 Heisman Trophy Award as the nation's most outstanding player with 12/1 odds. The following is look at a few of the reasons he could definitely be worth a closer look if you decide to wager on him for this popular player prop bet.
The 6-foot-1, 232 lb., junior came into the 2013 season ranked as one of the top running backs in Division 1A football after rushing for 1,385 yards as a freshman in 2012. While he did not come under consideration for the Heisman Trophy in that initial season with the Bulldogs, many football experts had him pegged as a legitimate 'Heisman Hopeful' as a sophomore.
He did rush for 989 yards on 165 carries for an average of 6.0 yards per attempt, but he missed the bulk of October due to injury. If he would have hit his season average for yards gained in the three games he was sidelined, his projected total for the year would have been over 1,300 yards. Gurley was also banged up in a number of other games, so this number could have been much higher if he would have been able to stay healthy all season long.
His best performance in 2013 came in Georgia's heart-breaking 38-35 loss to Clemson on opening day. He carried the ball just 12 times for 154 yards and two touchdowns. The following week he added another 132 rushing yards to his total on 30 carries in a 41-30 victory over South Carolina.
Looking back at his first two seasons with the Bulldogs, there is little doubt that the true value in Gurley's odds to win this year's Heisman will hinge on his ability to stay healthy for an entire 12-game season.
He should have plenty of opportunity to earn some votes in a Georgia offense that relies heavily on its running game to move the ball down the field. Mark Richt has a number of quality backs that he can use to carry the ball this season, which could be the one downside to Gurley's odds, but the Bulldogs' head coach has demonstrated in the past that he has no problem riding his No. 1 back when he is running at his best. Do not forget about his ability to catch the ball out of the backfield as an added dimension to his game. Last season Gurley had 37 receptions for 441 yards and six scores.
Playing in the SEC already provides a built-in advantage to attracting voters to your cause, so Gurley should get plenty of attention from the press all season long. The Heisman has been claimed by a SEC player in four of the last seven seasons, including the 2009 campaign when Alabama running back Mark Ingram took home college football's most prestigious award.
The Bulldogs finished the 2013 season ranked outside the AP's final Top 25 Poll, but most experts have them listed as one of the top 25 teams in the nation in this year's preseason rankings. Gurley will get an opportunity to make an early statement with another opening day matchup against Clemson on Sat. Aug. 30 at home. Matching last season's brutal start, Georgia will then travel to Columbia. SC. to face the South Carolina Gamecocks in Week 3. If Gurley shines in both of those games, he would have to be considered one of the top front-runners right out of the gate to win this year's Heisman.
While the Bulldogs will not get a shot at Alabama in this year's regular season, they still have a few marquee matchups, including a game against Auburn from the SEC West. If Gurley does stay healthy through the first 11 weeks of the season, he may be able to seal his chances to win this award with another big day in the traditional rivalry matchup against Georgia Tech on Sat., Nov. 29. Last season against the Yellow Jackets at less than 100 percent, he rushed for 122 yards and three touchdowns on 20 carries.
Doc's Sports has had a winning tradition for more than four decades. Don't believe us? Try us out for free, and we are convinced you will be a believer. Get $60 worth of free sports picks - members' picks just like our paying clients get - here .
Read more articles by Dave Schwab