Tracking the Calgary Flames: Season-Long NHL Picks and Handicapping for Hockey
by Trevor Whenham - 12/22/2014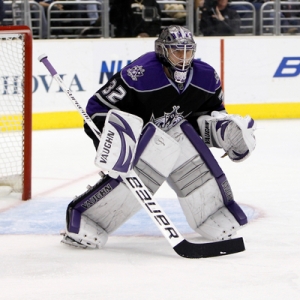 NHL Predictions: Calgary Flames at Los Angeles Kings Odds and Picks
Well, it is officially and unquestionably getting ugly. The Flames have lost eight games in a row, and with that they are at real risk of seeing their once immensely-promising season dissolve into a pile of frustration. Where they are now - out of the playoffs and really struggling to make anything happen - is where a lot of people, with me among them, thought that they would be at this point at the start of the season. Heck, if you had told me that they would be two games above .500 three days before Christmas I would have called you crazy. Given what they have shown they can be capable of, though, the last couple of weeks have been particularly frustrating.
What is most frustrating is that the team hasn't played particularly poorly over the course of this losing stretch. Five of the losses were by a single goal, and another - 4-1 in Toronto - was much closer until two empty-net goals put it away for the Leafs. There have been only two games that they were never really in, so they probably deserve a better record than they have. Earlier in the year, though, they were getting every bounce and every break. Now they can't get a single one. They can't gain any momentum, and when they get down they can't climb back up again.
Calgary Flames at Los Angeles Kings Betting Storylines
What we are seeing now is always a risk when a team is as young and inexperienced as the Flames are. So many guys on the roster have not experienced real adversity like this in the NHL, so they don't know how to handle it and shake it off, and it starts to weigh them down. You can see it in the team by how they are carrying themselves and how they are interacting with the ever-present Calgary media. They were playing loose and carefree early in the year. Now they are tight, and smiles are hard to find. They are in their own heads, and that isn't a good place to be. Captain Mark Giordano continues to play at a very high level, but his consistency isn't being shadowed like it was earlier.
Every streak has to come to an end at some point. This, though, is a tough spot - the Flames have lost five in a row on the road. The Flames have won three of their last five against the Kings, though, including their last two in California. There is never any shortage of motivation for the Flames against the Kings, though, as former Flames coach and GM Darryl Sutter - the man who made a lot of the decision that forced this current rebuild - not only moved on to the Kings, but has had immense success there. Beating him still feels good.
The Kings are not playing spectacular hockey right now. They have won their last two games but had dropped five of six before that. In their last two, though, they have shown a spark that had been lacking before. What is striking, though, is the goaltending. Jonathan Quick has started seven of the last eight games, but he has not been nearly as sharp as we have come to expect him to be. He's making his forwards work too hard right now.
Calgary Flames at Los Angeles Kings Odds and Betting Trends
The Kings are heavily favored at -200 at home , with the Flames at +165. The total is set at 5.
The Kings have gone "over" the total in their last six games overall and in their last five on one day of rest. The "under" has gone 16-4-1 in the last 22 meetings between these teams. The road team has won four of the last five meetings between the teams.
Calgary Flames at Los Angeles Kings Predictions and Picks
I think the streak is going to nine games. The Kings have shown something the last two games - and especially the last game - that the Flames haven't shown in a long while. Calgary is second guessing offensively, and I haven't been impressed by their goaltending lately. They have had a habit of falling behind, and the Kings are certainly capable of getting ahead and capitalizing on any weaknesses that the Flames exhibit. I expect the Kings to win reasonably easily.
4-Unit Play #62 Take L.A. vs. Calgary Flames (-1.5 +145) (10:30 p.m. ET Tuesday)
Year-to-date Flames picks: 7-4, +12 Units, +$1440.
Read more articles by Trevor Whenham