Tracking the Calgary Flames: Season-Long NHL Picks and Handicapping for Hockey
by Trevor Whenham - 12/15/2014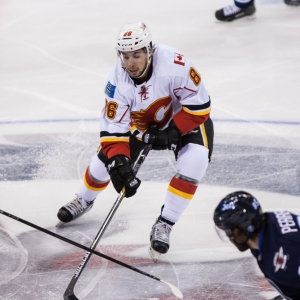 NHL Predictions: New York Rangers at Calgary Flames Odds and Picks
We knew that the hard times were coming at some point for these overreaching Flames, and now they are here. The team has dropped five games in a row, and for the first time all year would not be in the playoffs if they were to start right now.
It's the kind of rough stretch that many have been predicting for months, and it has arrived. To be fair, it hasn't been against bad teams - at home against San Jose, and at Toronto, Pittsburgh, Chicago and a strangely red hot Buffalo team. You also can't complain that they have played poorly, In fact, in large stretches of the games against San Jose, Toronto, Buffalo and even Chicago they were the better team. It's just that for so long the team was getting every possible break, and everything was going their way. Now they aren't getting the bounces, and it seems to be opposing goalies that are stealing games, and opposing players that are making impossible plays in the clutch. They return home for two games and then go on the road for two before Christmas. All any fans of the team want for the holidays is for them to stop the bleeding and get back on track.
New York Rangers at Calgary Flames Betting Storylines
Returning home after a four-game road trip at this point is a gift and a curse for this team. On one hand they get to sleep in their own beds and play in their own building in front of fans. The media attention ratchets up as they return home, though, and the grumbling for a win from outside the team will certainly intensify around them. The team seems noticeably to have tightened up, and it was their looseness and ease that had so much to do with their surprising early success. The longer this streak goes, the harder it is going to be for the Flames to return to that which got them where they are in the first place.
The Flames have been playing with great chemistry for much of the year and have been doing so despite facing a large range of injuries to veteran players. Youngsters have stepped up and played very well together. As some of those injured players have returned, though, it is clear that there have been some re-introduction pains. Matt Stajan, Mason Raymond, and Joe Colborne have all returned over the course of the current losing streak. Adding back three forwards has forced a lot of lineup tweaks, and it has not looked yet like either the players or their linemates have been comfortable. Those three - and especially the latter two - are net positives for the team, so the sooner they can get comfortable and start contributing, the better.
The Flames are dealing with a significant change in their defensive corps as well. Ladislav Smid is dealing with an 'upper body injury' (code in this case for a concussion, most likely). He has been placed on the IR, so he will be gone for a while. He is the fifth-best defenseman on the team, but the gap between him and the top four is so huge that it is tough to be too concerned. The third pairing will now be made up of some combination of Rapha Diaz, Deryk Engelland and newly-called up Corey Potter. My hope would be that Potter, who has played 123 career games in the NHL for other organizations, would establish himself as a legitimate option so that when Smid returns Engelland or preferably Diaz can be cut loose.
New York Rangers at Calgary Flames Odds and Betting Trends
The game opened as a total toss-up - both teams can be had at -110. That has remained relatively stable in early action, though there seems to be a tendency towards making the visitors favored here. The total sits at five points.
The Rangers are just 14-10-0-4 on the year, but they have won three in a row and seven of their last 10 so they are in better form of late. The home team is 4-1 in the last five meetings between the squads. The Rangers are 7-3 in their last 10 Tuesday games, while the Flames are 6-17 in their last 23 on Tuesday.
New York Rangers at Calgary Flames Predictions and Picks
Calgary has not played particularly poorly despite the losses, and the Rangers have been on the road far from home for a while now. This should set up reasonably well for the Flames, and they should be happy to be at home. They have also had an extra day to practice and get the new additions back on track. Calgary is the pick.
4-Unit Play #72 Take Calgary vs. New York Rangers (-110 ) (9 p.m. ET Tuesday)
Year-to-date Flames picks: 7-3, +16 Units, +$1880.
Read more articles by Trevor Whenham