Bodhisattva Odds to Win the 2015 Preakness Stakes with Picks and Predictions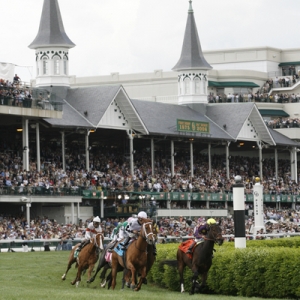 Can Bodhisattva win the Preakness? No. It would take a miracle and a disastrous outing from at least five other horses in the field. That doesn't mean that we shouldn't talk about the horse, though. He fills a role that makes the Preakness special - the local horse. Three hundred and sixty four days of the year Pimlico is irrelevant on the highest levels of national racing, but the Maryland circuit is home to strong trainers, excellent jockeys, and a proud tradition. Like other second-tier circuits, there is almost a minor league feel - in the good sense - to what goes on, so it is very exciting when the hometown fans have someone they know to cheer for.
Local horses like Kid Cruz last year have earned a fair bit of bettor respect. It didn't work out well for that horse, but I will always have a warm spot for horses like this one - even if I would rarely consider betting on them.
Federico Tesio Stakes: The Tesio, also known locally as the Preakness Trial, is a de facto Preakness prep race held at Pimlico. As with this horse, runners that aren't ready for the Derby will use it as a way to potentially get a shot at the Preakness. It has had some relevance over the years. Deputed Testamony won the race and then the Preakness in 1983. Several others have hit the board in recent years. Most notably, at least for me, Icabad Crane finished third behind Big Brown and Macho Again in 2008 to fill out what was a nice trifecta for me. In this year's edition, Bodhisattva tried hard to wire the field. He took the lead early, was passed briefly around the final turn, then showed a lot of grit in coming back to take the lead and pull away. It was a nice showing - albeit in an ungraded stakes race against underwhelming competition. He does know the track, though. The top contenders certainly can't say that. They aren't even arriving in Baltimore until Wednesday, so they won't have even had a meaningful work on it.
Prior experience: You can't complain about a lack of experience - Bodhisattva has raced 11 times. He broke his maiden in his fourth try back in September. In late November he took his only previous shot at graded stakes company when he headed to Aqueduct for the Remsen Stakes. It didn't go well - he finished fifth. Of note, Derby entrants Frosted and Keen Ice were second and third in that race. It was then back to Maryland. He won an allowance race to cap off his two year old year then had largely mediocre showings in Maryland's collections of ungraded stakes for three year olds before the breakthrough in the Tesio. All in all it's not a bad collection of racing but certainly not one that makes me think that this is a Triple Crown threat that has just been waiting for his opportunity to shock the world. He looks like a decent stakes contender at a regional track - which is exactly what he is.
Trainer: Jose Corrales doesn't have to be worried about being fired as the trainer - he owns the horse, too. From Panama, he came to the States in 1976 and competed as a journeyman jockey until retiring in 1993. Soon after starting training he had two winners on the same day - which is pretty remarkable when there are only two horses in your stable. He quickly gained runners, and eventually he caught the eye of the Stronach family - the owners of Pimlico among several other tracks, and one of the massive players in the sport. He now trains more than 30 of their horses at any one time and was given this horse by Frank Stronach's son Andy when the partnership that Stronach owned it with was falling apart. Corrales is making his debut on the Triple Crown circuit, but he is obviously a capable trainer.
Jockey: Trevor McCarthy will be turning 21 on Preakness day. What a birthday present a win would be. Despite his youth, McCarthy, who is the son of jockey Mike McCarthy who won nearly 3,000 races in his career, was the leading jockey in Maryland last year. His season started poorly this year when a wrist injury in December cost him the first three months of riding. This is a big step up in the riding ranks for him, but he does have two graded stakes wins, so he will not be completely overwhelmed.
Breeding: Bodhisattva has the chance to be the second California-bred runner in a row to win the Preakness following California Chrome. Another California-bred hadn't won since 1986, so it's an interesting distinction. He is a son of Student Council, who is known for winning several graded stakes - most relevantly for this discussion, the Grade 1 Pimlico Special. He was a real late bloomer - he won his first race as a four year old, 26 months after his first start. The distance isn't a concern from the sire side. Bodhisattva's damsire, Talk Is Money, started the 2001 Kentucky Derby under the great jockey Jerry Bailey, but after heavy contact early on he was troubled and was pulled up heading into the stretch and never ran again. Of note, he was second in the Federico Tesio in his last outing before the Derby.
Free Preakness picks? Doc's Sports has been a leader in Triple Crown handicapping for more than four decades, and we are offering new clients $60 in Preakness Stakes picks - there is no obligation for this offer. Click here for more details and to get your $60 in free picks.
Read more articles by Trevor Whenham