Can American Pharoah win the Triple Crown? Odds and Handicapping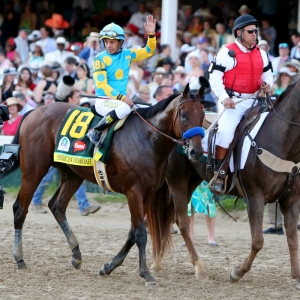 There is only one question on the minds of everyone interested in horse racing in the wake of the best Kentucky Derby I can remember - can American Pharoah win the Triple Crown? Oddsmakers - and therefore the betting public -- are decidedly optimistic. B ovada has him at just +250 that he can do what no horse has done since 1978 and win his next two races, compared to just -300 that he will fail like so many greats before him have. Let's be clear - as talented as this horse is, there is absolutely no value in betting in a Triple Crown win right now. There is far too much that can go wrong. Still, there are three good reasons he is capable and four challenges above all that stand in his way:
Talent: This horse is good. Exceptional. He has done everything asked of him every time out and has never looked like he has scraped even the surface of his capabilities. He runs naturally and easily, and he is a smart and versatile runner. For example, he had typically been on the lead early in races, but in the Derby he rated just off the pace like a pro. In order to win the Triple Crown you need, above all else, to be an exceptional horse. Every Triple Crown winner stands out as a giant of the sport - beyond just their three big wins. It is possible to imagine this horse standing next to those horses - he would not be out of place, or at least so it seems so far. Of course, the same could have been said for Silver Charm, Big Brown and others at this point, too.
Relatively fresh: Thanks to a break caused by an injury in the fall, the horse is reasonably rested. He had a relatively quiet spring with two preps - neither being particularly tough for him. Then he ran a Derby that was tough as it always is but not as grueling as they can be. He didn't face a ton of adversity in the race, was able to run glacially slow early on to save himself, and despite facing a fierce test in the stretch didn't run super fast in the closing fractions, either. There should still be plenty of gas in the tan, which is crucial when facing two more races in just five weeks.
Strong connections: Bob Baffert has gone to the Belmont with a shot at a Triple Crown three different times - with Real Quiet, Silver Charm, and War Emblem. Victor Espinoza was aboard War Emblem and also won the first two legs of the Triple Crown last year aboard California Chrome. There aren't two guys in the sport right now better suited for what is ahead of them. They have done an exceptional job with this horse so far, and there is no reason to think they won't continue to do so.
Challenges
Pace: The Kentucky Derby was slow. Really slow. That is no discredit to American Pharoah and the horses up front with him, but it does set up a potential problem - or at least a concern. When Dortmund took the lead, he wasn't moving quickly, and no one behind him forced him to move any faster. The first half mile took more than 47 seconds - very slow for this race. Because the eventual top three, who were all up front, didn't have to work hard early on, they had plenty left entering the stretch, and they pulled away from the field. The slow early pace essentially eliminated half the field from contention - closers had no chance of getting to the lead when the horses in front of them were fresh. Given how that race turned out, there is a good chance that the other trainers in the Preakness and the Belmont will ensure the pace is far more aggressive in one or both of those races. That obviously doesn't mean that American Pharoah can't win, but it does mean he will be tested more and that other horses will be a factor. A fast early pace in the Belmont could really set things up for closers on the endless Belmont stretch.
Top three: American Pharoah is a great horse, but so is Dortmund, and Firing Line showed how good he is, too. These three California-based giants are each good enough to be Kentucky Derby winners, but only one is. At this point all three are heading to the Preakness, and if they run well and stay healthy it is reasonable that they would head to the Belmont, too. Winning these three races is exceptionally tough for any horse, never mind when they have to beat two horses of this caliber. The Preakness is a much tougher test than California Chrome faced last year.
Fresh horses in the Belmont: As has become an increasing issue for Triple Crown contenders, they face a whole lot of fresh horses in the Belmont. A Triple Crown hopeful has to race just two weeks after the Derby, but most of their rivals in the Derby don't. This year we could see as few as three Derby horses come back in the Belmont. Several of the other 15 will rest and recharge, and come back in five weeks for the Belmont. If American Pharoah wins a grueling Preakness then he could be at a real fitness disadvantage to the fresh Derby horses in the Belmont.
Breeding: There is plenty of Derby-type stamina on the sire side of American Pharoah's pedigree. He's a son of Derby runner-up Pioneerof the Nile, who is a son of Derby runner-up Empire Maker and grandson of Derby winner Unbridled. Stretching the extra quarter mile needed for the Belmont is less certain, though. Empire Maker won the Belmont, but the stamina could still be a slight concern on that side. More significantly, the dam side is undistinguished and largely has a sprint influence. Great horses have been derailed at the Belmont simply because they can't run that far at top speed. It is, after all, further than most horses are ever asked to run - never mind at three years old. American Pharoah could be just fine. Then again, he might not.
Doc's Sports wants you to try out our expert horse racing handicappers free of charge and is offering new clients $60 worth of free picks that can be used for any Triple Crown race. Click here for more details on this free $60 offer.
Read more articles by Trevor Whenham