Clemson Tigers Odds to Win the 2016 College Football National Championship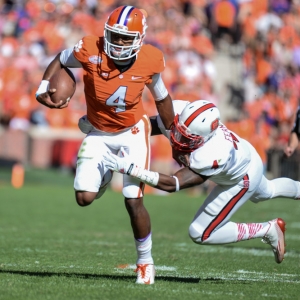 On paper the Clemson Tigers had a solid 2014 season with only three losses. And while that assessment is somewhat true, the squad could not beat any of the ranked teams they faced during the year. We may, however, see an entirely different outcome this season as the Tigers are being considered the early-season ACC favorite by a 158-ballot media poll where they received 81 first-place votes to Florida State's 41 votes.
The oddsmakers have yet to weigh in on which team will be the actual conference favorite. However, with Clemson's sophomore quarterback DeShaun Watson expected to make a huge leap this season and be in the running for the ACC Player of the Year award, the Tigers may just have a shot at making its case for playoff consideration later in the year. Let's take a closer look at Clemson's 2016 national title odds with predictions and analysis.
Clemson Tigers 2015 Schedule and Win Total Odds
Win Total: 9 wins ("under" -130)
Sept 5: Wofford
Sept 12: Appalachian State
Sept 17: @ Louisville
Oct 3: Notre Dame
Oct 10: Georgia Tech
Oct 17: Boston College
Oct 24: @ Miami (FL)
Oct 31: @ NC State
Nov 7: Florida State
Nov 14: @ Syracuse
Nov 21: Wake Forest
Nov 28: @ South Carolina
Clemson lost two of its first three matchups of 2014 but then managed to reel off nine victories during the last 10 games of the season. The squad only took losses against elite teams, dropping games against the then No. 12-, No. 1- and No. 24-ranked programs in the nation. The Tigers will probably face the same issue in 2015 with matchups against three potential Top 25-ranked schools.
The big question, however, is whether or not Clemson can get more than nine wins. The team has improved simply by bringing much of its roster back with another year of experience, and the group is a lot closer to Florida State in talent than it was last year. In order for the Tigers to lose this bet they would have to go 8-4, while a 9-3 record pushes-the squad has enough talent to get nine wins, and it could be on course for a 10-win season. Take the "over," but only at 9 not 9.5.
Clemson Tigers 2016 National Title Odds and Trends
Title Odds: +2200
2014 ATS Record: 6-7; 5-3 home
2014 Totals Record: 4-9; 2-6 home
Clemson hasn't won a college football title since 1981 and is not a team that typically gets national title attention. The Tigers do have value at +2200 by virtue of that fact that a conference win could get them into the postseason with a chance at cashing a futures wager. The team hasn't won the ACC since 2011, and but do not expect much title talk for Clemson when powerhouse teams like Ohio State, Alabama and TCU continue to lurk around.
Clemson Tigers 2016 College Football National Championship Picks and Predictions
Will Clemson Make the Four-Team Playoffs: "Yes": +450; "No": -900
The obvious answers to the playoff question is a no. Clemson is a solid team with a nice roster, but there is nothing to suggest a playoff run is in store for the Tigers. Even if the group managed to win the ACC with a single loss, there are other programs with far more enticing playoff prospects. The committee almost owes the Big 12 a spot, while the Pac 12, SEC and Big Ten are expected to field powerhouse representatives once the season concludes. Clemson simply does have the football cache to sneak into the playoffs, and it would need to produce an out-of-this-world season-which probably won't happen.
Want free sports betting picks? Doc's Sports has you covered - get $60 worth of picks free from any of Doc's Sports expert handicappers. Click here for free picks (new clients only).
Read more articles by George Monroy