2015 Dallas Stars Predictions and Futures Odds with Betting Picks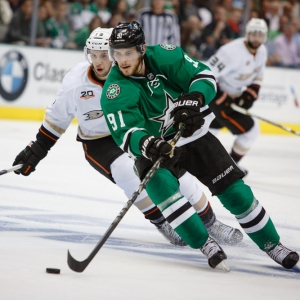 Thinking of the Stars last year just makes me angry. I feel like they owe me money. After a solid year in 2013-14, I was very high on this squad. I liked the talent and loved the coaching. I thought the sky was the limit, and I said so in writing often. But then they were lousy early and didn't really get on track. They were never a true playoff threat. Total wasted season. So frustrating. So, more of the same this year? Or do they forget last year never happened and do this year what I thought they would last year?
Dallas Stars Offseason Moves


The team needed to get better defensively. They needed to tighten up in net. And depth up front never hurts. On all fronts it was a successful offseason for GM Jim Nill. He didn't do a lot, but what he did was good. He did a good job of exploiting Chicago's salary cap issues.
In free agency they lost goalie Jhonas Enroth and center Shawn Horcoff. No one will cry over either departure. The lone free agent they added was Johnny Oduya from Chicago. He has the experience of winning championships and is solid defensively. Good player at the right price.
Only two trades were made. First, they traded a seventh-round pick to San Jose for the negotiating rights to goalie Antti Niemi and then locked him down for three years. Goal had been an area of frustration. With Niemi challenging incumbent Kari Lehtonen they should get more consistent keeping than they have been stuck with. Next, they grabbed veteran Patrick Sharp from Chicago, and they got defensive prospect Stephen Johns, too. They gave up Trevor Daley - a solid defenseman who will be more than adequately replaced by Oduya -- and bottom six forward Ryan Garbutt. Sharp is 33, but he is still productive, he's great on the power play, and he has been a key part of three Stanley Cup wins. Great addition.

Dallas Stars NHL Outlook

This team is so fun to watch because their games are never dull. They can score like crazy, and they don't stop the other team too well.
First the scoring. Expect more of the same. Jamie Benn led the league in scoring last year. Linemate Tyler Seguin is even more offensively talented. Add in Jason Spezza, youngsters performing great like Brett Ritchie and Valeri Nichushkin and now Sharp, and you have an offense that will continue to give opponents nightmares. The Stars could very well lead the league in scoring this year.
Defense will still be a bit of an adventure, but it should be improved. Oduya provides defensive leadership. John Klingberg was very good as a rookie last year and should be able to step up his minutes and effectiveness. We won't see an elite defensive team, but it is reasonable to expect them to be better.
They should be better in net too, as competition between two legitimate starters should provide some clarity and improved play. Nill insists that this is a two-goalie league now. If that proves right, and if the two Finnish goalies can co-exist without one being the clear No. 1, then there is reason for optimism.

Dallas Stars Schedule

We will see early on if this team is ready for primetime. Their first four games are very tough. They open at home against a resurgent Pittsburgh team that added offensive talent. Then they travel to play a hungry Colorado team which, like the Stars, fell short of the playoffs last year after a strong season the year before. Then they host Edmonton and get a firsthand look at super freak rookie Connor McDavid. Then it's off to Tampa Bay to meet the Eastern Conference champs. That's a whole lot of offense that they will have to overcome.

Dallas Stars NHL Futures Odds (from Bovada)


The Stars are +3300 to win the Stanley Cup, which puts them behind 18 other teams. They are tied with two other teams as the ninth choice to win the very tough West at +1600. They are the fifth choice to win the Central Division at +800.

2015-16 Dallas Stars Predictions


Who am I kidding - I can't quit these guys. The offensive upside is impressive. The coaching is impressive. I expect better things in net and somewhat sharper defense. Maybe not an elite contender, but this is a playoff team in the West. Once they get into the postseason then anything can happen. It will also be Seguin's turn to lead the league in scoring this year. I reserve the right to change my opinion, though, if they aren't any sharper out of the gate than they were last year.
Doc's Sports is offering free NHL picks to new clients. You can get free hockey picks by clicking the following link. No credit card is needed and there is no salesman to deal with. You try the picks, and if you like what we offer then you will be able to purchase one of our fairly-priced hockey betting packages. Click here to get your $60 in free picks. Also, for a limited time get three hockey handicappers for the price of one! Click here for our 3-for-1 NHL picks offer.
Read more articles by Trevor Whenham