2015 Los Angeles Kings Predictions and Futures Odds with Betting Picks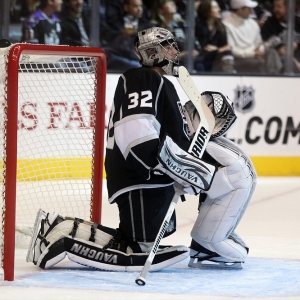 In 2006 the Carolina Hurricanes won the Stanley Cup. It was a big surprise. It was less surprising that they didn't even make the playoffs the next year. No team had repeated that dubious achievement until the Kings, who won their second Stanley Cup in three years in 2014, missed the playoffs last year. It was certainly not what the team was hoping for, but it can't be that surprising - they played essentially four seasons over three years with all the playoff action, so the team was surely worn down. The trick for this team now is to shake off the funk they were in last year and get back into contention. But can they do that?
L.A. Kings Offseason Moves


There was no shortage of drama surrounding this team in the last year, and that led to several departures in the offseason. Mike Richards had his contract terminated after a drug arrest at the Canadian border. Richards, who was going to be bought out anyway, is appealing, and that story isn't likely to go away in a hurry. Slava Voynov, off of a jail term for domestic violence, has returned to Russia. Jarret Stoll faced drug charges of his own in Las Vegas and is gone as well. That opened up some room for new blood. Also gone is goalie Martin Jones, though the legal system was thankfully not involved in that. There is drama, though. Knowing they couldn't afford to keep him around as the backup, they dealt him to Boston so he was as far away as possible. The Bruins turned around four days later, though, and traded him to the Kings' bitter rivals in San Jose. Forward Justin Williams and defensemen Andrej Sekera and Robyn Regehr, who retired, are also gone.
Needless to say, then, there is new blood. The biggest highlight is MIlan Lucic, the centrepiece of that Jones deal. He's a very talented power forward coming off a lousy year - as is most everyone who was in Boston last year. The change of scenery, combined with the opportunity to play on a line with Anze Kopitar and Marian Gaborik, makes it very easy to be optimistic that Lucic can return to his best form. The Kings have a chance to have one of the very best lines in hockey. Lucic is also in the final year of his current contract, so his motivation should be high. The team also added Christian Ehrhoff at a very favorable price to fill a gap on defense and Jhonas Enroth to replace Jones as Jonathan Quick's backup.

L.A. Kings NHL Outlook

There is a lot to like here. Their goalie is one of the two or three best in the league - though Quick hasn't been quite as good as he should be the last two years in the regular season, so his performance needs to be watched. Their top two offensive lines and top defensive pairing are as good as what any team has. This is a strong team and one fully capable of being not only a playoff team again but one that is capable of yet another deep run. If I have a concern, though, it is with head coach Darryl Sutter. He is a tough guy to play for. He obviously knows how to win - with two Cups with the Kings clear proof of that. When he has been elsewhere, though - San Jose and Calgary previously - his gruff style and rigid messages have eventually worn thin, and the results haven't been as strong as they initially were. I think other things were at play last year that were a bigger concern, but you can't help but wonder if some of the substandard play was due to coach fatigue. If the team doesn't jump out of the gates this year then we'll have to keep that in mind - though it's important to remember that both times they won the Cup they were much better playoffs teams than they were in the regular season.

L.A. Kings Schedule

The team opens with five straight home games against Western Conference foes. Talk about an opportunity to make an early statement. The highlight is unquestionably the opener against San Jose. The two teams don't like each other much, and now with this likely being a Jones vs. Quick showdown the stakes are even higher.

L.A. Kings NHL Futures Odds (from Bovada)

The Kings are the fourth choice to win it all at +1100 behind only Chicago, Tampa Bay and their nearest neighbors in Anaheim. They are tied with Anaheim as the second choice to win the Western Conference at +550 and are the second choice behind the Ducks to win the Pacific at +275.

2015-16 L.A. Kings Predictions


This is a playoff team. Hard to doubt that - even in the very deep West. They have improved with the addition of Lucic, and they rid themselves of some big distractions from last year at minimal on-ice cost. They should be better. I can't shake the sense, though, that they are past their true prime. They are good enough to make the playoffs and likely to win a series, but I see no value at all in betting them to win anything beyond that. At these prices this is a badly overvalued team, and I'll be looking elsewhere.
Doc's Sports is offering free NHL picks to new clients. You can get free hockey picks by clicking the following link. No credit card is needed and there is no salesman to deal with. You try the picks, and if you like what we offer then you will be able to purchase one of our fairly-priced hockey betting packages. Click here to get your $60 in free picks. Also, for a limited time get three hockey handicappers for the price of one! Click here for our 3-for-1 NHL picks offer.
Read more articles by Trevor Whenham